Hacking The New Normal Sustainability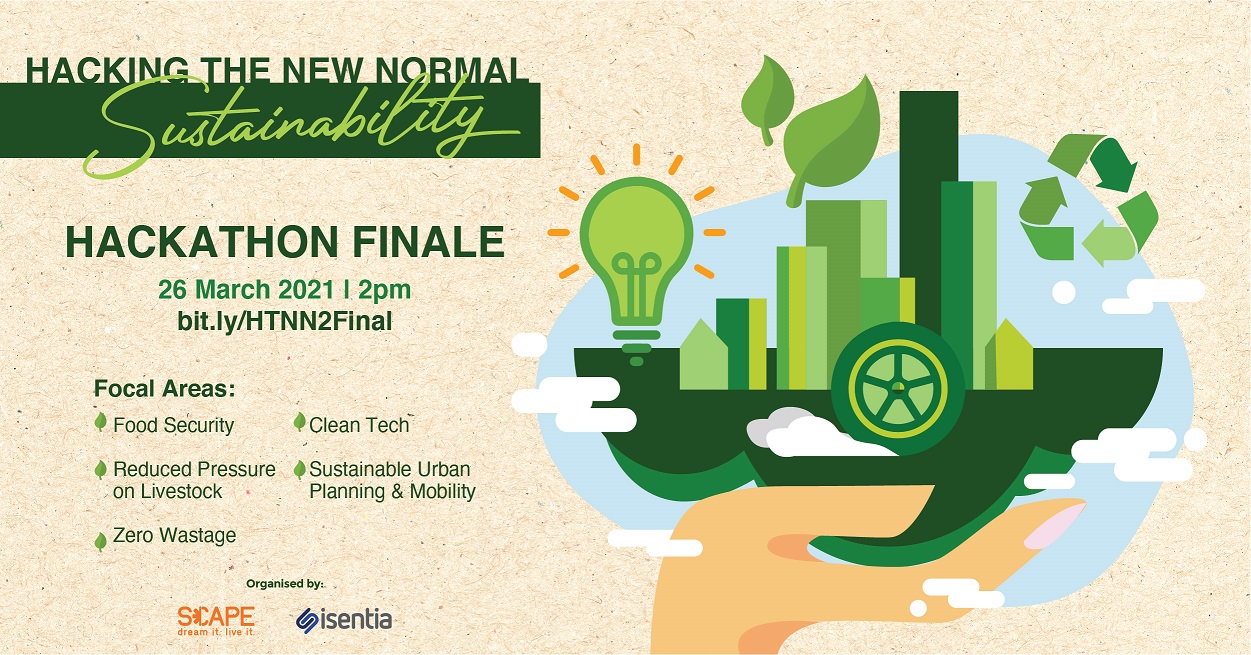 Hack the new normal with your innovative ideas to address sustainability challenges today.
Registration has closed.
WINNERS:
Congratulations to the winners!
1st place: Insect Feed Technologies
2nd place: Urban Origins
3rd place: Ecopanes
WATCH THE HIGHLIGHTS:
WATCH THE FINALE:
Hacking The New Normal SUSTAINABILITY is a growth hackathon that provides a platform for youths to showcase their abilities as well as industry networking opportunities. Organised by *SCAPE and supported by Isentia for the 2nd run, we hope to inspire more youths to creatively think out-of-the-box for business solutions in this new normal and address key challenges faced in the below focal areas evolving around sustainability.
FOCAL AREAS
Food Security
Reduced Pressure on Livestock
Zero Wastage
Clean Tech
Sustainable Urban Planning and Mobility
Participants can register as an individual or form a team with 3-7 members to growth-hack case studies of real life issues. This would be a hands-on experience for participants to gain practical experiences in problem solving and deep dive further to understand the key challenges. The whole hackathon will be delivered virtually and participants who have successfully completed the programme will be recognised and presented with an e-certificate.
WHO IS ELIGIBLE?
Youths below 35 years old
Open to Singaporeans/PR
Participants can register as an individual or form a team with 3 – 7 members
TIMELINE AND KEY DATES
5 March Friday

12:00 hours

Deadline for Registration of Interest

Week of 1 March
Isentia team will contact you via email on status.

Please check your inbox or junk mailbox and contact info.asia@isentia.com for further clarifications.

8 March

10am – 12noon

Briefing and kick off
15 & 16 March Monday and Tuesday

Masterclasses
9 – 21 March
Hacking of The New Normal with your team with guidance by mentors and Isentia analyst
24 March Wednesday
Mentors' Selection of Final Teams
26 March Friday

(2pm – 5pm)

Presentation, Finale & Judging
Participants will be assigned to mentors that will be guiding them throughout the process.
JUDGES:
Matthew Zhao

Food Scientist

Big Idea Ventures

Dr Matthew Zhao is the Food Scientist at Big Idea Ventures, a venture capital firm which invests in future food technologies in the alternative protein ecosystem. His technical expertise includes specialisation in post-harvest technology, food packaging and processing, and shelf-life evaluation. Under his guidance, several companies were successful in adopting innovative novel technology, solutions and processes to commercialise their product with better nutritional value, a stable shelf-life among other value-added functional properties. He holds a PhD in Food Technology from Massey University, New Zealand.

Arjun Mutreja
Fitness Category Team Leader, ASEAN
Decathalon

Arjun is a passionate sports enthusiast, and has represented his adopted country (Singapore) at Cricket for 7 years and as Vice Captain for 2 years. He has combined my love for sports & passion to lead people and businesses to build over 6 years of experience in a vertically integrated setup in one of the fastest growing Sports Retailer, Decathlon. Currently leading and mentoring a passionate team of category managers that continues to disrupt the fitness retail market in South East Asia; his team's mission 'to make connected digital fitness accessible for everyone in ASEAN' drives him everyday.

Joelle Chen

Sustainability Director, Singapore

Lendlease

Joelle Chen is Sustainability Director, Singapore at Lendlease, focused on the implementation of Asia's sustainability strategy in Singapore through leveraging technical skills/best practices, company capabilities and best practices along with industry connections and external partnerships. Her expertise is in stakeholder engagement and ecosystem development in the area of sustainable built environment and smart cities. She was the first Asia Pacific Head for World Green Building Council (WorldGBC), spearheading the adoption of global initiatives promoting net zero carbon and healthier buildings in the region. Her time at WorldGBC saw 25% more APAC Green Building Councils commit to net zero transformation in their countries. Joelle previously headed the Smart Sustainable Cities team at the Economic Development Board, driving public-private partnerships through innovation platforms i.e. "Living Labs", and started the conversation in embodied carbon in 2014 by pioneering an industry-first innovation consortium. Joelle is a registered architect and draws on 15  years of experience in different parts of the green buildings and smart cities ecosystem. She holds a Masters in Architecture from the National University of Singapore, and a MBA from the Singapore Management University.

Elias Tan

Director

Nut Culture

Elias heralds from a $300m turnover food & commodities trading family business which founded Innovate360, Singapore's first food incubator VC with co-working research, production and manufacturing facilities recognised by the government & A.P.E.C. He also Co-founded Nut Culture, a Plant Based Company specialising in Alternative Cheese. Moreover, he is also a forum and media leader in the blockchain space and has a vibrant passion for plant based foods.

Tracy Lui

Head of Marketing & Communications

One Faber Group

Tracy Lui has spent many years in Marketing and Communications in the tourism and hospitality industry. She is currently the Senior Assistant Director of Marketing and Communications at Mount Faber Leisure Group (MFLG), overseeing the functions of Marketing, Communications, Guest Relations and Events and Programming. Her key responsibilities are to drive awareness and revenue targets across MFLG's suite of leisure and lifestyle services including attractions, guided tour experiences, the management of event venues, souvenirs and lifestyle merchandise as well as food and beverage (F&B). Prior to joining MFLG in July 2016, she brought over 20 years of experience in Public Relations in both agency and in-house positions. She spent the first 10 years of her career in leading PR agencies working with clients in the private and public sectors. Following that, she pursued her passion for the hospitality industry and spent 9 years with Banyan Tree Hotels & Resorts, overseeing Public Relations for Southeast Asia. She then moved to international hotel management company Radisson Hotel Group, to drive Public Relations for the Asia Pacific region.

Varun Agarwal
ASEAN Head of Data and Analytics
Reckitt Benckiser

Varun Agarwal, leads data and analytics for Reckitt Benckiser (RB) in ASEAN. He focuses on leveraging analytics to drive business performance and helping leaders make better/faster decisions. He was previously with Coca-Cola for more than a year, during which he led regional analytics and insights capability development, training and deployment to solve key business issues and unlock opportunities. Prior to this, he was with P&G first joining as manager, brand strategy, analytics and insights for Pampers, overseeing the Philippines, Vietnam and Japan markets. The role later evolved to oversee Insights for Pampers, Whispers and white space expansion for Asia Pacific.
MENTORS:
Mayur Singh
Co-founder
The Green Collective SG Pte Ltd

As an impact driven entrepreneur, Mayur Singh is passionate about sustainability and building 'tech for good' businesses. Mayur has lived in four countries and co-founded three companies across Asia and Europe. He is currently the co-founder of Green Collective SG – Singapore's first collective of sustainable brands curated based on UN SDGs. Mayur is also an active mentor and advisor to young startups in the sustainability sector with a keen focus on responsible consumption and production and alternate meat focused clean tech companies. Before starting on his entrepreneurial journey, Mayur had over a decade of experience across investments, corporate strategy, turnaround management and business development. During his corporate experience he worked with companies such as Ernst & Young, Rothschild, Goodhope Asia and Ipsos. Mayur has an undergraduate degree in Economics from St. Stephen's College, India with an MBA majoring in Finance and Strategy from Indian School of Business. Mayur is a also a HIVE Global leader and UNLEASH Talent. A firm believer in accelerating the path towards sustainable development, Mayur is a strong advocate of building businesses with a purpose and inclusive growth.

Khor Qianyi
Associate, Sustainable Finance
ING

Qianyi is currently an Associate at ING APAC Sustainable Finance team where she supports the team with structuring sustainable finance products. Prior to ING, Qianyi was Senior Analyst & Head of Environmental, Social and Governance at Quest Ventures, a leading venture fund for technology companies that have scalability and replicability in large internet communities. Qianyi serves as a part of the Executive Team in a voluntary capacity at Social Impact Catalyst, Singapore's largest youth network for social entrepreneurship.

Aik Yang Ng
Founder
The Maju Collective

Aik is the founder of The Maju Collective and a founding member of HoloTracker. At The Maju Collective, he drives initiatives that seeks and nurtures young people who own socio-environmental problems of their future. Since 14, Aik has actively driven several projects involving educational pedagogy and technology. His passion for social innovation and education has led him to be part of global networks such as an ASHOKA Changemaker and UNLEASH Global Talent.

Philip Ang
Lecturer
Republic Polytechnic (School of Management & Communication)

An enthusiastic people developer with a life orientation towards helping young people find their way in life. As a volunteer and career (professional), Philip has been active in building and contributing value towards enabling people in their education and career choices. Through various career pit stops, ranging from sports-related organisations to volunteer welfare organisations, universities to the polytechnics, the role of educator comes as a total package alongside the emphasis of developing young people in their life choices through mentorship along with applicable life skill knowledge. Philip's main management and developmental expertise are in the areas of: Risk Management; Crisis Management; Theme Park and Attractions management; Events Management; Project Management; Social Innovation; Entrepreneurship; Organisational Behaviour; Leadership Development; and Youth Development.

Chu Wong
Country Coordinator, Fashion Revolution Singapore
Founder, Shop Bettr

Having worked on business strategy and implementation in the corporate world, Chu now focuses on solving problems and increasing efficiency in projects related to the environment and social causes. Chu specialises in sustainable fashion, with experience spanning across multiple organisations in the industry, both non- and for-profit. She is currently the Country Coordinator of Fashion Revolution Singapore and the Founder of Shop Bettr.
MASTERCLASS SPEAKERS:
Edvarcl Heng
Senior Account Director
ADK Connect

Edvarcl Heng has shaped buyer narratives on digital mediums for 21 years in APAC markets. He led editorial operations and new media product ventures at CBS Interactive, MediaCom and Singapore Press Holdings. Most recently, he was a co-owner of a boutique agency focused on path-to-purchase content marketing. He has been an advisor and/or speaker for organisations such as 3M, Channel News Asia, Essilor, Founder Institute, NTU Ideas Inc, P&G, and SocialBakers. He currently helms content and lifecycle marketing at ADK Connect, a multi-national integrated marketing and advertising agency.

Arun Elangovan
Regional Advanced Analytics Manager, Asia
Isentia

Arun facilitates & implements innovation initiatives at Isentia. He leads a team of 30+ data scientists & research analysts across South East Asia. He solves complex problems for various commercial & government clients by breaking down their data using various AI & Natural Language Processing (NLP) models. He has over 6 years of work experience in integrating and transforming data to enable businesses make effective decisions & measure their performance. Arun holds a Masters in Analytics from SMU.
TEAM PRIZES:
There will be 3 winner groups that will be chosen by our judges at the end of the hackathon with prizes to be won!
1st Prize – S$1000
2nd Prize – S$500
3rd Prize – S$300
Terms and Conditions
"Hacking The New Normal" starts from 5 March 2021 and ends on 26 March 2021, 23:59.
This event is organised by *SCAPE Co., Ltd (the "Organiser") and supported by Isentia (the "Supporting Partner") and open to all participants aged 18 to 35 years old, with local residential addresses in Singapore only.
All confirmed participants must be present for all key dates for the hackathon and actively participate in the project.
By participating in this event, the participants agree to be bounded by these terms and conditions stated.
Only one entry is allowed per person. Multiple entries from the same person will be disqualified.
The prizes for this event are neither exchangeable for cash nor transferable. Team prize money is to be split within the group members equally.
Each group will have a minimum of 3 and a maximum of 7. If you are signing up as an individual, you will be assigned to a random group.
In the event the participant does not reply within 24 hours of notification, the Organiser and the Supporting Partner reserve the right to cancel their application or forfeit the prize and Organiser's decision is final.
The Organiser reserves the right to amend the Terms and Conditions without any prior notice.
The Organiser, the Supporting Partner, it's appointed agents and employees shall not be liable for any loss, injury and/or damage which may occur, however caused due to any unforeseen circumstances.
The Organiser's decision is final and no correspondence will be entertained.
Information stated is correct at the time of print and is subject to change without prior notice.
Check out highlights of inaugural Hacking The New Normal 2020:
Click here to view information from the previous Hacking The New Normal.