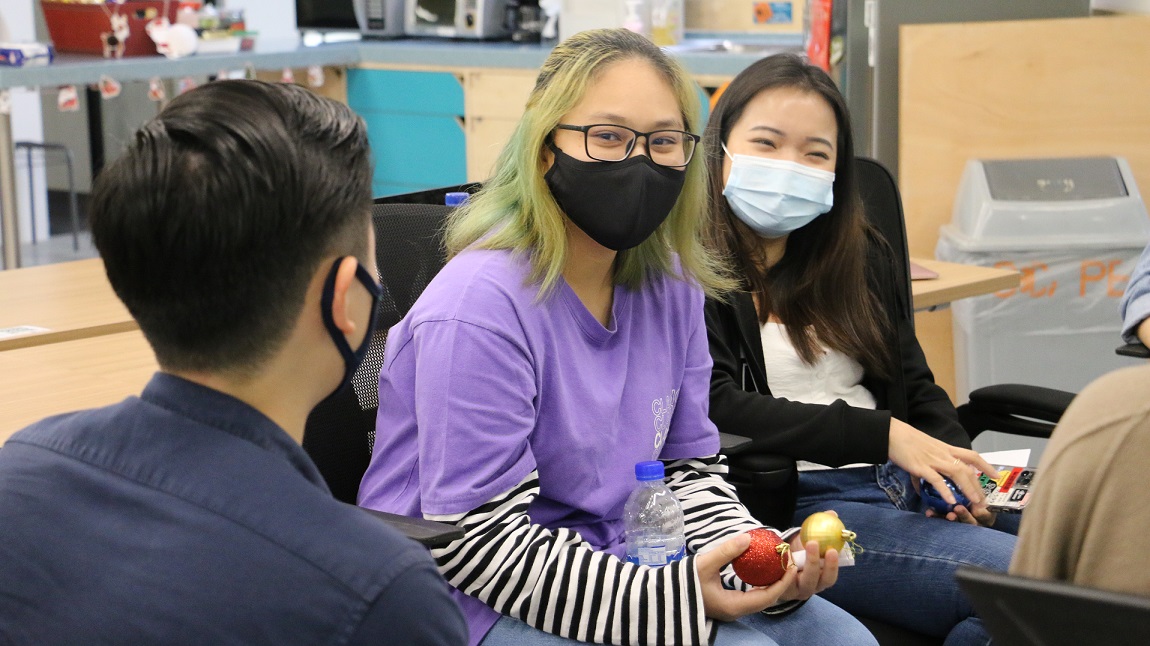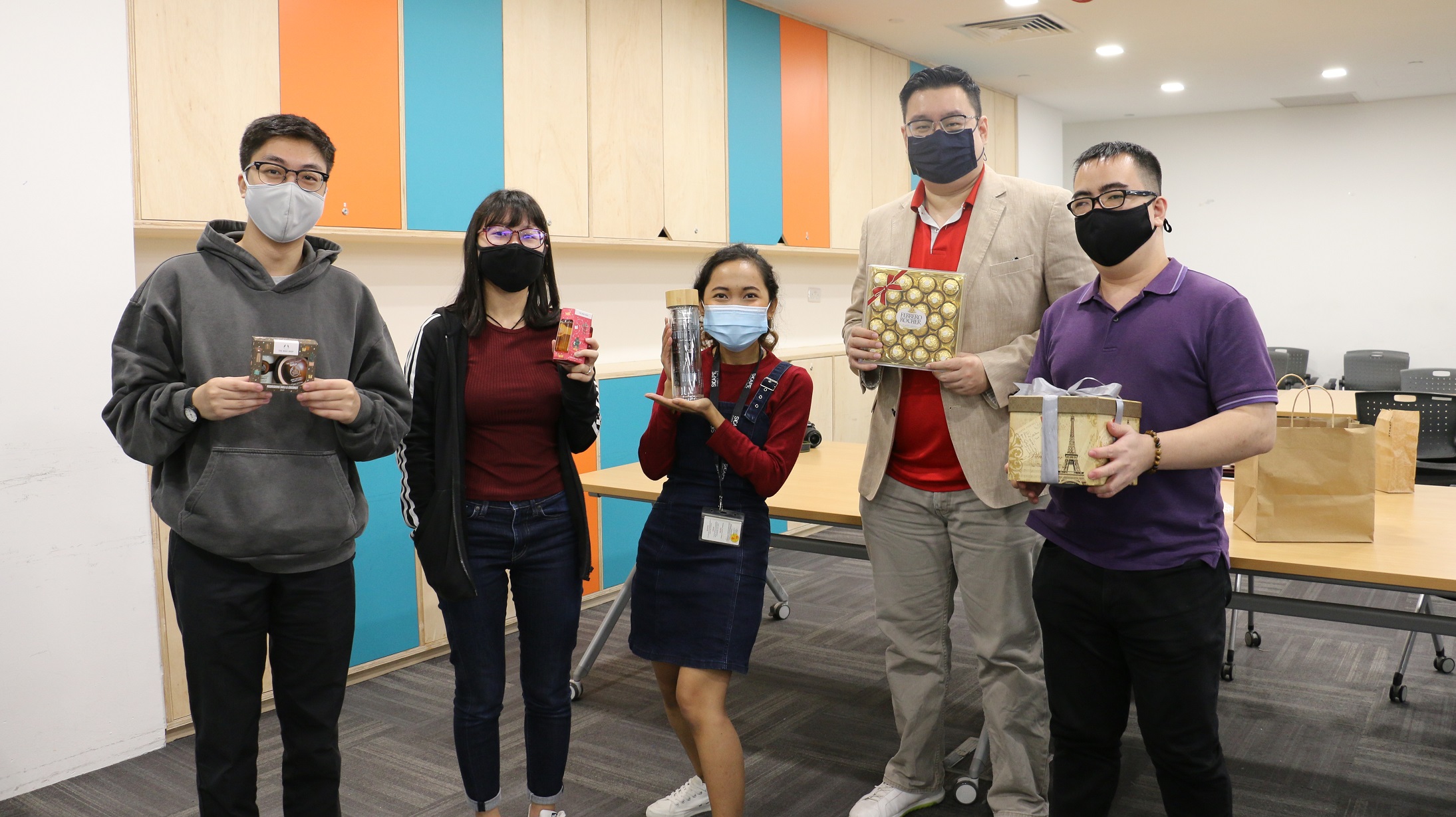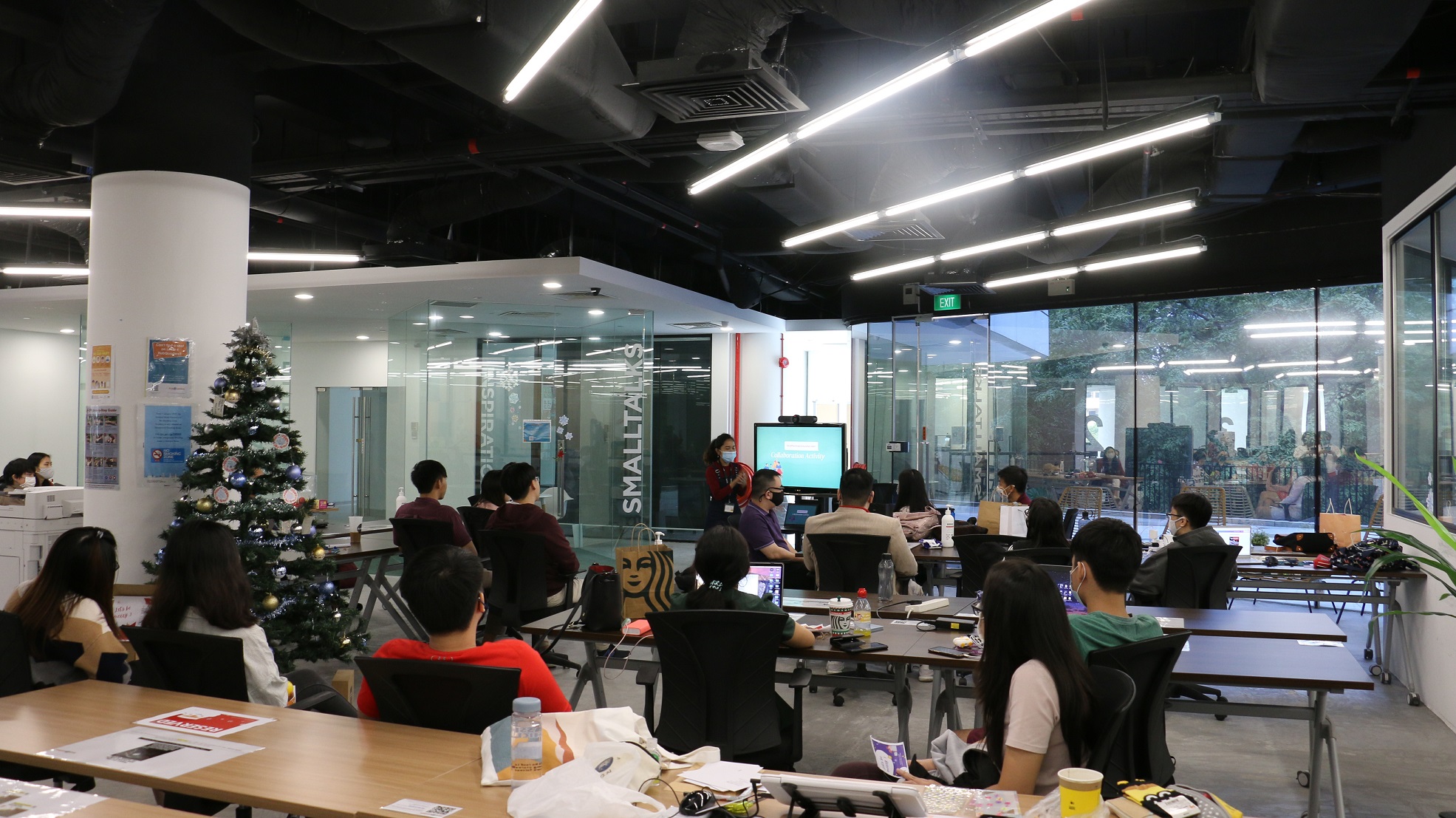 HubQuarters is a sandbox development programme space and community within *SCAPE for youth entrepreneurs to pilot, prototype and validate new and innovative business ideas alongside like-minded peers.  We host a range of start-ups across social enterprises, creative arts, youth services, info-comm technology, food & beverage, retail, and lifestyle sectors:
Access is a non-profit organisation that serves to provide career exposure opportunities to secondary school students from underserved backgrounds and educational streams through the workshops, externships and mentorships.

Education & Training

Action Dreamers is a Business Mentoring and Project Organization, that provides step-by-step Practical Business Mentoring into Entrepreneurship. AD also creates, manages and build projects for business collaborations, co-founding and ideas explorations.

Education & Training

AIESEC Singapore is a global platform for young people to explore and develop their leadership potential. They are a non-political, independent, not-for-profit organisation run by students and recent graduates of institutions of higher education. Its members are interested in world issues, leadership and management.

Youth & Leadership Development

Andimoo Studios was formed in 2014 by a group of professional artists and animators. Housed in *SCAPE, Andimoo Studios produces quality and creative artworks for comics, games and animations for companies such as Bandai Namco Entertainment, Capital Gains, DBS and Play Nation. They specialize in training and nurturing the next generation of young artists as well.

Arts & Design | Education & Training

Antgage is Singapore's Entertainment Platform for Entertainers in the Arts & Entertainment Industry. It hosts profiles for Musicians, DJs, Emcees, Special Acts, Groups/Band and Entertainment Vendors that you can book or engage directly. It is a one-stop platform for engaging Arts & Entertainment Acts.

Entertainment & Lifestyle

At ARISE, we are developing video games with explicit and carefully thought-out educational purpose, and not intended to be played for amusement purposes only. The games however are just an entertaining.

Education & Training

ASEAN Youth Organization roots from the establishment of ASEAN Community (AC) page in August 13, 2011. Originally formed to serve as an online platform for better understanding among ASEAN citizens, AC became an engine to unite both ASEAN and non-ASEAN youth alike. As AC became bigger, it also evolved to creating people-to-people exchange programs where its active members and volunteers can meet and foster better understanding of each other and of their cultures.

Youth and Leadership Development

Aww Media Pte Ltd is a boutique Singapore social media video production company that specialises in musically driven social media videos. They help your brand reach out, engage and achieve your business goals through aww-someness!

Media Production

BioSEA provides consultancy services in nature-based solutions for the built environment. Specifically the following areas – ecological and conservation planning, biodiversity surveys, ecosystem service assessments, social impact assessment of greenery and biomimicry in architecture.

Energy & Environment

Bountie is a Singapore based startup in the esports and gaming industry. Their mission is to create the ultimate platform for gamers to work, shop and play together. You could think of them like Facebook but for gaming. Instead of just the top 3% of the gamers getting 90% of the rewards, they aim to democratise gaming, where the 97% of the casual and semi-pro gamers also get rewarded from gaming. This is a market opportunity for 2.7 billion gamers and impacting their lives will as a result elevate Bountie into an unicorn status.

Entertainment & Lifestyle

Adapting to trends, breaking boundaries with endless possibilities with videos. Having founded
Butterworks Films since 2012, Lun and Rachel have produced countless Corporate Brand Commercials from the beginning. The birth of their Youtube channel, Butterworks (273000 subscribers) in 2015 opens new doors to Branded Entertainment, an effective way of video marketing. They've been evolving with times over the years with new film ideas and have attained multiple short film awards through their filmmaking journey, with their strengths lying in capturing moments and emotions, tugging at the heartstrings of many, allowing the videos to leave strong impressions in many.

Media Production

Confirm Good Pte Ltd is a Media Company that provides media coverage on deals, news, latest events and lifestyle recommendations – as of 12/10/2020, we have about 200k subscribers in Singapore. They have implemented state of the art marketing strategies and have one of most active Telegram channels (@goodlobang) in Singapore.

Entertainment & Lifestyle

Conjunct Consulting is a Southeast Asia's first social change consultancy. They work with Social Good Organisations to help them to do good, better. This is done through consulting projects and workshops, in strategy, research and implementation. They also leverage their cumulative work to develop insights and thought leaderships for the sector.

General Consultancy

CROP LLP is a multidisciplinary art and design studio based in Singapore. They focus on creating value for their clients through contextual research, visual culture literacy, open collaborative efforts and dedication. They design identities, print & digital matters, exhibition spaces and campaign strategies for the clients who value the importance of communicating through both visceral and objective visual language.

Arts & Design

CuriousCore is a digital design school for lifelong learners. They help busy professionals and organisations stay relevant in a changing world driven by technology. Their accelerated learning programs are designed to stimulate creativity, critical thinking and empathy which are essential to good leadership but are lacking in traditional education. They specialise in helping mid-career professionals break into the User Experience (UX) Design industry and business leaders to learn the fundamentals of Human-Centered Design (HCD) to solve business challenges.

Education & Training

Are your dates starting to get repetitive and stale? dateideas helps to spice up your dating life by providing an unlimited supply of interesting dateideas for your every date!

Entertainment & Lifestyle

David Tao Academy of Musicology was founded by Mr David Tao; a musician, producer, singer-songwriter and music entrepreneur, on July 2017 in Singapore. It is also the sister company of New Song Education in Taiwan. Mr David Tao is also the CEO of Great Entertainment and New Songs Publishing where both companies are key players in the Asian music industry.

Music

Helping retail companies build up e-commerce stores, while helping new startups build websites and marketing plans to help them grow. Digimau helps businesses embrace and integrate digital as a growth enabler. It offers a variety of services such as: web development and e-commerce, social media management, paid marketing, mobile app design and prototyping, brand consultancy.

Marketing Consultancy

Eysy Digital Pte Ltd is a group of passionate individuals with a vision to provide effective end-to-end digital solutions for Singapore's SMEs – from website design and development, website audit, website hosting, content strategy, social media campaign management, to digital marketing. At Eysy Digital – we make digital easy for everyone.

Marketing Consultancy

Fast Track Sg Pte Ltd is a Creative Media Company in Singapore that specialises in New Media Production, Content and Branding Strategy and Social Media Marketing for Top Producers in Real Estate & Finance, SMEs, and Agencies. They help in telling stories and capturing the attention of an audience.

Marketing Consultancy | Media Production | Arts & Design

First World Problems Pte Ltd was founded in 2011 as a private entity to provide legal information for individuals and small businesses, as legal information was mostly fragmented and offline then. Since then, SingaporeLegalAdvice.com has grown from an information portal to become an all-round legal platform serving more than 200,000 monthly visitors needing help with their legal matters

Legal

FoundFilms is a local film production company. We live and breathe film. From acting to directing, producing to reviewing films; we are fully immersed in the world of filmmaking.

Media Production

Frea is a marketplace for home-cooked food in Singapore. There are plenty of skilful home cooks here in Singapore. At the same time, there is a rising interest in home cooked food across Singapore. Frea creates a marketplace to pair the two sides together, connecting skilful home cooks with people wanting to experience tasty, freshly made home-cooked food.

Food & Beverage

The Omni-Channel Digital Commerce Platform Get All Myanmar Co is a digital commerce platform that empowers microentrepreneurs with technology in order to be competitive in the future economy. Get builds the digital economy infrastructure to bring up the livelihood of people from the base of the pyramid through economic inclusion.

Technology

Hashbrown Media Limited Liability Partnership specializes in handling social media marketing to help companies generate a healthy two-way conversation with their customers. This helps customers remain engaged with their favourite brands, giving it a personal touch to marketing efforts. This improves the overall sales figures and brand image. Their functions include ideat ion,content creation, graphic designing, photography, copywriting, handling customer replies and creating social media campaigns."

Marketing Consultancy

Hide & Seek Pte. Ltd. started its work in October 2018 as the team started its journey to develop a skills marketplace for Persons with Disabilities (PWDs) as part of Trifam which aims to be a digital platform connecting PWDs to potential employers. Since October 2018, the team has been building the community of talents with disabilities as well as reaching out to companies to raise awareness to increase employment opportunities for our talents. From July 2019, the team started the TomoWork Initiative in collaboration with Sumitomo Life Insurance from Japan to innovate the employment of PWDs. Their mission is to seek out the hidden talents of persons with disabilities through innovation and collaboration.

Education & Training | Social Enterprise | Technology

Anonymous texting platform that connects youths with trained peer supporters.

Mental Health & Wellness

Inawe Holdings Private Limited, No. 1 Most Trusted Digital Marketing Advisor

Digital Marketing | Marketing Consultancy

In D' Grey is a manpower & talent management agency. Searching for good part-time staffing can be quite nerve-wrecking and time-consuming. This is when we come into play to take this load off you! With a trained, all-rounded and dynamic team behind us, you can be rest assured that the manpower you hire are accessed according to their relevant experiences, attitudes and aptitudes.

Manpower and Talent Management

Kopi Date experience empowers genuine conversations by connecting (single) strangers over coffee at unique spaces in Singapore.

Entertainment & Lifestyle

Legacy Dance Co. (LDC) provides a well-structured dance education system. This dance-centric format of education, catered specially for street dance, is relatively new in Singapore. With the emphasis of building a cohesive, family-like spirit between the students and mentors, LDC's courses are designed to cultivate morals and values that will serve students with purpose beyond the classroom.

Education & Training | Entertainment & Lifestyle

Limitless (Ltd.) is a charity that does casework and counselling as well as groupwork and outreach to youths aged 12-25. Primarily in the area of mental health

Social Services | Health & Wellness

Majulah Community believes that every single youth deserves a platform to make a positive difference in the world. They aim to work with changemakers, families, teachers and fellow non-profits- anyone that believes in the power of change (while having a lot of fun along the way), and are a part of the Majulah community.

Education & Training | Social Enterprise | Youth & Leadership Development

MatcHub is a platform that matches talents with companies using an intelligent job matching algorithm that profiles candidates based on their career aspirations, personality and soft skills, in addition to their CV and experiences. Through MatcHub, the recruitment process is more efficient and fairer.

Technology

Mooah is a centralised third party due diligence platform for maritime & trade.

Technology

Music and Makan is an arts lifestyle company that curates intimate and engaging classical music experiences, while creating opportunities to build community around "makan" – every Singaporean's favourite pastime. Founded in 2012, they feature Singapore's brilliant classical musicians in intimate settings such as living rooms and focus on deepening the artistic experience through creating dialogue around the music.

Entertainment & Lifestyle

Newton's Meter was born out of a tragic accident that took a young man's life. It was a hit-and-run incident. A motorcyclist working for a food delivery service was knocked down and fell behind a bush where passers-by could not see him. What was truly tragic was the fact that the rider didn't die on impact but he was knocked unconscious and bled to death slowly. If he had been discovered earlier, he would have lived today.

Technology

NewYork.SG is on a mission to unlock the untapped potential of Singapore's young creatives. This initiative was started by a group of New York-based Singaporeans who hope to inspire local creatives to build their careers abroad. We harness our large network of top people and brands in the Big Apple and beyond to support them in their pursuit.

Education & Training

Nomlah Holdings Pte Ltd works in snacks manufacturing, importing and marketing. Singapore's 1st Brownie Crisp Creator.

Marketing Consultancy | Food and Beverage

Ourglass Pte Ltd was founded in 2018, is a Singapore based service robots provider committed to provide the latest robotic technology to various industries such as Food & Beverage, Shopping Malls, Museums, Libraries, Hotels etc. to help businesses increase productivity and efficiency. They carry top brands from different countries.

Technology

A Ransack Puzzle Hunt brings you on a journey through a series of captivating games curated to learn about the fascinating stories of Singapore. Join them in a hybrid outdoors adventure, inspired by Escape Rooms & Treasure Hunts to explore Singapore with a unique twist!

Entertainment & Lifestyle

Senica Photos journey started in 2015, when Sebastian and Monica decided to take a leap of faith and step fully into the world of photography and videography. The team is small but ultra-dedicated. Each project they take on is crafted with their heart & soul. The goal they live by is, "To deliver every story through enthralling images & videos that moves people".

Media Production

sēn Noise, believes in storytelling through music. They off their clients first-rate bespoke audio production, at highly competitive prices. sēn Noise is made up of active, established musicians and sound professionals who relentlessly pursue their craft, each an aggregate of a different discipline. The result, a dynamic collective working to elevate their client's artistic vision.

Entertainment & Lifestyle

SgFitFam Pte. Ltd. was created to make sustainable fitness more accessible to everyone. With a team of personal trainers and group fitness instructors, they are able to provide a plan suited for both 1-to-1 personal training and corporate health programs in Singapore. They don't believe in a one-size-fits-all approach and neither are our services restricted to a gym. The trainers can travel to your home or office at your convenience. Regardless of your lifestyle, they make every effort to put you at the heart of our services.

Sports & Recreation | Health & Mental Wellness

Sieve – Data privacy made simple. To simplify privacy policies for easy reading so mobile users can provide an informed consent on how apps collect & use their data.

Technology

Skilio is a soft skills measurement and analytics platform that empowers organisations to track soft skill development over experiences.

Technology

Tagteam Technologies Pte Ltd makes data annotation made fun and easy. So anyone can do it, anywhere. Tictag provides high-quality datasets at scale for companies that require it for data or artificial intelligence models. We're all about helping businesses create a competitive advantage through access to scarce labelled data.

Technology

The Green Collective is Singapore first Collective of sustainable brands curated based on the UN SDG principles. The Collective is an attempt to redefine retail of sustainable products by using a rural cooperative model based on sharing of available resources in an urban setting to create sustainable and profitable business model while empowering communities and our environment.

Energy & Environment

For almost a decade, clients have engaged Tisch Global to help them navigate the World's complexities. Tisch Global is more than just corporate advisors. Driven by an innate sense of what's right, powered by deep industry insights, they are here to meet client's everyday needs. They work closely with their clients to give them what's best, whether it is risk management, asset protection or capital flow.

General Consultancy

Tomo Training Consulting Group Pte. Ltd. (TTCG) was formed in 2009, and is a leading education and training consultancy which prides itself on being a specialist in unleashing the potential of groups and individuals alike. TTCG is sincerely committed to the art of moulding and enriching lives today so that the global citizens of tomorrow can lead productive and fulfilling lives.

Education & Training 

The Toy Folks is an independent book and toy store in Singapore specialising in quality and curated arts and crafts, educational toys, books and games for kids 0 – 12 years of age. Established in 2016, we took over the Nurture Craft store that had its roots in the same location since the 1990s, cosily tucked in the basement of Forum The Shopping Mall. We're proud to continue the heritage of the store, and to bring the best of books and toys that enrich children's lives and add lasting value to building children's foundations.

Education & Training

Finished your basic Python class but don't know what to do next to go into data science? We gotchu fam. UpLevel provides cool projects so you can UpLevel your skills and experience. UpLevel on a mission to close the gap between coding education and employability with project-based training.

Education & Training

Vine Music Studio is a premier inclusive vocal teaching school that offers services such as private 1-1 and group singing lessons and workshops online and in-person by highly qualified vocal instructors from top music colleges around the world. They provide the best vocal instruction in Singapore to nurture the artists of tomorrow by helping each individual find their voice and build confidence regardless of their background or abilities. They guide their students to find the optimal and most efficient way to use their voices for performance and public speaking, so that they can confidently and creatively express themselves, and sustain their vocal health in the long-term.

Education & Training

VIVITA Singapore is a creativity accelerator and global community of curious innovators and creators that equip children with 21st century skills, providing them with an environment that cultivates fearless exploration.

Education & Training

Wraek is an innovative designer and manufacturer of high-end gaming keyboards, providing gamers with effective and ergonomic comfort during gameplay.

Entertainment & Lifestyle
To get in touch with us or find out more about the HubQuarters vibrant pool of young entrepreneurs network, do contact us at hubquarters@scape.sg.