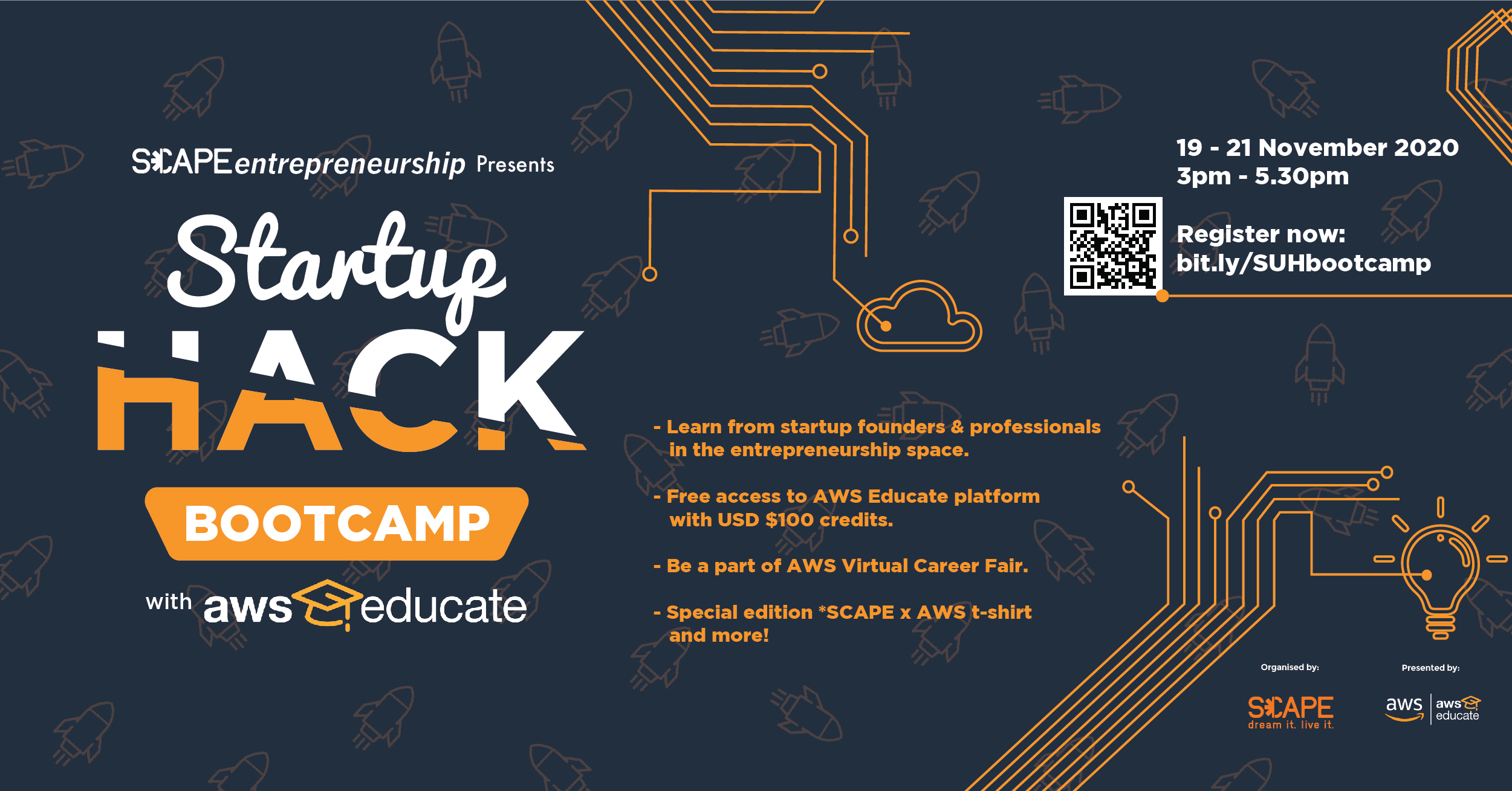 Starting up your own business can be daunting, and you might not know where to begin. *SCAPE is partnering with Amazon Web Services to bring you an exclusive Startup Hack Bootcamp. A 3-day intensive bootcamp that equips you with the skills you need to kickstart your very own entrepreneurship journey.
You will be put through an intensive 2.5 hour session per day, covering a wide variety of topics to help you in your entrepreneurship journey. Hear from a number of startup founders and professionals in the startup scene and dive into hands-on workshops with case studies. The bootcamp provides you with free access into the AWS Educate platform, allowing you to carry out more in-depth self-learning about the skills you require for creating your very own startup. Lastly, you will be able to access an exclusive Amazon Web Services virtual career fair, where you'll be able to continue to build your skills through working with and accessing corporate and tech firms.
Event Highlights Video
Full Bootcamp Videos
19 November – 21 November | 3pm – 5.30pm
What to look forward to:
Hear and learn from startup founders and professionals in the entrepreneurship space
Free access to the AWS Educate platform with USD $100 credits
Be a part of the AWS Virtual Career Fair
Special edition *SCAPE x AWS t-shirt and participation certificate upon completion of Startup Hack Bootcamp.
3-Day Bootcamp Schedule
19 November: 2.5 hours Workshop on Zoom
Keynote: Getting Started As A Founder
Panel: Customer Discovery & Development
Workshop: Building Your MVP
20th November: 2.5 hours workshop on Zoom
Panel: Legal Fundamentals
Fireside Chat: How To Fundraise
Panel: Growth Strategies and Company Culture
21 November: Amazon Web Services Virtual Career Fair
A Virtual Career Fair where Singapore students, graduates and early to mid PMETs will be able to seek for internships and jobs with AWS partner companies.
*Access to Virtual Career Fair will only be provided to attendees that complete the previous 2 days*
Meet The Speakers
Lim Ee Ling
Innovation and Partnerships of 500 Startups,
Co-Founder and CEO of Smarter Me.
Singapore Country Head

Ee Ling Lim is the Singapore Country Lead for Innovation and Partnerships at 500 Startups. At 500 Startups, Ee Ling develops partnerships and implements innovation programs for corporates, government agencies, and advocacy groups; and helps them to build relationships with startups around the world. Ee Ling is also the Co-Founder and CEO of Smarter Me, an education startup that equips K-12 students with the skillset, mindset, and heartset of the future, through digital tech, design thinking, and entrepreneurship education. Prior to Smarter Me, Ee Ling spent almost a decade in investment banking with Bank of America Merrill Lynch and CIMB Investment Bank, advising large corporations in South East Asia on M&A, equity capital markets and debt capital markets. She graduated from the University of Queensland.

Felix Goh
AWS Educate Asia Pacific Japan Program Manager,
Amazon Web Services

Felix Goh is the Program Manager for AWS Educate across ASEAN. He brings with him 15 years of experiences in the education and technology industry working closely with educational institutions and governing agencies in empowering and equipping the current workforce and the workforce of tomorrow with industry relevant skillsets. Prior to joining AWS, Felix worked at Adobe as the APAC Education Specialist, imparting his technical knowledge of the entire Adobe solutions to the customers and aid in integrating it into curriculums with some of the largest HED schools in ASEAN. His passion in education, technology and business development drives him to constantly learn new teach and think of creative ways in embedding tech into the teaching pedology.

Ivan Gn
EdTech Technical Program Manager,
Amazon Web Services

Ivan started his career as a teaching Chemistry in a school in Singapore, before moving to lead a policy unit in the Singapore Ministry of Education. After that, he worked on various start-ups in the region, building products and services in education. Now he is an EdTech Technical Program Manager at Amazon Web Services, helping to develop the regional edtech ecosystem.

Samantha Low
Corporate Counsel at Amazon Web Services

Samantha Low is a qualified solicitor in England and Wales, with over 10 years of experience in technology, commercial, financial regulatory and privacy practice areas across multiple jurisdictions. She is currently the ASEAN legal lead for Public Sector in Amazon Web Services.

Joshua Tan
Partner, Corporate Practice.
Aquinas Law

Joshua is currently a corporate law partner at Aquinas Law. He began his practice at an award-winning boutique law firm, and later took on in-house legal counsel roles for the exposure to different business environments and to gain insight into the perspective of clients. Joshua's choice to be a corporate and commercial lawyer stems from his deep interest in business, and he has built his practice around giving practical commercial solutions to a wide range of clients, with a focus on Startups and SMEs.

James Chia
CEO & Co-Founder,
ArcLab

James is CEO & Co-Founder of ArcLab, a Mobile Learning SaaS platform that empowers organisations to upskill workforces effectively. Organisations use ArcLab to create & deliver bite-sized, just-in-time training and digital performance support to teams – improving job performances and livelihoods in the face of digital disruption. James started his career at the Monetary Authority of Singapore, serving in London and Singapore as Portfolio Manager & Deputy Director. He is a graduate of Cornell University and the Cornell Institute for Public Affairs. James is an Associate Lecturer at SIM Global Education and volunteers as a community mentor to lower-income children with Edugrow for Brighter Tomorrows. James enjoys being present with family, reading, writing, running, macro-investing and technology. He is a long-suffering Tottenham Hotspur fan (since 1994), was present at their last trophy win at Wembley in 2008, and has never stopped believing.

Koji Takahashi
Managing Partner
Edulab Capital Partners

Koji Takahashi is a Managing Partner at EduLab Capital Partners. He has over fifteen years of business development and investment experience in Asia-Pacific. At Edulab, he has been involved in all aspects of venture capital management and international business development including strategic investment, partnership development and new business creation in education technology and AI Automation (Intelligent Document Processing). Before joining EduLab Group, Koji was an equity research analyst at Lehman Brothers and Barclays Capital. Earlier in his career, Koji also worked at Yappa Corporation and McKinsey and Company. Koji received his M.B.A from INSEAD and B.A in International Studies from the University of California, Irvine.

Ryan Adnin Goh
Director of Advisory
Forbis Accounting Pte. Ltd.

Ryan is an entrepreneur and consultant. Specialised in developing digital platforms and businesses. He has founded, participated and consulted on projects in an executive capacity fuelling the growth of multiple digital ready companies across 3 continents; Africa, Europe and Asia Pacific, including mergers and acquisition (M&A) experience.

Grace Sai
CEO & Co-Founder
Found8 Innovation

Grace is the Co-Founder and CEO of F8 Innovation, a reputable corporate innovation agency that designs and builds innovation programs for Asia's progressive organisations. It houses a live ecosystem of entrepreneurs in its coworking campuses in Singapore and has helped more than 100 corporates in their transformation journeys. Grace is a Kauffman Fellow and leads Found. Ventures, an early-stage tech fund. She is regarded as a node of the entrepreneurship ecosystem in Asia and speaks widely on that topic. She has been invited by the Prime Minister's Offices in Singapore and Malaysia, Angela Merkel, Prince Constantijn of the Netherlands, amongst others; to share her inputs. An Entrepreneur-in-Residence at INSEAD and a TEDx Singapore speaker, she was also the founder of Books for Hope, a social enterprise in childrens' education in Indonesia. Grace has been nominated as Gen T by Singapore Tatler (2018), Great Women of our Times by Women's Weekly (2017), 40 Under 40 by Prestige Singapore (2014) and is a UN Women Entrepreneurship Day Ambassador. She resides in Singapore and has two Masters; an MBA from University of Oxford and a Masters in Coaching and Consulting for Change from INSEAD, both with Distinctions. She speaks 6 languages.

Anissa Castillo
Associate Legal Counsel
Lazada Group

Anissa Castillo  is an Associate Legal Counsel at Lazada Group. Lazada is South East Asia's leading e-commerce platform owned by Alibaba. Anissa has been with Lazada since 2014 back when the company was a rocket internet start-up. She has also taken up various roles within the legal and compliance functions both regionally and locally within the company.

Dennis Poh
Founder of Legatcy,
Investor of EAT Launchpad

Dennis has years of experience in corporate governance and legal industry, previously working for law firms and running corporate compliance firms in Singapore. He subsequently founded companies in Asia with the mission to professionalise services for start-ups and SME, after working as a Product Head in legal tech start-up. Since then, he has assisted several start-ups with their due diligence and completion for their Seed to Series A fundraising, and exits. Now, his firm manages more than 200 companies with founders from across the world, advising on accounting, finance, corporate governance, corporate structuring, investor relation and business model and strategy issues.

Brendan O'Shaughnessy
Chief Commercial Officer
ViSenze

Brendan O'Shaughnessy is the Chief Commercial Officer at ViSenze, an artificial intelligence company powering visual commerce at scale for brands and publishers. In this role, Brendan is responsible for the company's operational and go-to-market strategies, and leads ViSenze's global sales team. Since joining ViSenze, Brendan has played a major role in growing the company's client base and continues to do so through his sales leadership and extensive commercial experience. Prior to ViSenze, Brendan had regional roles in business development at AWS, sales leadership at Ooyala and a management consultant for Capgemini. Brendan has over 25 years of experience in digital technologies with areas of specialization in B2B SaaS, eCommerce, Digital Transformation, Media and Retail. Outside of work, Brendan enjoys sports, reading, and family time.
Startup Hack Bootcamp is a multiday, intensive workshop where we help startups and individuals gain relevant or new skills that will help boost their businesses, by inviting subject matter experts that will impart their knowledge via hands-on sessions and sharing.
This programme is created with and co-organised by AWS Educate, Amazon's global initiative to provide students and educators with the resources needed to greatly accelerate cloud-related learning endeavors and to help power the entrepreneurs, workforce, and researchers of tomorrow.
Organised and Presented By:
Community Partners: