Media and Entertainment
EMPLIFY Point of View Podcast
25 March, 8:00 PM - 9:00 PM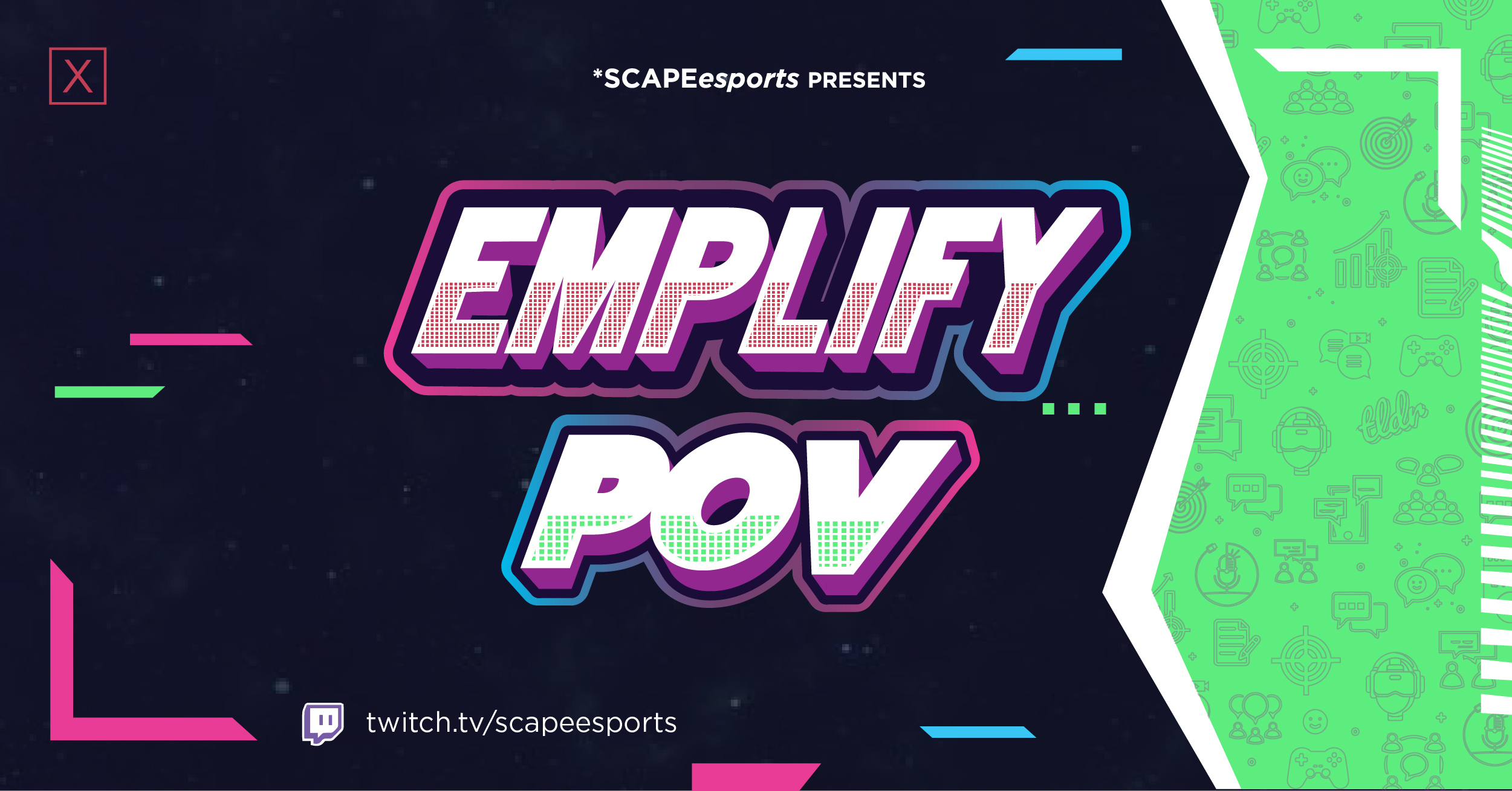 Point of View is a series of online podcasts aimed at fostering healthy discussions on under-discussed esports topics. Happening every last Friday of the month, Point of View will feature guests from the esports industry to share insights through conversations and debate. You can view past Podcasts VODs here or listen on the go on Spotify!
Emplify is a platform for online content created and curated by *SCAPEesports to engage, educate and entertain youths and communities on esports. The content includes developmental and trending esports updates in Singapore conducted by esports professionals, which will be live streamed on our *SCAPEesports Twitch.
Emplify consists of 3 programmes – Sync Up, EXP Plus, and Point of View.
Episode 21
Burnout in Esports
25 February 2021 | 8pm – 9pm
Guests: Samuel 'Sequinox' Chan, and Alex 'SSK' Tan
Samuel 'Sequinox' Chan

Alex 'SSK' Tan

Hello there, I'm Samuel 'Sequinox' Chan from Singapore, an avid strategy game enthusiast who has competed in Hearthstone professionally, as well as games in the Auto Battler genre such as Dota Underlords and Drodo Auto Chess. Prior to my esport career, I have been slinging cards at local trading stores since the age of 13, which was what fueled my passion for the above genre of games.

Currently, I am competing in Axie Infinity, which is an NFT strategy game. We started in November 2021, and within a short amount of time have been able to dominate the leaderboards, constantly placing top 10 and having multiple podium finishes in tournaments! Other than competing, I also stream almost daily on Twitch, focusing on top-tier competitive gameplay and educating those who want to improve in the game.

Hi, I'm SSK/Shinsekai. I have been competing professionally for 8 years now in League of Legends and recently transitioned over to Wild Rift last year. Been competing professionally for a long time and being burnt out easily has been a huge challenge that I have to face. I would love to share more about it during the podcast session!
Episode 20
Varsity Gaming Scene
28 January 2021 | 8pm – 9pm
Guests: Elaina Ong, Sean Heng, Ong Jing Hao
Episode 19
Opportunities from ELEVATE'21
17 December 2021 | 8pm – 9pm
Guests: May Chen and EmJ Gregorio
Episode 18
Sustaining a Community
19 November 2021 | 8pm – 9pm
Guests: *SCAPE youths Kie and Cobblemaniac
Episode 17
Community Building: Running Gaming Communities
22 October 2021 | 8pm – 9pm
Guests: *SCAPE youths Minyi and Mike
Episode 16
Esports in Singapore, Then and Now.
24 September 2021 | 8pm – 9pm
Guests: Bobby (Chief Operating Officer at RSG), and Jacky (Esports Operations Veteran)
Episode 15
Is Esports a Real Sport?
27 August 2021 | 8pm – 9pm
Guests: Stefan "Soul" Chong and Wong "NutZ" Jeng Yih
Episode 14
The Problem of Gaming
30 July 2021 | 8pm – 9pm
Guests: *SCAPE Team – Kenneth, Wenceslaus, Stephanie, and Aiman
Episode 13
Esports Events In The New Normal
25 June 2021 | 8pm – 9pm
Guests: Jason Lim from Singtel and PVP Esports, and Lawson Lee from The Gym Esportscentre
Episode 12
Anyone Can Be An Esports Journalist
28 May 2021 | 8pm – 9pm
Guests: Bryan Huang from YahooTV, and Amanda "Tania Mae" Tan from ONE Esports
Episode 11
Leading a Community
23 April 2021 | 8pm – 9pm
Guests: quikz & HiPSTRF0X
from the Rainbow 6 Siege Commuity Singapore