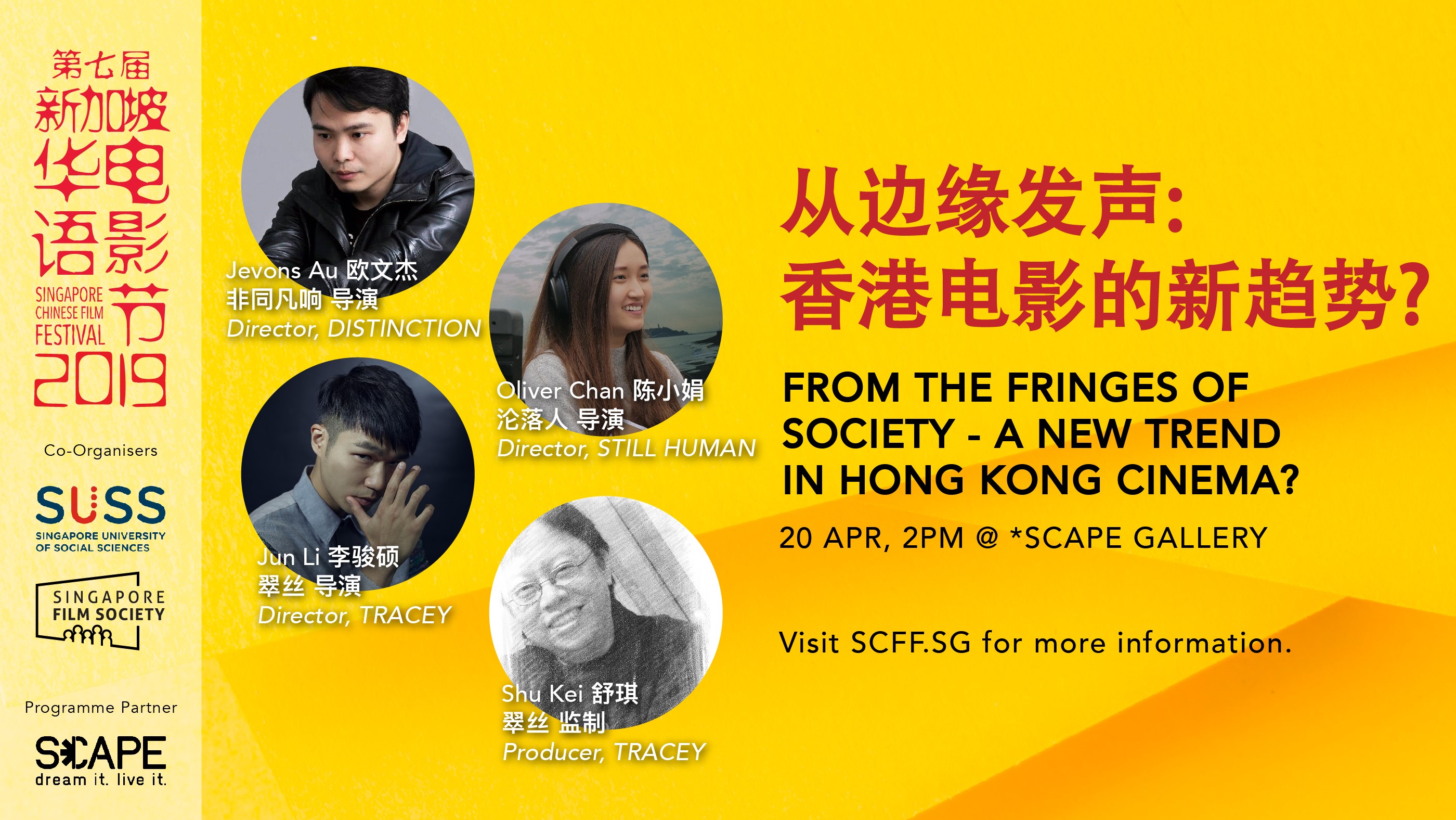 Click HERE to sign up for the FREE panel discussion with one of Hong Kong's finest filmmakers!
Films often reflect the narrative and unspoken thoughts of society. What then are the stories and new trends that now interest the new generation of indie filmmakers? Why do younger directors choose to focus more on social issues or characters on the fringes of society?
Come join the discussion with prolific HK filmmakers Jevons Au, Jun Li, Shu Kei, and Oliver Chan as they share about their creative inspiration, some behind-the-scenes stories in making their films, and also their perspectives about emerging cinematic trends in Hong Kong!
SPEAKERS

JEVONS AU
Jevons made his solo directing debut with DISTINCTION after twice winning. Best Film at the Hong Kong Film Awards in consecutive years – he contributed to the anthology TEN YEARS and was one of three young directors involved in making the crime-thriller TRIVISA. It is widely believed that Au has been blacklisted by Chinese censors for his involvement in these two films.
SHU KEI
Shu Kei was the Dean of Film and Television at the Hong Kong Academy for Performing Arts from 2005 to 2016. He is a film director, screenwriter, producer, film critic, and distributor, and recently produced and co-written the Golden Horse award-winning feature film TRACEY. 
JUN LI
Jun is a reporter, playwright, actor, essayist, film critic and an independent filmmaker. He won the Fresh Wave Award and Best Director (Open Division) at the 11th Fresh Wave International Short Film Festival with LIU YANG HE. The short film was further shortlisted in Kaohsiung Film Festival 2017 in Taiwan and the 11th Five Flavours Film Festival in Poland. Jun also starred in the well-received indie film I MISSED YOU WHEN I SEE YOU. He has just completed his feature debut TRACEY, starring veteran actors Philip Keung and Kara Hui.
OLIVER CHAN
Olivier graduated with a Master of Fine Arts in Film, Television and Digital Media at the Hong Kong Baptist University. She opened her own production company and worked as a film and television scriptwriter and also the director for commercials. In 2017, she became the winner of 3rd First Feature Film Initiative (Higher Education Institution Group) and received funding from the Film Development Fund to implement her project first feature film STILL HUMAN, which has received 11 nominations at the upcoming Hong Kong Film Awards, including Best Film and Best New Director, and is selected as the Opening Film for the 7th Singapore Chinese Film Festival.
Seats are limited so hurry and save yourself one today!