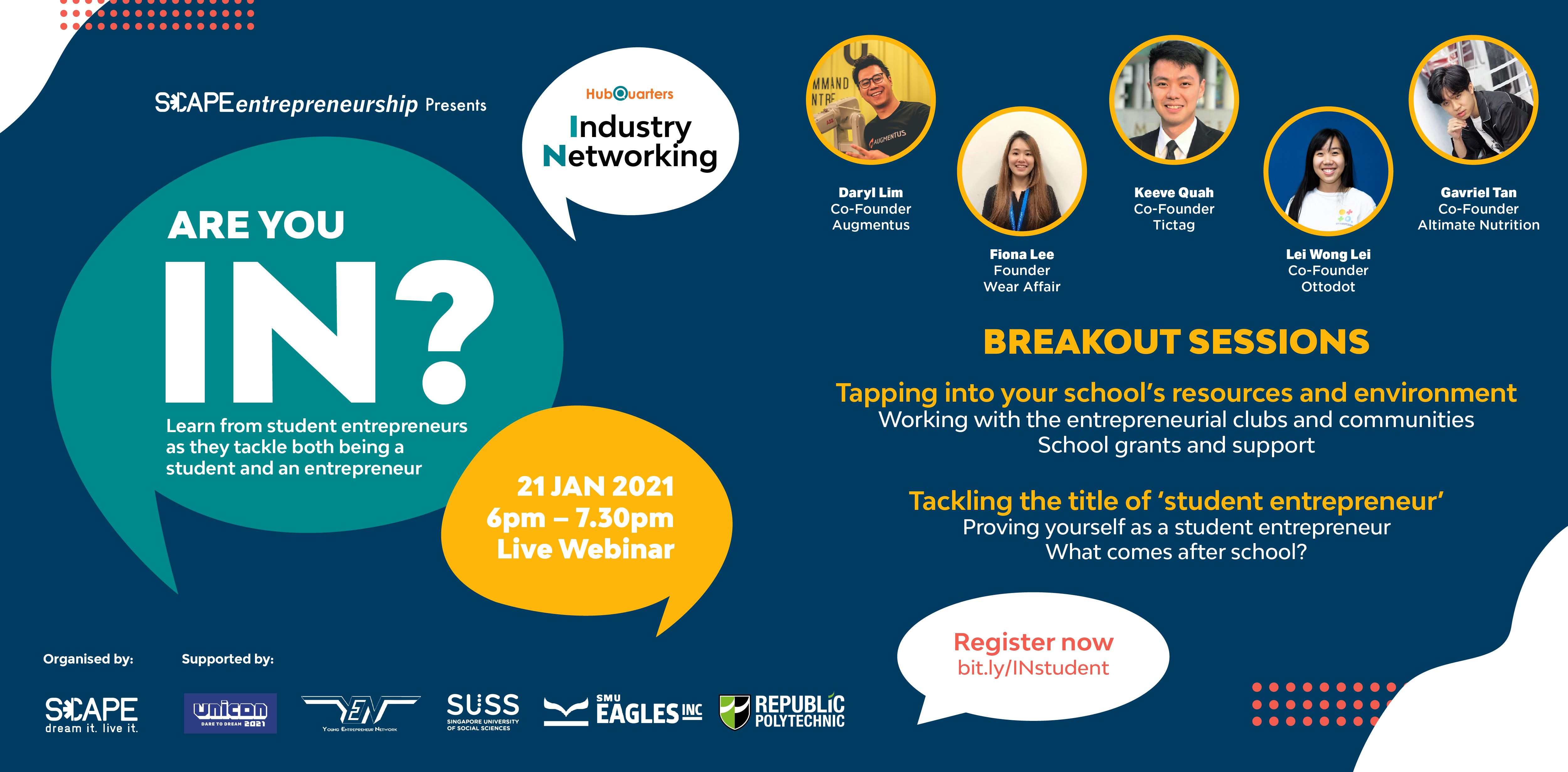 IN (Industry Networking) provides a platform to gather aspiring entrepreneurs, startups and professionals to build connections, exchange ideas and gain insights. Each event is focused on a specific industry.
Sector in-focus: Student Founders  Register Today
21 January 2021
6pm – 7.30pm
Learn from student entrepreneurs as they tackle both being a student and an entrepreneur. 
In this session, you will meet with student entrepreneurs who have taken the challenging road to becoming an entrepreneur. You might be thinking: as a student, how do I even begin starting a business? Join this session to learn how you can tap onto your school's resources and network, how to leverage on your identity as a  'student entrepreneur', as well as what to do the moment you graduate.
There will be a brief roundtable discussion about juggling being a student and an entrepreneur. After, we'll split into breakout rooms to deepen the discussion.
Breakout Room Topics
Tapping into your school's resources and environment

Working with the entrepreneurial clubs and communities

School grants and support

Tackling the title of 'student entrepreneur'

Proving yourself as a student entrepreneur

What comes after school
Speakers
Co-Founder,
Augmentus

Daryl is the co-founder of Augmentus, an AI-robotics software company, where he works closely with robot manufacturers and system integrators to lower the skill and cost barriers for companies to adopt robotic automation. Prior to his work in Augmentus, Daryl also co-founded Illuminate Singapore, a social issue conversations platform, and Edge Neo, a computing distribution company that is the largest distributor of blockchain encryption solutions in SEA. His life-long goal is to build a sustainable future that is exciting and inspiring for the next generation by positioning himself at the forefront of the fourth industrial revolution.

Founder,
Wear Affair

Fiona is a recent graduate from SUSS. Having previously explored multiple industries including Engineering, Finance, and Human Resources in her educational years, her hope is to create value for the community through her own venture. Fiona has been active in the startup scene since 2016, where she co-founded a social enterprise tackling environmental issues through education.

Co-Founder,
Tictag

Keeve's background is in AI and Finance, and he'll be graduating with a double-degree in BBM/IS from Singapore Management University. Tictag very much defines his experience as a student founder in the startup ecosystem in Singapore – it's his first business and he has so much to thank for his experience as Tictag's CBO.

Lei Wong Lei

Co-Founder,
Ottodot

Wong Lei is the co-founder of Ottodot. She works closely with children to develop games that let them learn in imaginary worlds. Wong Lei graduated from Renaissance Engineering Programme in NTU with a master's in Technology Management. She was meant to build houses but decided to change her path to build game worlds with her university roommate.

Co-Founder,
Altimate Nutrition

Gavriel Tan is a passionate individual in biotechnology and entrepreneurship. As a student entrepreneur, he ventured into the alternative proteins field and represented his start-up in the finals of local and national competitions like the Chulalongkorn University Sustainable Innovation Challenge, Ideasinc Business Competition by NTU, and China-ASEAN Smart Competition. His vision is to create nutritious, sustainable foods that can potentially aid global food and nutrition insecurities with minimum harm to the environment.