Media
NYFA Conference 2021: Continuing the Short Film Journey
17 April, 4:00 PM - 5:00 PM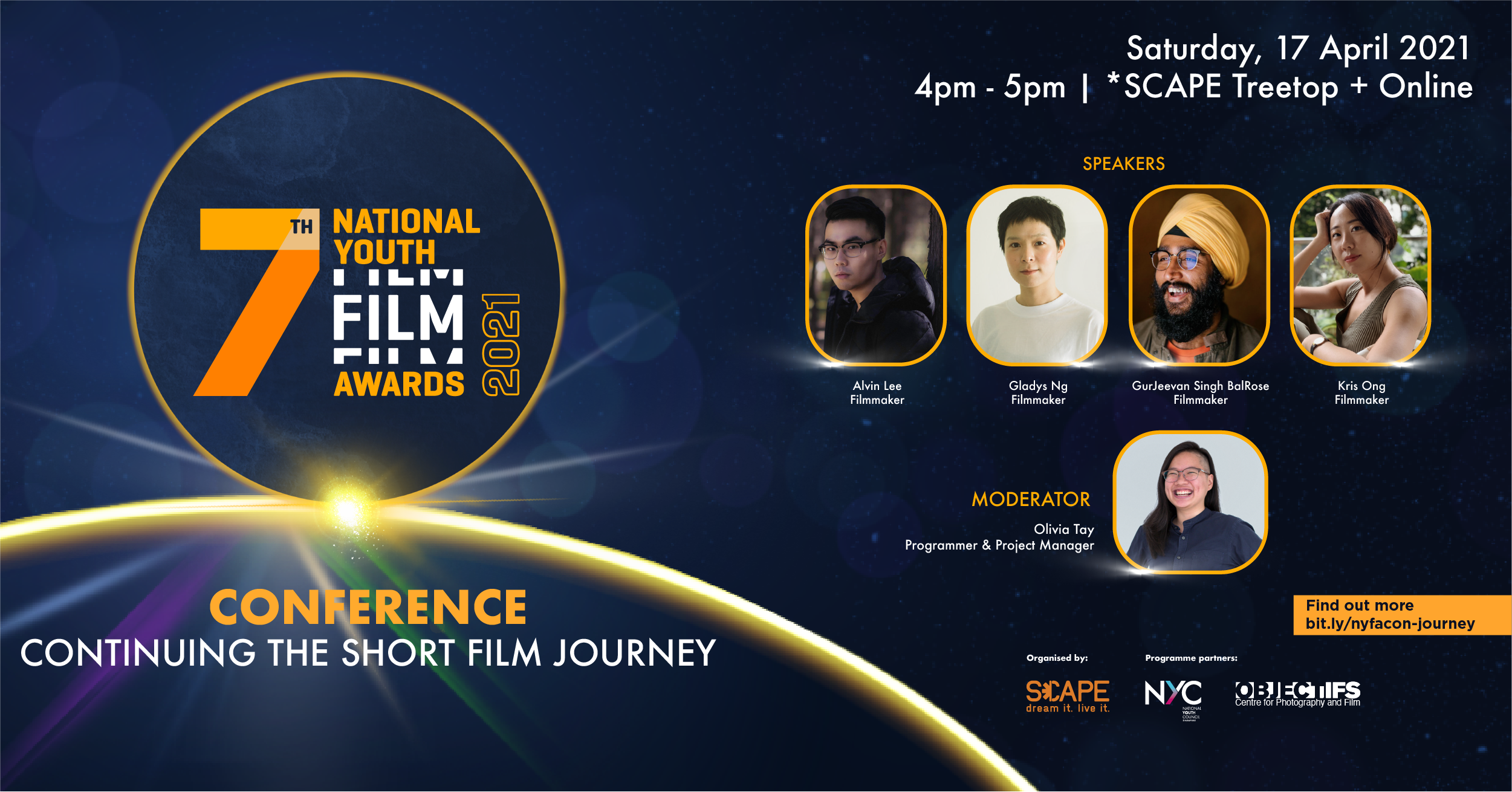 NYFA Conference 2021:
Continuing The Short Film Journey
Saturday, 17 April 2021 | 4pm – 5pm | *SCAPE Treetop + Online
Funding options are slim and budgets are always a problem, but these filmmakers continue making short films, expressing themselves the only way they know how. Listen to the NYFA alumni as they share about the things that they have learnt along the way as well as the mistakes that they have made.
Join us on the 17th April 2021, from 4pm to 5pm, in conversation with our very own NYFA alumni, moderated by Olivia Tay.
Speakers
Alvin Lee
Filmmaker

Alvin Lee graduated from the Beijing Film Academy, Bachelors in Film Directing program. At 28, Lee's shorts have won top awards at film festivals. "Bon Voyage" won Best Director and Best Sound at the 6th Singapore Short Film Awards. "Seed" won Best New Director at 2016 China Short Film Golden Hummingbird Award and Best Actress at 2017 Short Shorts Film Festival & Asia. His Beijing Film Academy thesis film "A Time For Us", premiered in the 29th Singapore International Film Festival Southeast Asian Short Film Competition. Lee is also a scholar under Infocomm Media Development Authority's Media Education Scheme (Film).

Gladys Ng
Filmmaker

Gladys Ng's "My Father After Dinner" won Best Singapore Short at the 26th Singapore International Film Festival (SGIFF). Under a commission from SGIFF, she wrote and directed "The Pursuit of a Happy Human Life" which opened the 2016 festival. In 2020, "Under the Same Pink Sky", from 15Shorts, was awarded Best Directing and Best Editing at the National Youth Film Awards. Her latest commission, "Prophecy", showed at ArtScience Museum until January 2021. Gladys' films reflect her nature – ephemeral, often nuanced and subtle, interspersed with wry humour. Most of her earlier works can be viewed at Objectifs' Short Film Library.

GurJeevaan Singh BalRose
Filmmaker

GurJeevaan Singh BalRose graduated from Lasalle College of the Arts in BA (Hons) Film. His short "Come Here" was nominated for best direction, actor and actress for

ciNE65

2019; that, and his documentary "LifeLine" was in Frameworks Festival 2019. His Honour SG documentary, "Haruwal", screened at Capitol Theatre and at Toronto Reel Asian International Film Festival 2020. GurJeevaan's Lasalle final year film "Vichora" won Best Original Score at the National Youth Film Awards 2020. GurJeevaan makes documentaries and fiction films which he hopes to use as a medium to tell stories about Sikh history and culture in Singapore and India.

Kris Ong
Filmmaker

Kris Ong is the Singaporean writer / director of several short films and music videos that have screened collectively at over 30 international film festivals. Her latest short film "Sunday", had its world premiere at the Palm Springs International ShortFest 2019. She is the co-founder of boutique film agency Momo Film Co with Singaporean producer Tan Si En. Momo Film Co supports emerging, independent Southeast Asian filmmakers to develop strong and original narratives for international audiences.
Moderator
Olivia Tay
Programmer and Project Manager

Olivia Tay was a film programmer at the Singapore International Film Festival (SGIFF) from 2016 to 2020, overseeing the Cinema Today and Singapore Panorama sections. She also led film classification and print traffic, and was formerly part of the hospitality team in 2015. Beyond film programming, she has organised various physical and virtual events, and dabbled in video production. Olivia graduated from the National University of Singapore in 2014 with a B.A in Sociology and a minor in Film Studies.