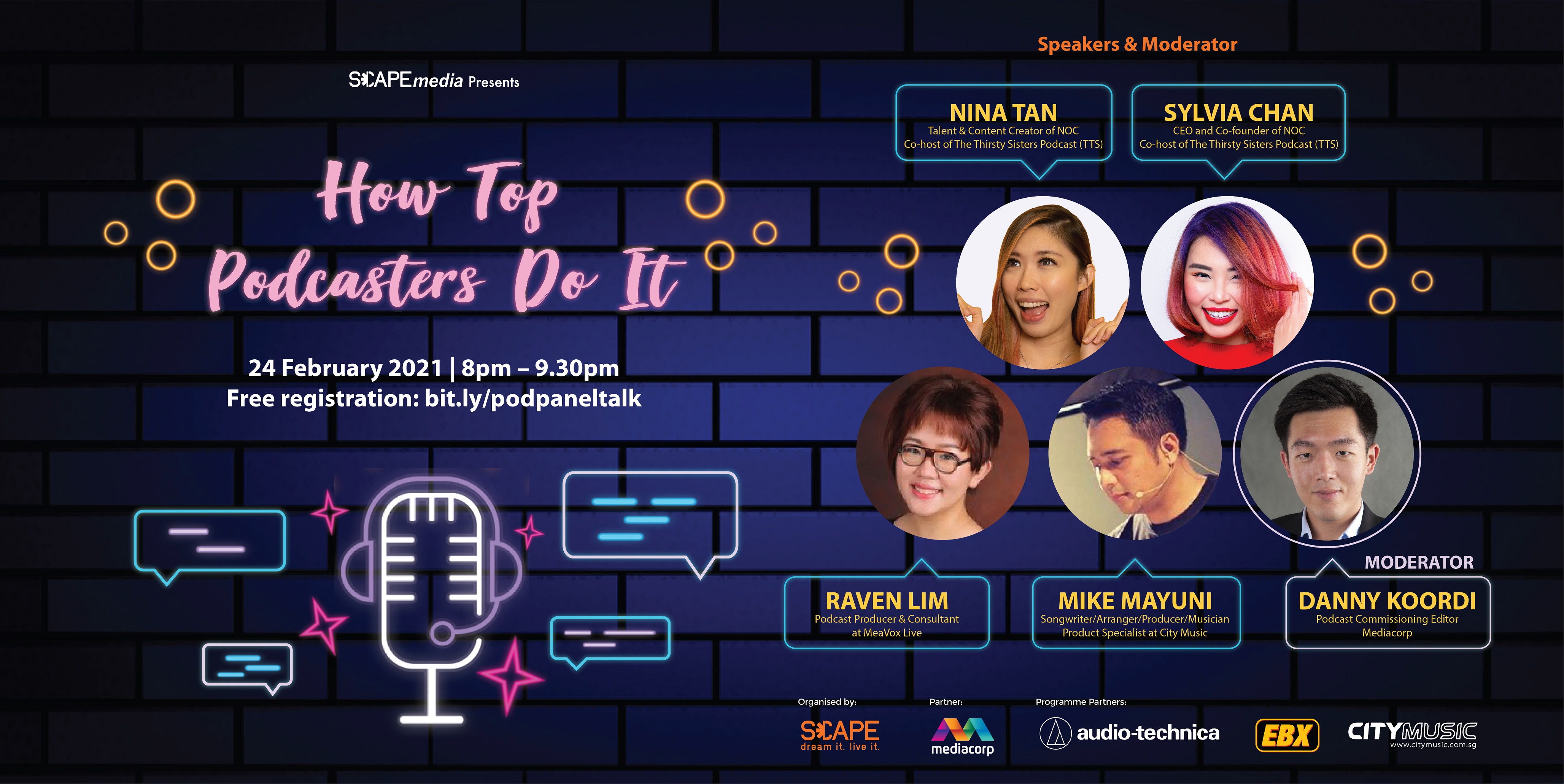 How Top Podcasters Do It
Need to freshen up your podcast? How to improve your podcast?
Hear about it all from top podcasters (Sylvia and Nina from The Thirsty Sisters) and industry experts (Danny Koordi, Raven Lim & Mike Mayuni) as they share all you need to know, from equipment to listener trends!
24 February 2021 | 8pm – 9.30pm | Live on *SCAPE Facebook
Click here for the Facebook Live
Speakers
Sylvia Chan – CEO & Co-founder of NOC, co-host of The Thirsty Sisters Podcast
Co-founder and CEO of NOC, Sylvia is a competent leader whose selfless contributions brought NOC to its heights today. Also a naturally witty and versatile individual, she partakes in a myriad of on-screen roles such as acting and hosting, which often leaves an indelible impression on its viewers. One striking feature that makes Sylvia such an outstanding online personality is her ability to remain true and genuine amidst the influencer 'rat race' within her industry. Her role as the President of NOC Community Club is strong testament of her sincerity as a person, as she engages in a great deal of volunteer work along with NOC members outside of her busy schedule. With an unflinching desire to remain true to herself both online and offline, Sylvia is someone worth looking up to in this day and age.
Nina Tan – Talent & Content Creator of NOC, co-host of The Thirsty Sisters Podcast
If you've been here since the inception of NOC, Nina is definitely a personality that you will be familiar with. As one of the og NOC girls, Nina is finally back after her long hiatus!
Mike Mayuni – Songwriter/Arranger/Producer/Musician
Product Specialist at City Music
Mike is a highly accomplished Music Composer, Arranger, Music Producer, Music Director, Educator and judge who has participated in many festivals and TV music program. Also, a performing musician, he was formerly the keyboard player for legendary band "Tokyo Square". Mike is also the Sales Manager & Product Specialist for City Music, distributor for Zoom Inc, Mackie and Samson.
Raven Lim – Podcast Producer & Consultant at MeaVox Live
Raven Lim is a serial podcaster who co-founded Tomboy Tirade in 2013, Asia's first comedy chat podcast, which broke barriers during its 4-year run as it featured an all-female panel with Asian women as producers and co-hosts. In 2018, she launched Freelance Creative Exchange, Singapore's first podcast for creative freelancers. Now she helps companies and organisations launch podcast and amplify their brand voices,  through her company, MeaVox Live. Raven runs The Podcast Collective Asia group on Facebook and has organised many podcast community events in Singapore and Asia, such as Asia Podcast Summit and Awards, Asia's first ever podcasting summit and awards show in 2019. Currently she is working on her first audio drama pilot.
Moderator
Danny Koordi – Podcast Commissioning Editor at Mediacorp
Having been a podcast producer for several years and helping others to launch their own shows under his Fabl Productions business, Danny has now moved into a new role as Commissioning Editor of Podcasts at Mediacorp, where he oversees their podcast catalogue and content strategy.
24 February 2021 | 8pm – 9.30pm | Live on *SCAPE Facebook
Click here for the Facebook Live