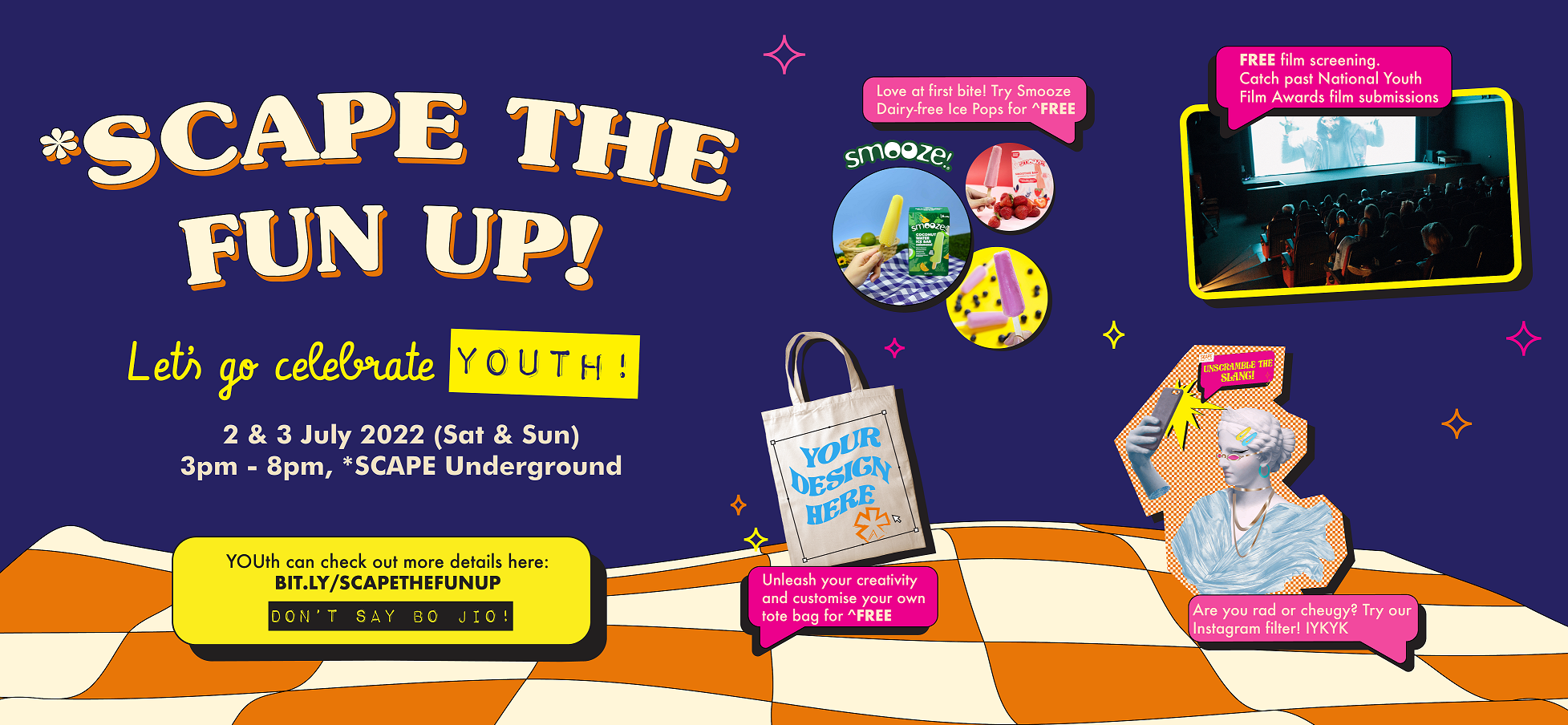 *SCAPE The Fun Up
Let's Go Celebrate Youth!
2 & 3 July 2022 (Sat & Sun) | 3pm – 8pm | *SCAPE Underground
Happy YOUth Day to all the youth and young at heart! Come down to *SCAPE on 2 & 3 July for a fun-filled weekend to celebrate YOUth with us!
Design Your Own Tote bag 
Be a tote bag designer for a day! Unleash your creativity and create your personalised limited edition tote bag for FREE! 
All you have to do:
Subscribe to our *SCAPE Telegram Channel
Share our *SCAPE The Fun Up post on your Instagram Story and hashtag #scapethefunup
Start designing your own tote bag!
Smooze Ice Pops 
Loved by fans all over the world since 2008, Smooze is a local brand providing dairy-free, vegan, and halal coconut ice cream! Our products are made from coconut water and real fruit juices, which are hydrating and rich in vitamin C. Smooze is doing an ice cream giveaway at *SCAPE Underground on 2 July! Drop by and get yourself a free ice pop!
Available flavors: Coconut, Strawberry, Raspberry, Blackcurrant, Calamansi, Pink Guava, Pine-Passion
*How to redeem: Simply follow Smooze on IG/Tiktok @smooze.fun & show it to our team.
Unscramble The Slang
Do you have what it takes to unscramble Gen Z lingo? Get your game face on and check out our new Instagram filter.
Short Film Screening
While you are waiting for your tote bag to be printed, chill out with your friends and catch entertaining short films from the National Youth Film Awards. We will be screening them at *SCAPE Underground.
BUSKING@*SCAPE
Catch our youth buskers perform live! Look forward to an exciting line-up of talented local musicians to serenade you and turn up the vibes!
Terms & Conditions
Free Tote bag and Smooze Ice Pop limited to one per youth, while stocks last.
Smooze Ice Pop is only available on Sat, 2 July 2022.
Limited items each day, first come first serve basis.
The organiser, it's appointed agents and employees shall not be liable for any loss, injury and/or damage which may occur, however caused due to any unforeseen circumstances.
The organiser reserves the right to amend the Terms and Conditions without any prior notice.
The organiser's decision is final and no correspondence will be entertained.
All images shown are for illustration purposes and actual items may differ.
*SCAPE Co., Ltd. retains the right to record and use photographs, videos or other material taken during the event for its marketing, publicity and promotional purposes on any electronic and printed platform.