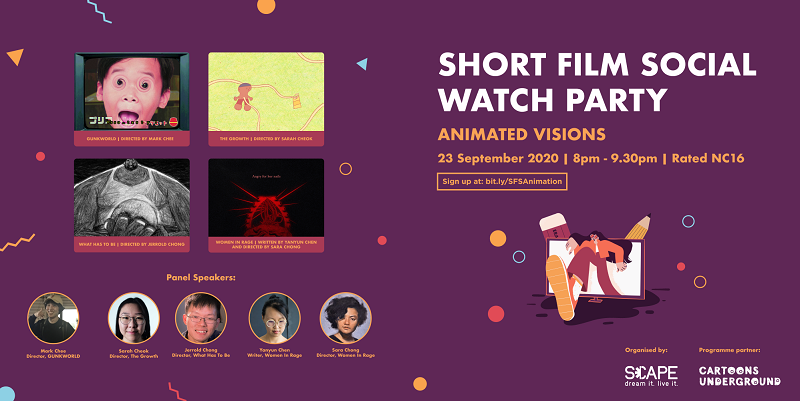 Animation, the art of breathing life into inanimate objects and the creation of a new realm.
Step into the world of animation with local animators and enjoy a night of free animation films. Hear from four animators as they speak about their films, the challenges of animating and its beautiful side.
Register Today!
23 September 2020 | 8pm – 9:30pm | LIVE WEBINAR
This session is rated NC-16
The Growth
Directed by Sarah Cheok
An ambitious young boy is eager to grow up so he can experience the world outside of his kelong house in the middle of the ocean. Eventually he musters up courage to persude the old man, but is faced with disapproval. Being young and ambitious, the boy decides to go anyway.
GUNKWORLD
Directed by Mark Chee
GUNKWORLD is a short film about a horror cult cartoon series on TV where the main characters: Gunkman, Sallysweets and Roboji, are cute monster schoolchildren who terrorize human characters. Outside the TV show, GUNKWORLD begins to advertise its brand through commercials and merchandise, which quickly gains popularity at an unholy rate. The entire planet eventually becomes crazed, all their thoughts replaced with messages from GUNKWORLD. Back in the TV show, Gunkman starts to miss his lines. Gunkman is up to something… As a film, GUNKWORLD overloads the viewer with loud, colorful and compressed visuals, audio, stories and designs, playing with ideas of hypnotic subconscious consumption. It paints a vibrant yet ugly picture of needless 'over-consumption' and loss of control. GUNKWORLD is also a love letter to Japanese media, seen from the eyes of a child growing up in Singapore during the 90s.
What Has to Be
Directed by Jerrold Chong
Husband and Wife grapple with the tragic death of their firstborn as they await the arrival of their second. Their recollections reveal a dark, repressed history within the space they call home. Adapted from S. Rajaratnam's short story of the same name, What Has To Be explores the dysfunctional relationship between two grieving parents as they confront the inevitable truth of their unborn child.
Women In Rage
Directed by Yan Yun Chen & Sara Chong
Women in Rage imagines the anger of mythical female monstrosities—Medusa, Pontianak, Rokurokubi, Venus, Lilith and many other ladies—from whom we have inherited the figure of the supernatural woman. By turning the lens away from the myth towards the antagonist, this animated short film rages with their injustices, prejudices, subjugation, and bodies. Stories are our inheritance. To dismiss the formation of a hero or villain is to lose an understanding of our culture and values. We know of female monstrosities, yet rarely hear of the suffering that made them the antagonist. By foregrounding their pain and anger, we learnt to listen deeply and give consideration to their bodies and pain. Art is a humane practice in imagining the Other. These women are angry. So are we.
Moderated and Curated by Jerrold Chong
Director/animator Jerrold Chong graduated with a BFA in Animation at California Institute of the Arts (CalArts). An avid lover of cinema, he is fascinated by the power of animated cinema as abstract visual metaphor and is driven by a desire to tell sincere stories that examines the depths of everyday life and the complexities of the human experience.
His films have screened at numerous international film festivals, including Cannes Directors' Fortnight, Busan International Film Festival, Annecy International Animated Film Festival, Singapore International Film Festival (SGIFF), Encounters Short Film and Animation Festival in Bristol, Animatricks Animation Festival in Helsinki, Short Shorts Film Festival in Tokyo and Bucheon International Animation Festival in Korea.
Most recently he co-directed the animated short film, Piece of Meat, which premiered at the 2019 Cannes Director's Fortnight and was selected at the 2019 Annecy International Animation Festival, on top of various other international film festivals. His films "Automatonomy" and "What Has To Be" has also won the Best Animation Award at the National Youth Film Awards Open Category consecutively for the last 2 years.