Entrepreneurship
Creating Data-Driven Advertising (Startup Hack)
22 October, 6:00 PM - 7:00 PM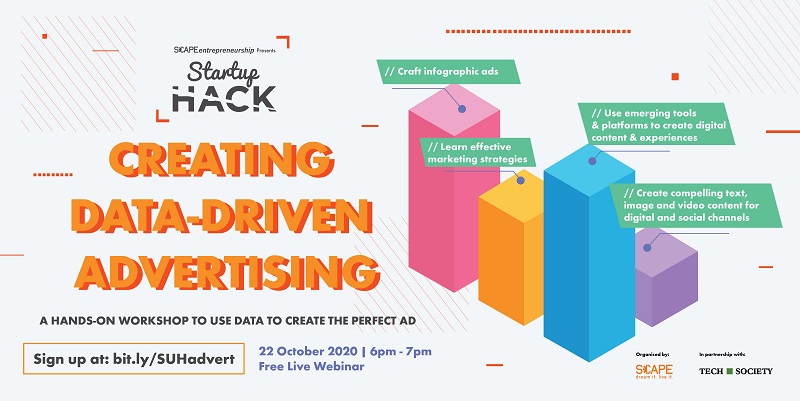 With consumers and audiences moving online, having an online presence is even more important. To boost your business and brand, creating digital marketing campaigns are important, but creating successful advertisements are easier said than done.
This workshop will introduce tools suitable for creating appealing content for digital marketing campaigns, such as text, images, and bite-sized videos, based on data-driven decisions with ease, even if you are not designer or technically trained.
What can you expect?
Hands-on: Craft an infographic ad for your business or yourself
Effective marketing strategies
Emerging tools and platforms to create digital content and experiences
Creation of compelling text, image and video content for digital and social channels
| | |
| --- | --- |
| | Jackson Kwa founded TechSociety Group, a technology academy that aims to develop future-ready skills and provide digital consulting with creative solutions. He has successfully implemented a regional program in Thailand, Indonesia, Vietnam and Malaysia that develops tech literacy, design thinking, digital marketing and coding. This program was supported by former U.S. President Barack Obama's Young Southeast Asian Leaders Initiative (YSEALI). In 2018, Jackson became the winner of the inaugural Singapore Valley Awards (SVA), chosen by prominent China entrepreneurs such as Alibaba co-founders to acquire a deeper knowledge of the market and entrepreneurship at Alibaba HQ in Hangzhou. Jackson has been featured in The Straits Times, TEDxYouth, e27, Asiaone Business, FBNC Vietnam, 联合早报, Asia Inc, VTC News, Southeast Asia Globe Magazine,启迪之星(杭州), Junior World Entrepreneurship Forum and related publications for his work in entrepreneurship, technology, and innovation. Some of his prominent clients and partners include U.S. Department of State, Business China, NTUC and Grab. Jackson received his Information Systems degree with a double major at the Singapore Management University on dual scholarships. |
Startup Hack is a workshop and seminar-based platform where we help startups and individuals gain relevant or new skills that will help boost their businesses, by inviting subject matter experts that will impart their knowledge in a compact session.