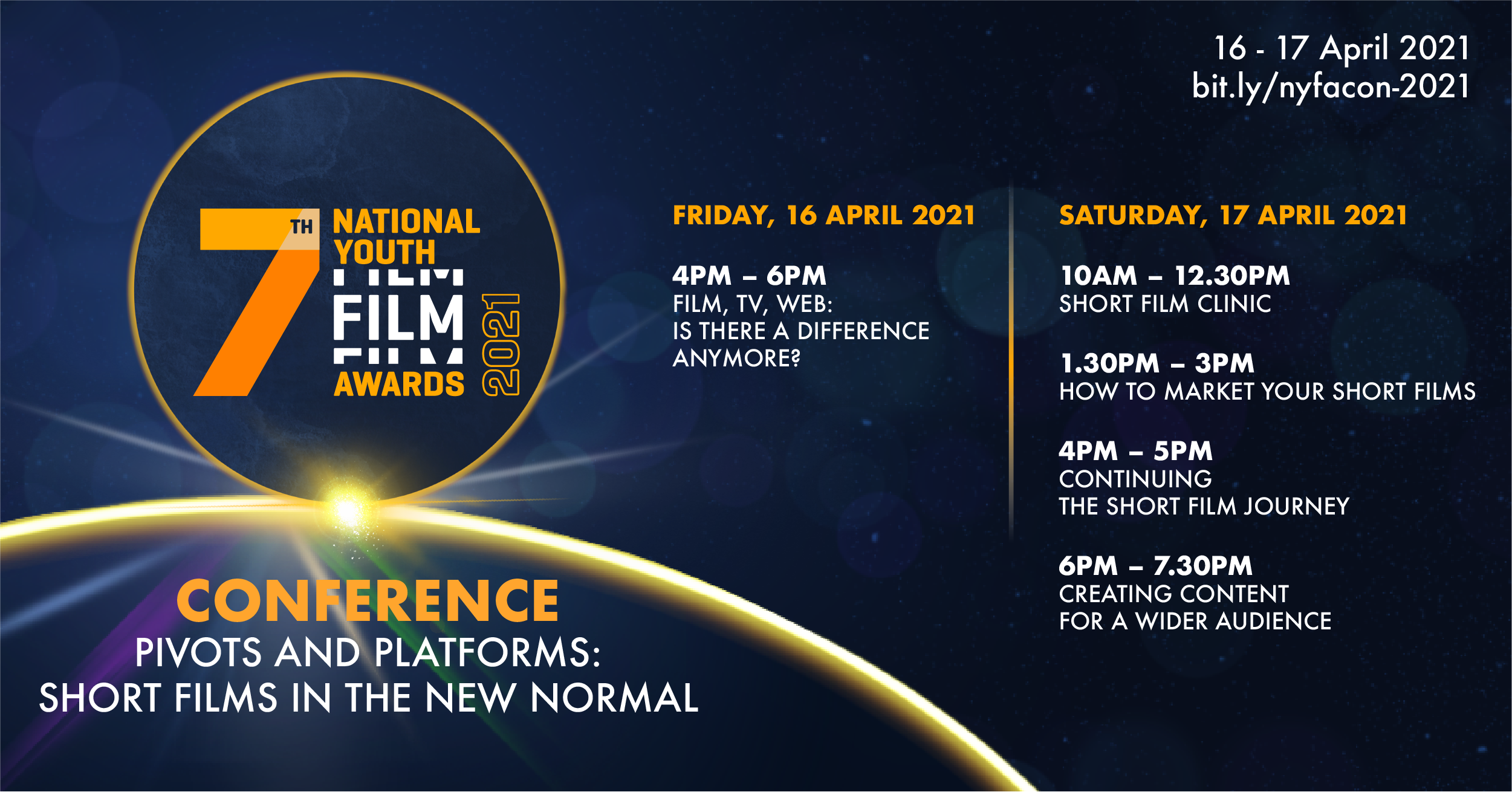 NYFA Conference 2021:
Pivots and Platforms: Short Films in the New Normal
The National Youth Film Awards (NYFA) is a programme hosted by *SCAPE that celebrates excellence among youth talents who are highly adept in their respective fields across the various aspects of filmmaking in Singapore. An integral part of this programme is the NYFA Conference that aims to equip young filmmakers with the networks and skills that they can apply for their next film submission into NYFA. Youths are connected and get to learn invaluable industry knowledge and insights from industry experts.
Friday, 16 April 2021
4pm – 6pm
Film, TV, Web: Is there a Difference Anymore?

As audience-viewing habits are constantly changing, the idea and the understanding of what a video, a film, a series stand for continues to shape shift. Is there a difference to these categories, and how do the various film industry professionals and filmmakers adapt and continue to create meaningful work?
Saturday, 17 April 2021
10am – 1230pm

Short Film Clinic

Not sure if your short film story is heading in the right direction? Join this workshop and share your short film idea with a film professional where feedback will be given on your story idea.

1.30pm – 3pm

How To Market Your Short Films

Learn about the factors to consider while marketing your short films, from preparing your press kits, to thinking about your short film distribution plan.

4pm – 5pm

Continuing the Short Film Journey

Funding options are slim and budgets are always a problem, but these filmmakers continue making short films, expressing themselves the only way they know how. Listen to past NYFA nominees as they share about the things that they have learnt along the way as well as the mistakes that they have made.

6pm – 7.30pm

Creating Content For a Wider Audience

As web series continue to be popular with audiences, creating something engaging yet meaningful is still the core of telling a good story. The panelists will share about creating an engaging web series that attracts audiences even amidst the crowded online world, the storytelling format that works best for a series, and the challenge of holding a viewer's attention.