#SOMERNIGHTS: NYFA FILM SCREENING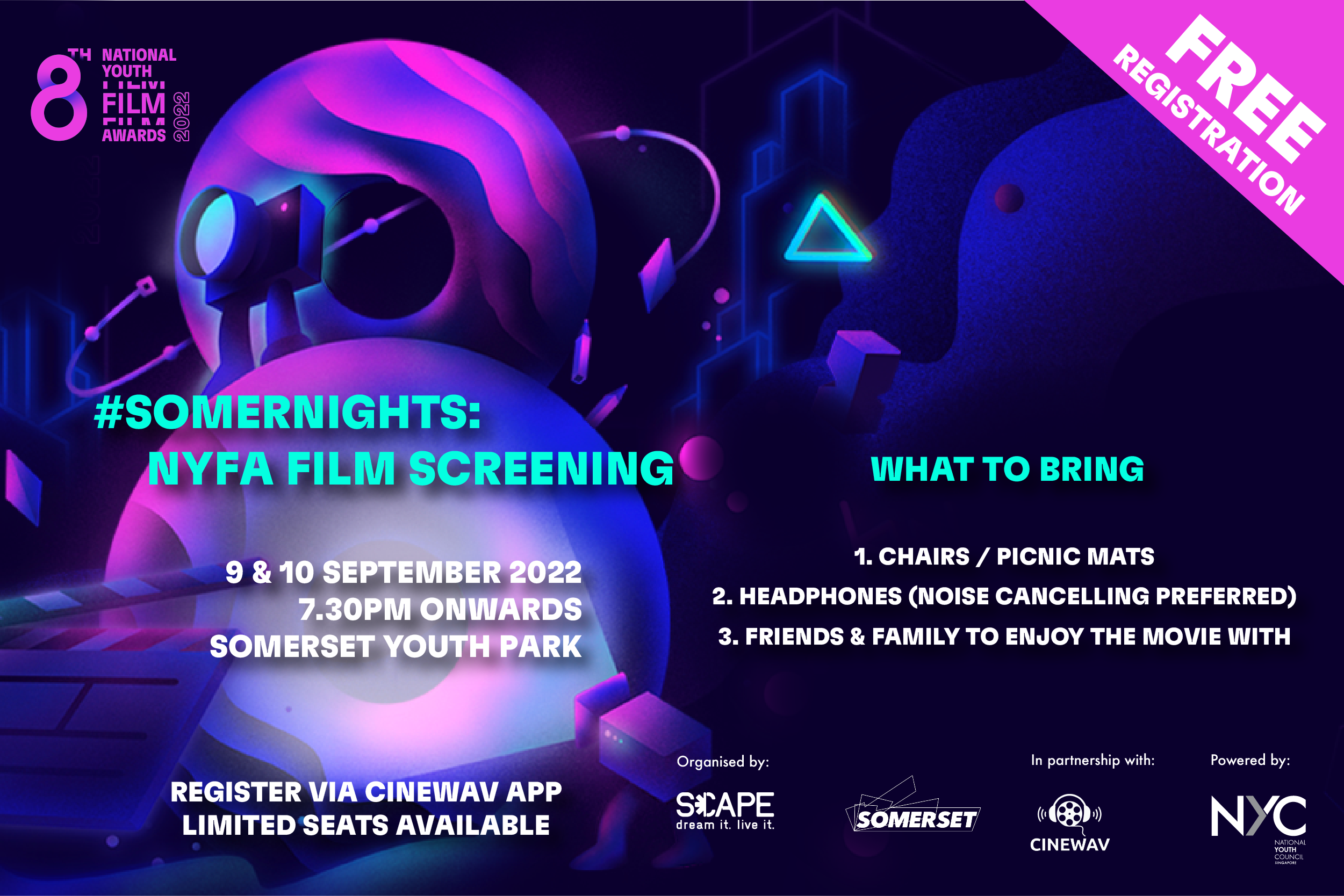 Lay out your picnic mats, put on your headphones, get cozy and enjoy a complete outdoor movie under the stars experience at Somerset Youth Park.
Watch the exciting line-up of National Youth Film Awards (NYFA) films with us on 9 & 10 September 2022 from 7:30pm. Registration is free, via the Cinewav app.
| | |
| --- | --- |
| Friday, 9 September: | Saturday, 10 September: |
Programme Schedule
Friday, 9 September 2022
Time
Film
7.30pm – 8.20pm
Tamago

A young tamago's adventure in an attempt to fit in with the masses but ultimately realizes that everybody is special in their own ways.

Beyond The Flaws

Beyond The Flaws is a short documentary about a loving father, Desmond Ang, who suffers from bipolar disorder.

Is It Cold in Winter?

After an unremarkable semester one, several hall residents try to process the idea of connectedness, fleeting relationships, love, and the future through the month-long ennui and languor of winter vacation stay.

Our Ace Story

Is love without sex possible? A Singaporean couple opens up about asexuality and their struggles to reconcile their differences where one's needs for physical intimacy is greater than the other.

8.20pm – 8.25pm
Break 
8.25pm – 9.15pm
The Wet The Wild and The Wondrous

What makes wet markets — seemingly mundane grocery shopping venues — so important to Singapore's national identity? The Wet, the Wild and the Wondrous is a multi-sensory journey through these special spaces that seeks to uncover the answer to this question.

Through a granular exploration of the architectural, sociological, economic facets of wet markets, the film draws attention to hidden and often-missed details that give wet markets their unique character. The Wet, the Wild and the Wondrous is also a love letter to the colourful individuals who breathe life into the wet markets that they call home.

Noda

Despite her mother's protests, 30-year-old Sofia insists on looking for her estranged father hours before her wedding, so that he can be her 'wali', the male guardian to give her away during her solemnisation.

Chasing Dead Ends

Veteran tomb hunter Raymond Goh and his companions, Peter Pak and Ah Beng, routinely comb Bukit Brown and its surrounding cemeteries in search of ancestry in hidden headstones and traces of life in overgrown landscapes. Animated by their affection for history and discovery, Chasing Dead Ends is a roving eye documentary short that follows a trio of intrepid explorers as they unearth human heritage from the grave and behold the unfiltered beauty of our forgotten monuments.

Baking With Love

A young girl attempts to bake a cake and takes her simple recipe a little too seriously, things take an unexpected turn for the worst.

Loose Threads

A grandma tries to recall the familiar stranger sitting next to her. With much difficulty and frustration, she weaves her hazy memories of the stranger together, only for her to forget them once again.
Saturday, 10 September 2022
Time
Film
7.30pm – 7.45pm
Fishball Chase

A man with social anxiety struggled to grab a fishball with chopsticks as he frets over how others may be judging his incompetence.

Go Home

Set in modern-day Singapore, long time friends, Kyra, a 23-year-old Singaporean, and Jamie, a 24-year-old Indonesian, spend an evening together. On their way to a music gig, they make a stop at a photoshop to take a passport photo. While taking the photo, Kyra reveals that she is going overseas after graduating for work which causes tension between them. As they make their way to the gig, they find themselves in each other amidst the changing landscapes and their changing identities.

Baristas

Featuring Foreword Coffee Roasters, a social enterprise that employs differently-abled individuals, the documentary follows the employees as they go about their day working in the cafe.Interacting with teammates and customers as well as performing daily café operations, we witness how persons with disabilities are empowered and integrated into society.

No Strings Attached

When two elderly rough sleepers in Singapore meet on the streets, they immediately strike up a rare and genuine friendship. But things take a devastating turn after one of them receives an unexpected diagnosis.

Based on the true experiences of an elderly man who has been homeless in Singapore for 20 years, this is a story of how two strangers found home in each other.

7.45pm – 8.15pm
Monday Blues

Accustomed to the monotonous nature of his job, an officer worker tirelessly works away at his desk when he's visited by a parade of dancing musical notes.

The Last Stop

A lone Commuter trapped in a speeding train has to push against the force of the speed and escape before it crashes into THE LAST STOP.

Fetch

A stray dog loses his ball to an unexpected visitor. How can he get it back?

Home Planet

Home Planet tells the story of a young astronaut returning to his old family home, for one last goodbye.

8.15pm – 8.20pm
Break 
8.20pm – 9.05pm
Rerun
| | |
| --- | --- |
| Friday, 9 September: | Saturday, 10 September: |
Explore NYFA