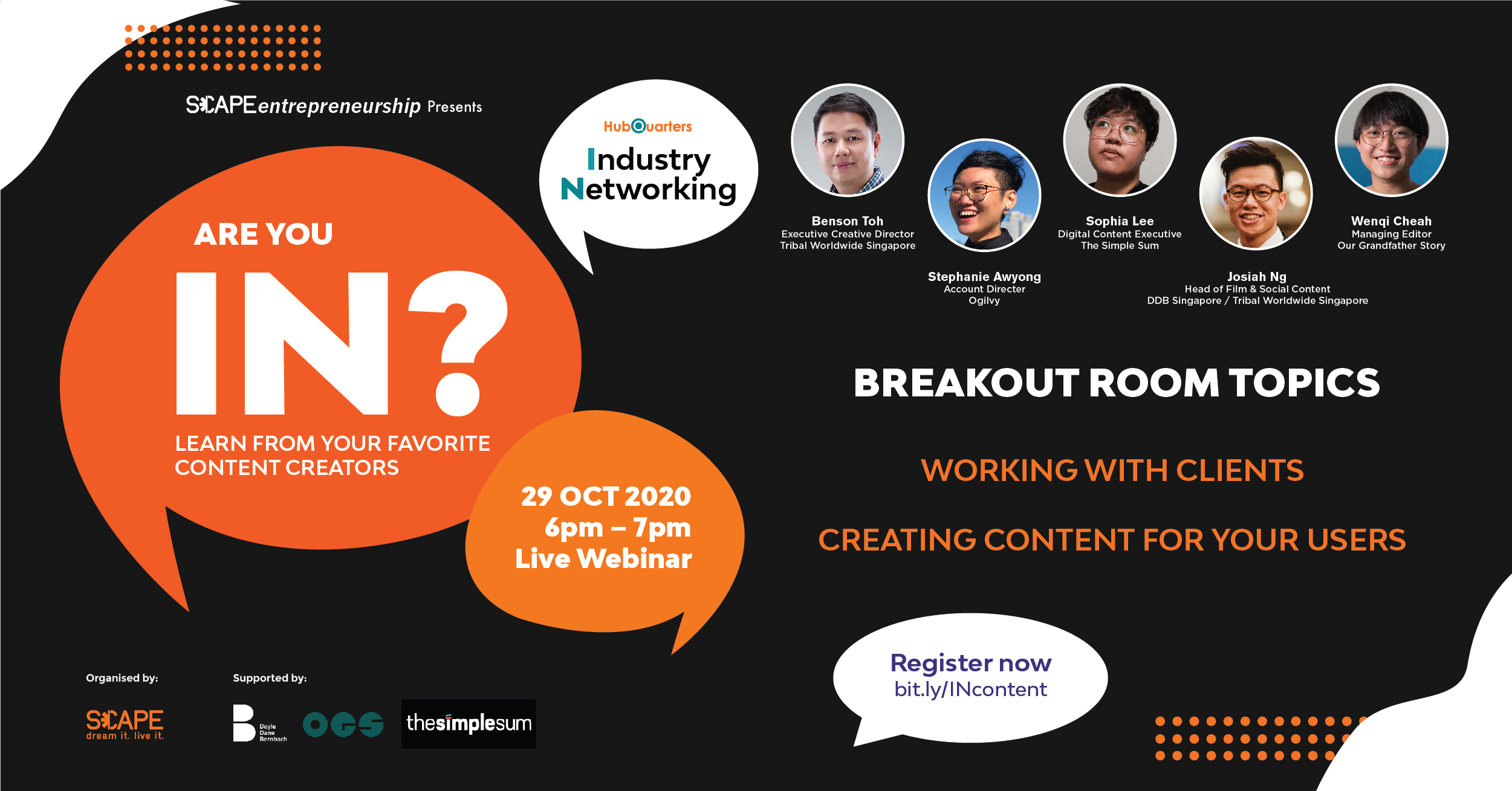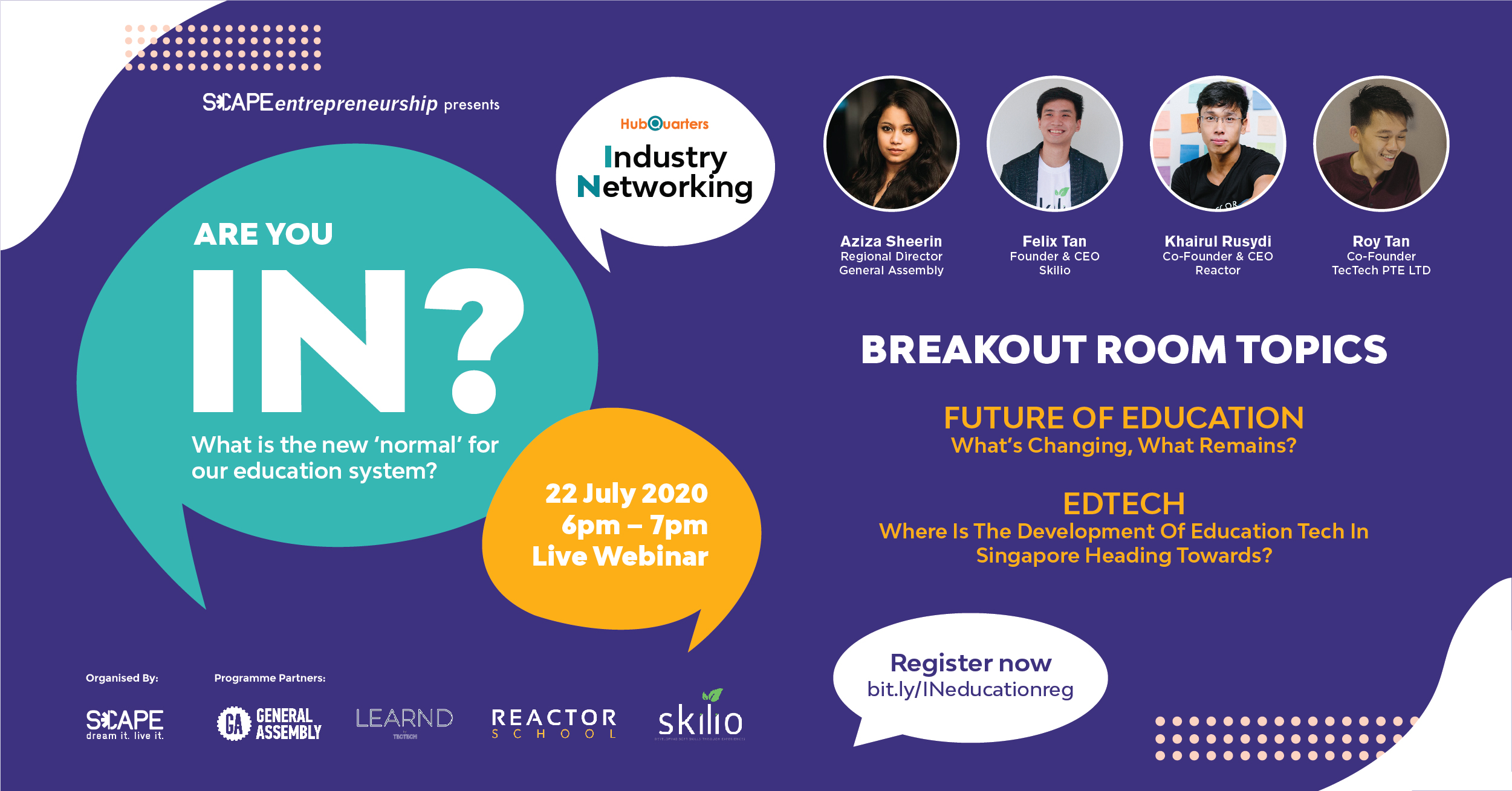 IN (Industry Networking) provides a platform to gather aspiring entrepreneurs, startups and professionals to build connections, exchange ideas and gain insights. Each event is focused on a specific industry.
Sector in-focus: Content Creation  Register Today
29 October 2020
6pm – 7pm
We're calling all content creators. Whether you make video content, write articles or design visuals, so long as your work reaches to end users and customers, we want to hear from you. This session will provide a platform for content creators to discuss how to attract audiences with content as well as necessary business skills for this industry. Additionally, participants will also meet like-minded individuals within their industry and make meaningful connections.
There will be a brief roundtable discussion about the importance of content creation today and why companies should focus on content. After, we'll split into breakout rooms to deepen the discussion.
Breakout Room Topics
Track 1: Working With Clients

How to stand out as a content creator/agency

Understanding clients and their audience

How to get clients/how to pitch

Track 2: Creating Content For Users

Understanding the right content for your audience

Using content to reach your goals
Speakers
Creative Director,
Tribal Worldwide Singapore

A veteran of more than 20 years, Benson has helped shaped some of Singapore's top blue-chip accounts and has consistently delivered inventive and innovative solutions to the accounts he has worked on. He has successfully launched the Pioneer & Merdeka Generation, MediShield Life, War Against Diabetes, the SG:D launch by IMDA (the nation's new digital push), Samsung App for SEA and most recently his work for Gov.sg took 8 out of 10 spots on YouTube  Top Video Ads in first half of 2020. Benson's creative mantra of focusing not only on the idea but also on the craft and channels has won him over 100 awards at local and international shows such as the Cannes Lions, Creative Circle Awards, Canberra Film Festival, D&AD, London International Advertising Awards, Long Xi Creative Awards, New York Festival, Singapore Outdoor Advertising Awards, Singapore Effie, Asia Pacific Effie, Singapore Media Awards and Spikes Asia. He has also judged at the 2010 Young Spikes Media Competition, Spikes Asia 2015, Creative Circle Awards 2016, Ink Awards 2017, AdStars 2017 and 2018 and Jury President of the 2018 Citra Pariwara Digital panel and Head of Jury (Health) at Crowbar 2020. He was also a speaker at the paid Pacific Conference for advertising marketers. In his free time, Benson is often found with a magnifying glass, pursuing his fascination with miniatures figurines, which he is collecting faster than he can paint.

Head of Film & Social Content,
DDB Singapore / Tribal Worldwide Singapore

When he's not creating playtime stories with his 4 year old toddler, Josiah Ng is scribbling film ideas in his handy dandy notebook because he's addicted to the power of stories. He currently heads up the film and social content division at DDB Singapore, and has led the agency group to produce 2 seasons of free-to-air drama series, 2 telemovies, and 6 narrative short films as branded content for clients. Josiah is also the recipient of the Rising Star at Hall of Fame 2016 (Institute of Advertising Singapore), adding to his growing list of prestigious awards such as the Ngee Ann Kongsi Gold Medal, Cathay film prize, and Shaw Foundation Gold Medal. Fuelled by his passion of empowering the next generation of storytellers, Josiah recently served as mentor for 15 content creators under the STOREYS initiative, supported by the Infocomm Media Development Authority of Singapore, to produce 15 short films that tell uniquely Singaporean stories. Most recently, Josiah directed <<André & his olive tree>> a feature documentary that he hopes will help explore our obsession with perfection and results, through the eyes of a Taiwanese Michelin chef who is ready to give it all up. The film broke the box office record in Taiwan for 2020 with NT$10million (S$471,841) box office takings within a month of its premiere.

Digital Content Executive,
Podcast Producer
The Simple Sum

Sophia (or Sope to friends) is a big fan of words, language, and meaningful storytelling, and doesn't want to shy away from authenticity (or even irreverence!) in content creation. She leads and produces the TSS podcast, Keep It Simple, and believes that finance/money should be as approachable a topic in conversation as most other things… like how many cats you want to have when you're all grown up.

Stephanie Awyong
Account Director
Ogilvy

A seasoned integrated communications specialist, Stephanie is a PR-trained hybrid who looks to solve business problems creatively.  As a strategic storyteller, she has a keen focus on digging deep for the most relevant and fertile insights, designing a strong ecosystem of paid, owned and earned channels and creating good content to help brands connect with their audiences in the most meaningful and effective way. Pre-COVID, she spent the last year in Ogilvy's global headquarters in New York, spearheading the communications efforts for Corteva Agriscience. She successfully launched them on the New York Stock Exchange as the largest independent, pure-play agriculture company, who are committed to the next generation of farming to help improve global food security. Stephanie is also behind the award-winning 'Shape Our Tomorrow' campaign with the Early Childhood Development Agency, which was awarded a gold and a bronze at the Effie Singapore 2019, and the two-year 'Use Your RoadSense' campaign for Traffic Police, which was awarded Best PR Campaign of the Year at the 2017 PRISM Awards. Today, she leads the MILO® global team, continues to deepen public appreciation of early childhood educators with the Early Childhood Development Agency and facilitates understanding of societal needs and inclusion with the National Council of Social Services. In her free time, you'll find her perfecting asanas on her yoga mat, or shooting the breeze over a perfect oat milk latte and a good book.

Managing Editor,
Our Grandfather Story

Passionate about pushing the boundaries between journalism and storytelling, Wenqi co-founded Our Grandfather Story (OGS) during her schooling days to share stories and perspectives of everyday Singaporeans with more people. As the current managing editor of OGS, she recognises the strength that authentic content has to amplify voices, start conversations and shift societal attitudes.
Past Session
Know an industry that you would like us to feature for our next Industry Networking session? Speak to us at hubquarters@scape.sg.