Creative Fellowship (2nd edition)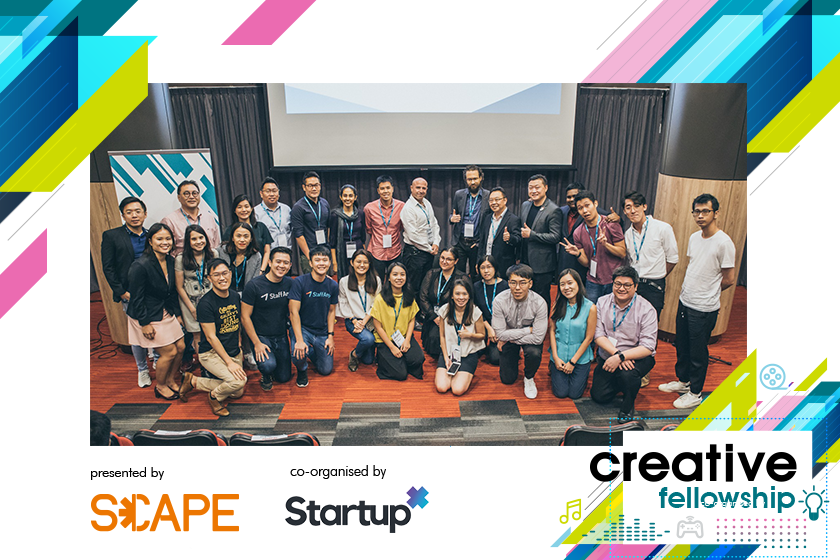 The *SCAPE Fellowship is back for the second run with exciting programmes and
opportunities lined up for Creative Founders this year!
About:
The *SCAPE Creative Fellowship programme is a startup programme built to turn ideas into
creative businesses. It is an intensive 20 week programme of creative business support.
Twenty places are available for ambitious creative individuals or companies who wish to
turn their business ideas into reality. Six teams with high growth potential will be selected
at the Pitch Day after the series of Entrepreneurship masterclasses. From there, the 6
selected teams will take their entrepreneurship journey to the next level under the
guidance of our partner, StartupX.
We aim to support creative talent to seize opportunities, learn to be globally competitive
and equip themselves with essential business skills to jumpstart their startups. This is a
first-of-its-kind programme specifically designed from the ground up to serve an
underserved market. It will create opportunities for founders and startups to grow, make
careers and businesses out of their talents and passion.
Application deadline EXTENDED: 13 October 2019, 23:59 (SGT)
Who is it for?
The *SCAPE Creative Fellowship programme is catered for future-ready youth innovators,
makers and doers in the various creative industries e.g. music, film, dance, performing arts,
local arts and even esports!
Programme Benefits:
● Entrepreneurship masterclasses : Workshops and masterclasses to equip
participants with skills and tips to build their companies.
● Opportunity to testbed in *SCAPE : Test out your idea at *SCAPE with supporting
partners and potential clients
● Funding opportunities : StartupX will work with your team to administer the
application of various funding opportunities (i.e. up to S$30,000) from SG Founder
Grant)  Find out more about the SG Founder Grant here  *Terms and conditions apply
● Creative mentors : Hands-on support and coaching mentorship from our awesome
and dedicated mentors
● StartupX coaches : Monthly check-in with the StartupX coaches to review your
progress, identify challenges and receive support in your entrepreneurial journey
● Collaborative Workspace : 3 months co-work space at HubQuarters with unlimited
access 24/7 for 6 shortlisted teams
Programme Mentors: 
To be updated…
Timeline:
● 12 Aug – 22 Sep 2019: Launch & Open Call
● 23 Sep – 11 Oct 2019: Selection & Interview
● 15 Oct 2019: Announcement of teams
● 23 Oct – 13 Nov 2019: Entrepreneurship masterclasses
● 20 Nov 2019: Pitch Day
● Dec 2019 – Feb 2020: Test-bedding for 6 selected teams
● 26 Feb 2020: Creative Showcase
Who are we looking for?
● Main applicant to be Singaporean Citizen / PR
● Age range between 17 – 35 years old
● Able to commit to the 5 months (20 weeks) programme (if shortlisted)
● Creative founders looking to launch a career in your Creative Business
Presented by: *SCAPE 
Co-organised by: StartupX
Contact us at fellowship@scape.sg