Find out how this startup builds the largest community of couples from a Telegram channel 
Growing up, Raimie's parents never saw eye to eye. Raimie and his siblings had to live through their childhood and teenage years in fear that his parents' next argument might lead to the much-dreaded divorce. Only when Raimie and his siblings started planning for activities for their parents did they slowly rekindle the love that was initially lost for many years. Many couples yearn for an exciting dating life and, he knew he had to do something.
That personal experience sparked an idea. He wanted to be the person to redefine dates and empower relationships by making dating life exciting and stepping away from the usual movie and dinner dates. That led Raimie and a group of his friends to start out a Telegram channel back in June 2017. The channel provides bite-sized yet interesting dates for couples to enjoy each other's company. He would have called it quits if there were less than 50 users. To his amazement, the Telegram channel continued to rise organically via word of mouth and have accumulated over 50,000 users. It eventually became known as the company that he runs, dateideas and now, has a mobile app to serve this community of couples.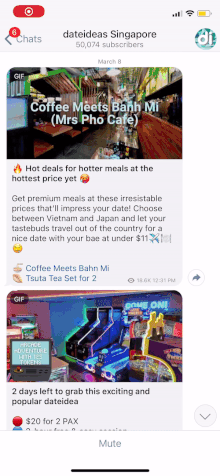 dateideas' Telegram channels with over 50,000 subscribers
Let's get to know the Raimie Tang and Arvind Ramesh, the CEO and CTO of dateideas.
What are the key elements for starting and running a successful business in Singapore?
Running a successful marketplace business in any country requires a high level of understanding of the market, and localisation of the products and services offered by the company for that specific country. For our case, it was essential for us to get a deep understanding of the dating habits of couples based in Singapore, and these insights have been instrumental in shaping our marketing strategy and product roadmap.
Additionally, Singapore is an excellent place to start a company, and any startup based here should take full advantage of all the support available in the startup ecosystem, including startup accelerators and government sponsored funding.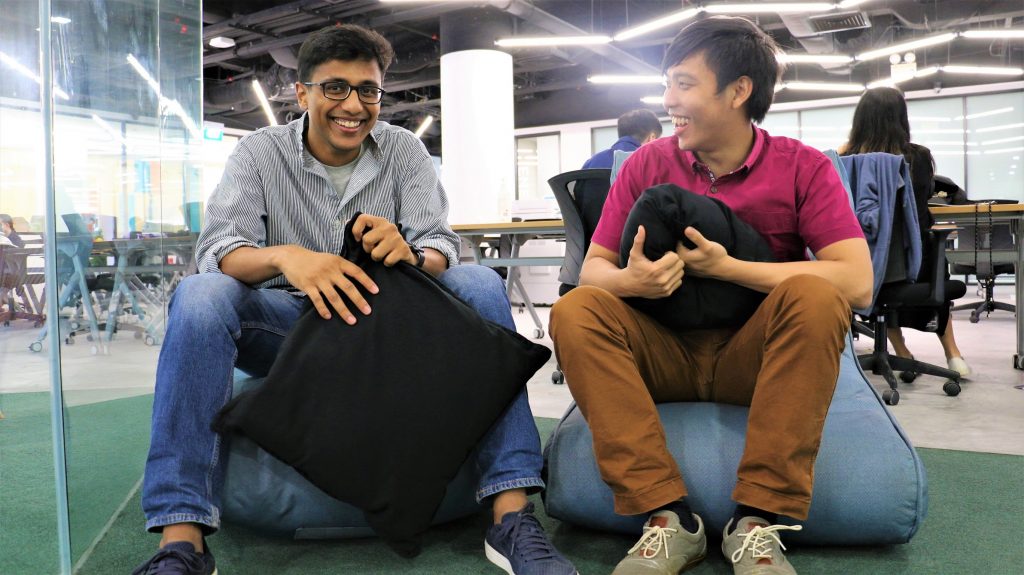 dateideas co-founders; Arvind Ramesh and Raimie Tang (Left to Right) 
How has dateideas remained sustainable during the COVID-19 pandemic period?
Thankfully, we were always revenue positive and hence did not have to think of ways to cut costs even during the Circuit Breaker. We saw the Circuit Breaker period as an opportunity to take a step back from operations and to focus on our company's strategy and direction for the future. We subsequently decided to commence development of our mobile app which on hindsight was an excellent decision. During Phase 2 and 3 of the Circuit Breaker, we are quite thankful as well that couples could still go out. Covid-19 ended up being an amazing opportunity for us to onboard merchants who were trying to kickstart sales all over again, and couples who were looking for new and exciting things to do together after being stuck at home for so long.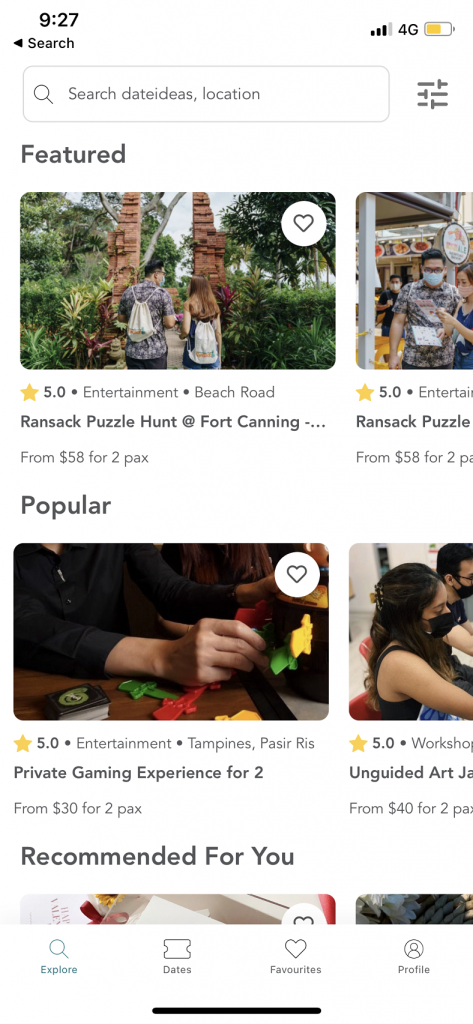 dateideas app has Featured and Popular functions. It also recommends packages based on your language of love.
What are the challenges faced being in a startup?
Every aspect of building a startup poses a daunting challenge, but also comes with an incredible learning opportunity. For one, knowing what to build and whether users want the product is one of the biggest challenges an entrepreneur has to deal with. Next, entrepreneurs have to be extremely smart about projects to prioritise, and where to cut corners to yield the maximum value. Finally, a lot of decisions turned out to be the incorrect in a startup, mainly due to the lack of information available on the space – and it's essential for one to learn from the mistake, and improve upon it.
As a young entrepreneur/intrapreneur, what motivates and drives you?
Raimie: To me, it is always about having a direct impact in making the world a better place. Since young, I never wanted to be a 'passer-by' in this world, and always wanted to positively change the world in a way that would never have happened if I did not exist. Running a start-up allows me to take direct action towards achieving this goal, as I get to identify the world's problems and take the exact steps to solve them. This is what motivates and drives me to make dateideas better with each passing day.
Arvind: Having worked in several large and established corporations, I have always felt that I was never able to have the level of impact that I aspired to have, which motivated me to decide to start my own company in the first place. The opportunity to build something from the ground up that shapes the society of tomorrow is the biggest motivator for me to become an entrepreneur.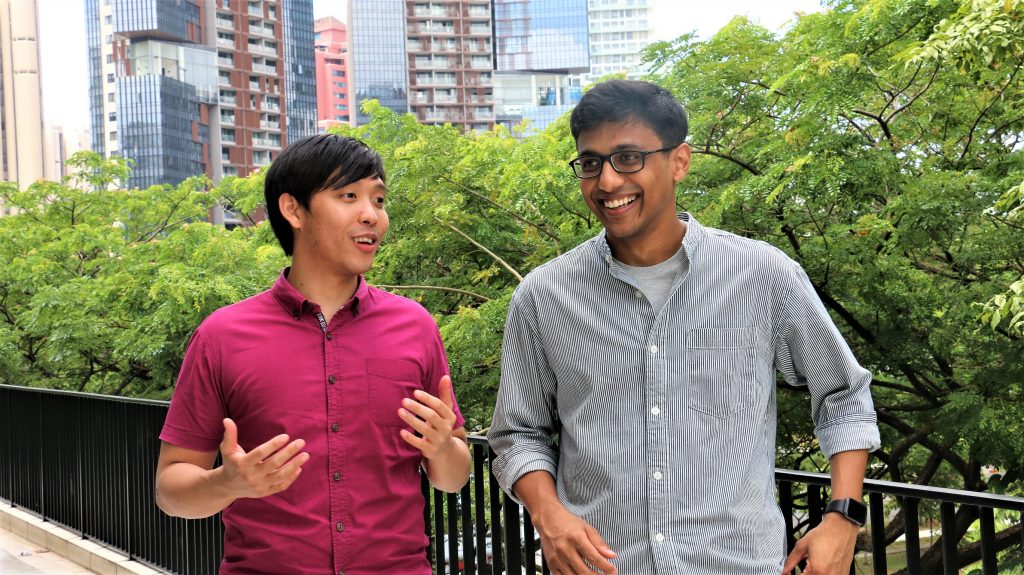 Raimie and Arvind discussing on their future plans for dateideas
What advice would you give to other entrepreneurs who are just starting out?
Raimie: My advice for young entrepreneurs is to solve only the world's most challenging problems that nobody else dares to solve, if not for yourself. These are typically problems that sit on the unique crossroads between deeply entrenched social issues and innovations in technology. It might seem daunting at first, but solving these problems will force you to internalise the 'why' behind what you are doing, which will make you a far better entrepreneur. Furthermore, only when we work on solving these highly challenging problems, will the world truly become a better place.
Arvind: To be an effective CTO, I believe that it's essential for one to go beyond having an understanding of just Software Engineering, and focus on getting an understanding of the whole product team structure including design, data analysis, business, and QA. As an entrepreneur, one does not usually have the luxury of hiring large product teams especially at early stages of the company, so a lot of times, founders would need to wear multiple hats and be able to perform various roles within the product team. A common mistake aspiring CTOs tend to make is to stick to their comfort zone and focus all their efforts on writing code – a CTO's responsibilities stretch further than this, and they would often be required to focus more on hiring and building a team capable of building the product, rather than building the product themselves.
How has *SCAPE benefited you and your growth as a young entrepreneur?
Raimie: dateideas joined the *SCAPE Creative Fellowship, and have been connected to amazing mentors whom we still keep in touch with today.*SCAPE has also been our strategic partner to date given its position at the forefront of the youth ecosystem in Singapore as well as merchant network. We have run two highly successful campaigns with *SCAPE and its partners – A Brave New World of Dating and An Unforgettable Valentine's Experience. We managed to reach over 20,000 couples, involve 15 partner organisations, and sold $8,000 worth of unique date experiences through the campaigns.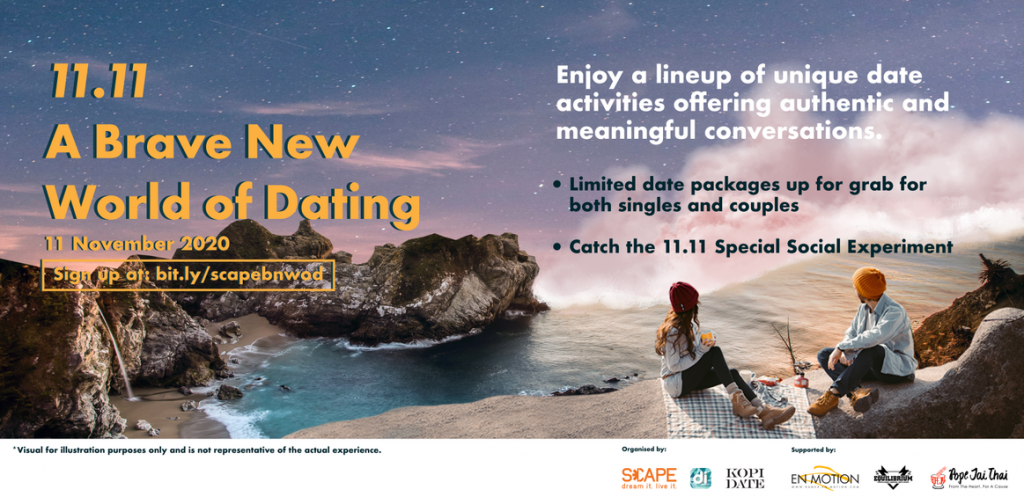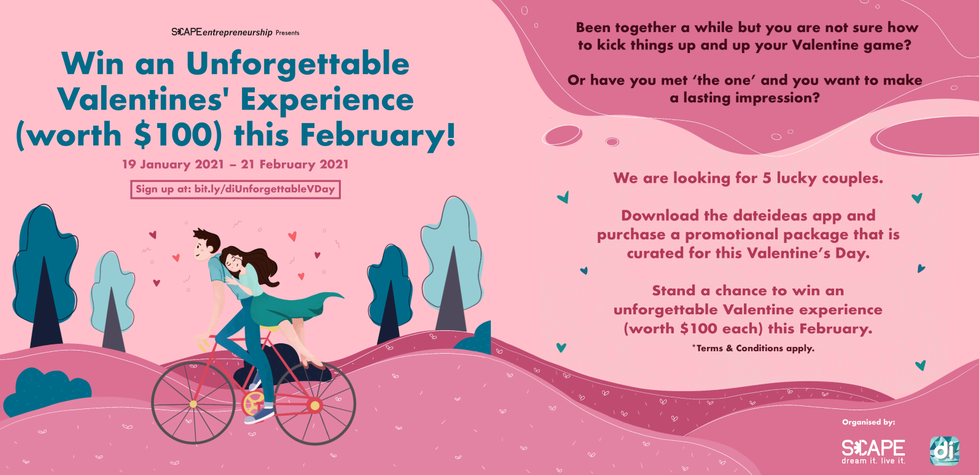 What is the biggest milestone for dateideas?
Within 24 hours of app launch, we achieved over 1,200 sign-ups and were ranked #1 on Google Play Store (Dating), #2 on Apple App Store (Lifestyle), and #14 on Google Play Store Overall Top Charts – ahead of popular apps like Tinder, Coffee Meets Bagel and OKCupid. We also achieved over $50,000 worth of dates purchased through our mobile app within the 1st 3 months after app launch.
Get connected with dateideas
dateideas is a one-stop app where couples can plan and book unique, couples-centric date experiences from a variety of merchants. Anyone who is going out on dates should download our app, whether you are still in the early stages of getting to know someone better or if you are in a long-term relationship looking for unique and memorable experiences to enjoy. Download our app here: https://www.dateideas.io
Are you a merchant with products/services that couples could potentially be interested in? Partner with dateideas by filling up this form here: http://bit.ly/diPartnerUs.