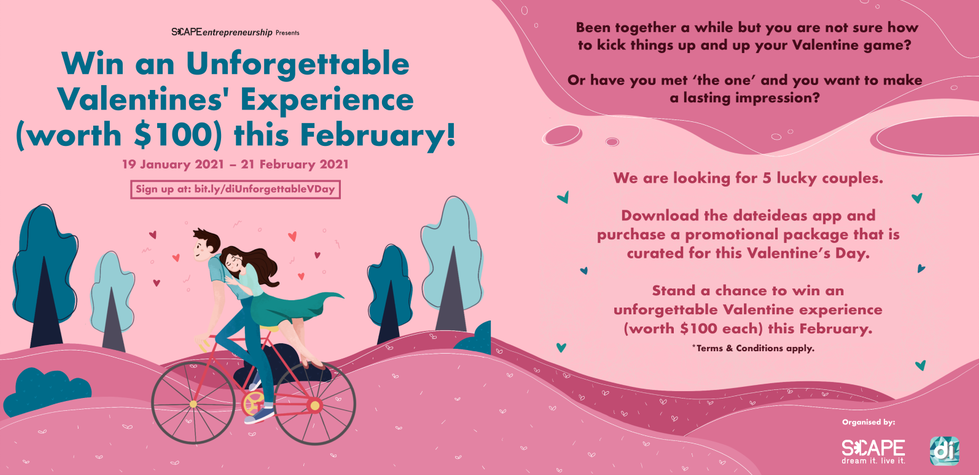 Be one of the 5 lucky couples to win a specially curated Unforgettable Valentine's Experience worth $100 this Valentine's month!
3 Simple Steps to win:
Click here for the list of 13 participating date experiences and click into one or more that you'd like to book.
Book that package on the dateideas App between 19 Jan and 21 Feb 2021.

5 lucky winners will be chosen from the purchasers and will be contacted to curate the perfect personalised Valentines' Experience (worth $100) for you and your partner!
A glimpse of our participating date experiences sorted by themes:
Learn Together
Tattoo Inking Workshop with Bae

By: Flö Jagua  

Price: $140

Always wanted a non-committal Tattoo Test or silly Tattoos for laughs? Try Jagua Tattoos which lasts up to 2 weeks! 

Thai Culinary Class

By: Pope Jai Thai Restaurant 

Price: $130

Spark the MasterChef in you while satisfying your Thai food cravings! 

Terrazzo Pill Tray Workshop

By: Chokmah 

Price: $150 (U.P. $180)

Learn how to craft your very own Terrazzo Pill-shaped Tray using the Eco-friendly Jesmonite!

Cocktail Mixology Masterclass

By: Mycelium Asia

Price: $158

Love drinking Cocktails? How about taking a shot at learning how to mix your own Cocktail Concoctions for Bae to try?

Chill Together
Cat Cafe, Waffles & Drinks

By: Catopia Cafe

Price: $58

Make this Valentine's Celebration a memorable one together with Pawsome Kitties & Purrrfect Waffles!

Kopi Date Experience Kit (Cafe)

By: Kopi Date

Price: $56

Rekindle those First Date Moments and unlock fresh perspectives about your partner with Kopi Date's Experience Kit (Couples Edition)!

Kopi Date Experience Kit (Picnic)

By: Kopi Date

Price: $75

Rekindle those First Date Moments and unlock fresh perspectives about your partner with Kopi Date's Experience Kit (Couples Edition)!

Play Nation 3-Hour Game & Dine

By: Play Nation

Price: $60

Challenge your partner and determine who's the better gamer with Console Games, Board Games and free-flow Food!

Solve Together
Ransack Puzzle Hunt – King's Feast

By: Ransack

Price: $58 (U.P. $98)

The Toast King has lost the password to his treasure vault! Help him recover the password in an exciting puzzle hunt adventure, while discovering the origins of SG's hawker food!

Ransack Puzzle Hunt – Abort the Fort

By: Ransack

Price: $58 (U.P. $98)

Use your wits and resources to decrypt the hidden password and escape the fort before it's too late!

Escape Room Adventure

By: Trapped

Price: $45.80

Ready to put your relationship to the test? Find out if you can escape successfully by putting a thrilling twist this Valentine's! 

Train Together
Muay Thai MMA Training

By: Equilibrium MMA

Price: $33

Add some punch to your dating and fitness regime through Muay Thai kicks, teeps, knees, punches and elbows!

Couples Personalised Training

By: SGFitFam

Price: $150

Is getting fitter together one of your #relationshipgoals for the new year? Dare to make it happen by joining this Couples Personal Training session!
Check out the full details of date experiences here!
Terms and Conditions:
Contest lasts from 19 Jan to 21 Feb 2021, 23:59, limited to 5 winners only.

This contest is organised by dateideas (the "Organiser") and open to all participants.

The prizes for this giveaway are neither exchangeable for cash nor transferable.

Contest winners will be notified within 5 days after their booking on the dateideas App.

The Organiser, it's appointed agents and employees shall not be liable for any loss, injury and/or damage which may occur, however caused due to any unforeseen circumstances.

The Organiser's decision is final and no correspondence will be entertained.
About dateideas: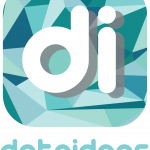 Are your dates starting to get repetitive and stale? dateideas helps to spice up your dating life by providing an unlimited supply of interesting dateideas for your every date!
Download the App: http://bit.ly/diAppDownload
Telegram: http://t.me/dateideas
Instagram: http://instagram.com/dateideassg
Supporting Partners: