Media and Entertainment
Film Critics Lab: A Writing Mentorship Programme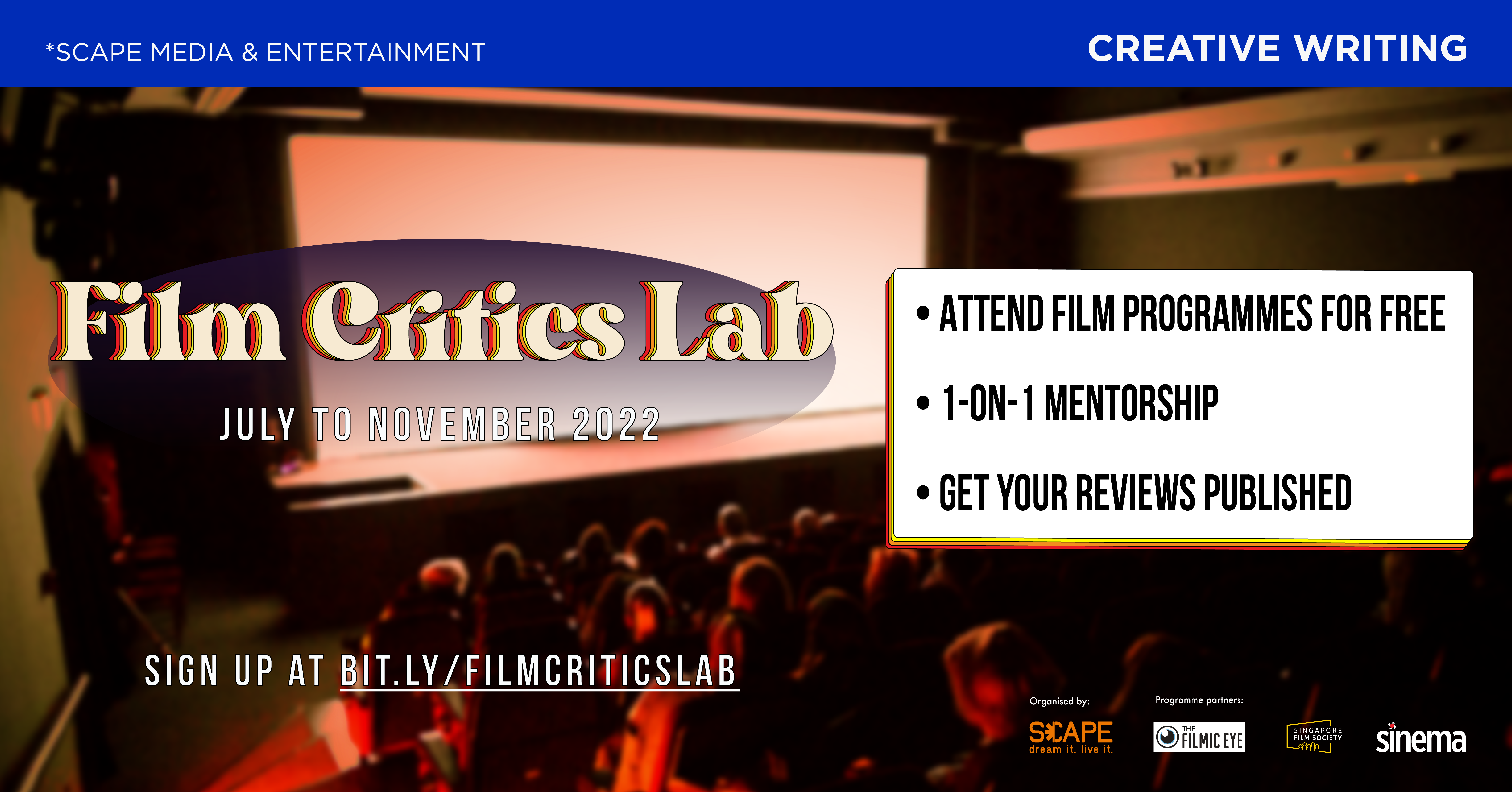 Fancy getting free tickets to watch films in the cinemas, being guided one-on-one by experienced mentors from the industry in developing and penning reviews, commentaries and interviews, and then being paid for your articles when they are published by local film websites?
This isn't a fantasy but something that you can apply for! 
So, go ahead and apply for our 4-month long mentorship programme to further develop your skills in writing for film! Cultivate your taste for a diverse range of films, programmes and festivals, and network with like-minded cinephiles and writers with the aim of promoting a deeper appreciation of cinema in Singapore!
Film Critics Lab: A Writing Mentorship Programme,
16 July to 5 November 2022
Face-to-Face Sessions 
| | |
| --- | --- |
| 16 Jul (Afternoon) | Onboarding session + Workshop #1 |
| 13 Aug (Afternoon) | Workshop #2 |
| 5 Nov (Afternoon) | Closing Session |
Each mentee is required to submit 4 opinion pieces over the 4 months.
Mentors
Eternality Tan




Vice-Chair, Singapore Film Society

ET is the Vice-Chair and Programming Director of the Singapore Film Society where he organises film festivals and regular year-round screenings. He is also an Adjunct Lecturer of Film Studies at the Wee Kim Wee School of Communication (Nanyang Technological University). In addition, he is also the Managing Director of The Filmic Eye, a film and education consultancy that has collaborated with the likes of *SCAPE, Singapore Writers Festival and the National Arts Council. ET is a prolific film critic with 15 years of experience, having written more than 2,400 reviews on his award-winning site: eternalitytan.com. He is currently a Content Analyst as part of the Editorial Insights (Contingent Talent) team at Netflix. He holds a Master of Education from the National Institute of Education, furthering his passion for melding film and education together.

Matthaeus Choo




Film Critic and Writer

Matthaeus Choo is a film critic and writer with over three years of experience in content creation across print and new media. He was the lead content writer for Sinema.SG—an independent online publication supporting local filmmakers and promoting film literacy and Asian cinema—where he managed the website's editorial direction. He has penned hundreds of film-related content, including reviews, analyses, interviews and commentaries.
Application window closes on 1 July, 6pm
Successful applicants will be contacted by 8 July