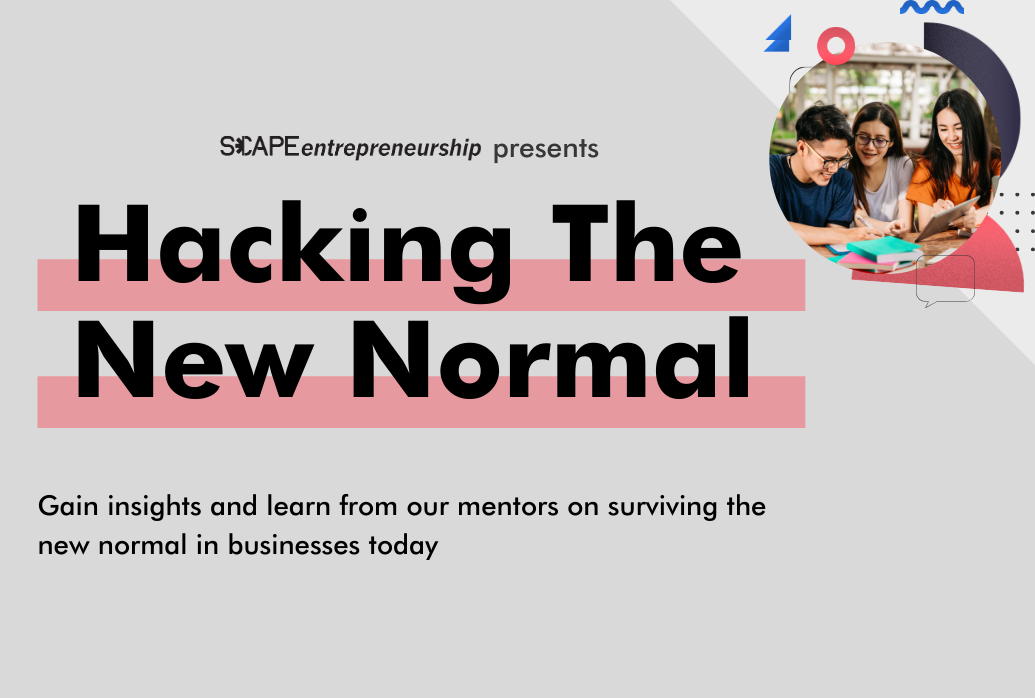 Hacking The New Normal is an initiative connecting fresh graduates with SME entrepreneurs to gain insights and tips on surviving the new business normal. The event is organised by *SCAPE and supported by Isentia. 
Teams of 5 – 7 members were formed to growth-hack case studies of real life issues faced by entrepreneurs and SMEs during the COVID-19 pandemic. It was a hands-on experience that aimed to help them gain practical knowledge in problem solving during trying times. The hackathon ran for 3 days via a secured online platform.
WINNING TEAMS
Teams were picked by the judges at the end of the hackathon, and they won some exciting prizes!
1st Prize (S$1,000)
2nd Prize (S$500)
Team 6 – Esports Organiser

Team 11- Education & Training



Finalists
Team 8 – Small Restaurant

Team 13 – Retail/ Fashion/ Lifestyle
ELIGIBLE PARTICIPANTS
Graduates or students graduating within this year from any Institute of Higher Learning (IHL) in Singapore. The hackathon was open to Singaporeans/PR and youths aged 35 years old and below.
MENTORS:

Senior Account Director, Digital
ADK Network
linkedin.com/in/edvarcl
Edvarcl Heng has been shaping narratives on digital media for 20 years in APAC markets. He has led editorial operations and new media product ventures at CBS Interactive, MediaCom and Singapore Press Holdings. Most recently, he was a co-owner of a boutique agency that focuses on audience engagement and path-to-purchase content marketing. His passion is in assisting fledgling companies set out on the right footing. He has been an advisor and speaker for organisations such as Founder Institute, NTU Ideas Inc, Channel News Asia and SocialBakers. He currently helms content at Asatsu-DK, a multi-national integrated marketing and advertising agency.

Co-Founder
B9 SIGNAL
Smart Pod Village
Country Lead
WomenwillSG, Google Business Group (GBG) Singapore
linkedin.com/in/hanpingping/
Han Ping Ping is passionate about the confluence of hospitality, real estate and technology. She has built a career in strategy, corporate development and go-to-market execution with Shangri-La, Taj Group, Starwood, Rocket Internet, Found8 and more, living across India,Hong Kong and Singapore. With more than 12 years of experience in managing real estate assets valued at more than S$120M, pre-opening hotels and co-working locations, PingPing is also a co-founder of two businesses. Some of her life's passions include hotels, fashion, women education and single malt whiskies. Yes, in that order.

CEO
Get All Myanmar Co.
linkedin.com/in/leonqiutianci
Leon Qiu is currently the CEO of Get, Myanmar's leading micro-tech company providing inclusive digital services. Leon believes that achieving a profitable business model with strong social impact is not only plausible but expected of the new generation entrepreneur. Simultaneously pursuing a Ph.D. in Business (General Management) at Singapore Management University, Leon hopes that he can continuously apply evidence-based management to his organisation and personal leadership style.

Cloud Advocacy Program Manager
Microsoft
linkedin.com/in/suzchen/
Suzanne Chen is passionate about sharing knowledge and bridging the digital divide. She is currently a global Cloud Advocacy Program Manager with Microsoft, where she creates event experiences and actively engages the tech community globally. Suzanne has been a Marketing and Communications strategist for more than 10 years in the private and public sector. In her stint with a government agency, she was part of the team that branded Singapore as a Smart Nation, and developed communication strategies to change the perception of tech talent and promote Singapore start-up ecosystem. She later joined a gaming start-up where she spearheaded the Marketing strategy, directions and efforts. Suzanne is also an ambassador with WomenTech Network where she enables women's empowerment and advocates for diversity and inclusion in tech.

Co-Founder, Head of Branding
The Mind Hyve
linkedin.com/in/elaine-yeoh/
Elaine Yeoh is a designer, entrepreneur and digital marketer passionate about inspiring a better world through her work. She is Co-Founder & Head of Branding at up & coming mental health startup The Mind Hyve — winners of Startup Weekend Singapore 2020. Elaine is also the Lead Designer & Head of Marketing at Reactor School, nurturing the next generation of young startup founders through entrepreneurship education programmes. She previously founded two customised design & calligraphy businesses, and was a delegate of the 2019 Singapore-Indonesia Youth Leaders Exchange Programme organised by National Youth Council. Elaine believes that empathy and kindness can truly transform the world.
JUDGES

Head Of Creative Shop
Circles Life
linkedin.com/in/meganyulga
Megan Yulga creates really loved brands. She led marketing initiatives for Irish Engineering company PM Group by supporting teams in India, China and S.E. Asia. Megan's been with Singapore's 4th mobile service provider, and first new telco to enter Singapore in 17 years, Circles.Life, since the beginning from brand conceptualization to launch. Throughout her time with Circles.Life, she has led and supported a small team in launching 360 degree campaigns, email marketing, public relations, and much more. She created Circles.Life first viral video nearly reaching 2 million views and launched a customer referral program promoting word of mouth growth attributing to 40% of acquisitions. Recently launching an explosive product campaign, Megan and her team have proved that the Circles.Life team is not shy in breaking the marketing mold to deliver results.

Chief Executive
Isentia Brandtology Pte Ltd
linkedin.com/in/james-merritt-7a223923/
James Merritt experienced executive in marketing services working with agencies, manufacturers and retailers. Specialties: Negotiation, customer data, loyalty schemes, retail, team building, P&G, Tesco, media sales, insight, viral marketing, shopper marketing, Tesco Clubcard, customer segmentations, integrated media planning

Senior Marketing Director (SEA)
Johnson & Johnson
linkedin.com/in/vishy-ramaswamy/
Vishy Ramaswamy is a senior Marketing and business Leader with proven expertise in building strong brands and businesses across multiple product categories in MNCs like P&G, GSK and J&J. During his15+ years in local, regional and global roles in India, Singapore, Australia and Indonesia, Vishy has been able to drive strong business turnarounds, acceleration in business growth and sustained brand equity improvements. These experiences have enabled him to build strong leadership skills in multi-cultural settings and create inspired high performing organizations. Vishy combines data analytics, instinct, strengths of his cross-functional teams & agencies to drive new approaches to marketing to solve complex challenges facing the business and improving capability within his team. Vishy has received multiple awards both internally and externally for his brand building and commercial achievements, served in senior leadership teams across P&G, GSK and J&J and has also served as a Juror and panel member in several Asia Pacific Marketing conferences and awards.



Public Relations Director


JLL, Asia Pacific
linkedin.com/in/vernia-lim-57b59226/
Vernia Lim is the PR Director in JLL, where she leads media relations across 14 markets in Asia Pacific. With more than a decade of experience in PR, Vernia plays an instrumental role in the real estate firm's strategic communications plans and integrated marketing campaigns. Prior to joining JLL, Vernia handled marketing at Mandarin Oriental, Singapore. She brings a well-rounded perspective due to her previous background in a PR agency, where she worked with various industries such as F&B, art, luxury, lifestyle and entertainment. A dynamic and aspiring individual, Vernia is passionate about the art of communication. In fact, she believes that she's secretly a dog whisperer.

Director of Marketing
Kempinski Hotel
linkedin.com/in/walter-santos-navarro-8037009/
Walter Santos Navarro is a communications, media and public relations professional with extensive marketing communications leadership experience in the last 20 years. Walter led the Marcom for the opening, launch and development of two very prominent 5 star luxury hotels in Singapore namely Fairmont Singapore in December 2007 which was the flagship Asian property of Fairmont Hotels & Resorts and most recently launched the flagship property of Sofitel in Singapore – Sofitel Singapore City Centre in October 2017. Prior to joining The Capitol Kempinski Hotel Singapore, he headed the Global PR and Partnerships development of Banyan Tree Hotels & Resorts. He is keynote speaker on PR, Communications and Marketing, and has been a judge on multiple awards. He is a LinkedIn author/content curator with over 500,000 articles views which are featured under Leadership & Management, Big Ideas and Innovation as well as Best Advice categories.

Global Marketing Manager, Infant and Child Nutrition
Reckitt Benckiser
linkedin.com/in/vivek-nauhbar-34992318/ 
Vivek Nauhbar, currently the Global Marketing Manager at Reckitt Benckiser, drives strategy and innovation in early stage nutrition. He is also an Investor and Strategic Advisor at Dror Labs Pvt Ltd. Previously, he held the role of a Management Consultant at The Boston Consulting Group for Consumer Practice.
Terms and Conditions
"Hacking The New Normal" starts from 5 Jun 2020 and ends on 24 Jun 2020, 23:59.

This event is organised by *SCAPE Co., Ltd (the "Organiser") and supported by Isentia (the "Supporting Partner") and open to all participants aged 18 to 35 years old, with local residential addresses in Singapore only.

All confirmed participants must be present for all key dates for the hackathon and actively participate in the project.

By participating in this event, the participants agree to be bounded by these terms and conditions stated.

Only one entry is allowed per person. Multiple entries from the same person will be disqualified.

The prizes for this event are neither exchangeable for cash nor transferable. Team prize money is to be split within the group members equally.

Each group will have a minimum of 5 and a maximum of 7. If you are signing up as an individual, you will be assigned to a random group.

In the event the participant does not reply within 24 hours of notification, the Organiser and the Supporting Partner reserve the right to cancel their application or forfeit the prize and Organiser's decision is final.

The Organiser reserves the right to amend the Terms and Conditions without any prior notice.

The Organiser, the Supporting Partner, it's appointed agents and employees shall not be liable for any loss, injury and/or damage which may occur, however caused due to any unforeseen circumstances.

The Organiser's decision is final and no correspondence will be entertained.
Information stated is correct at the time of print and is subject to change without prior notice