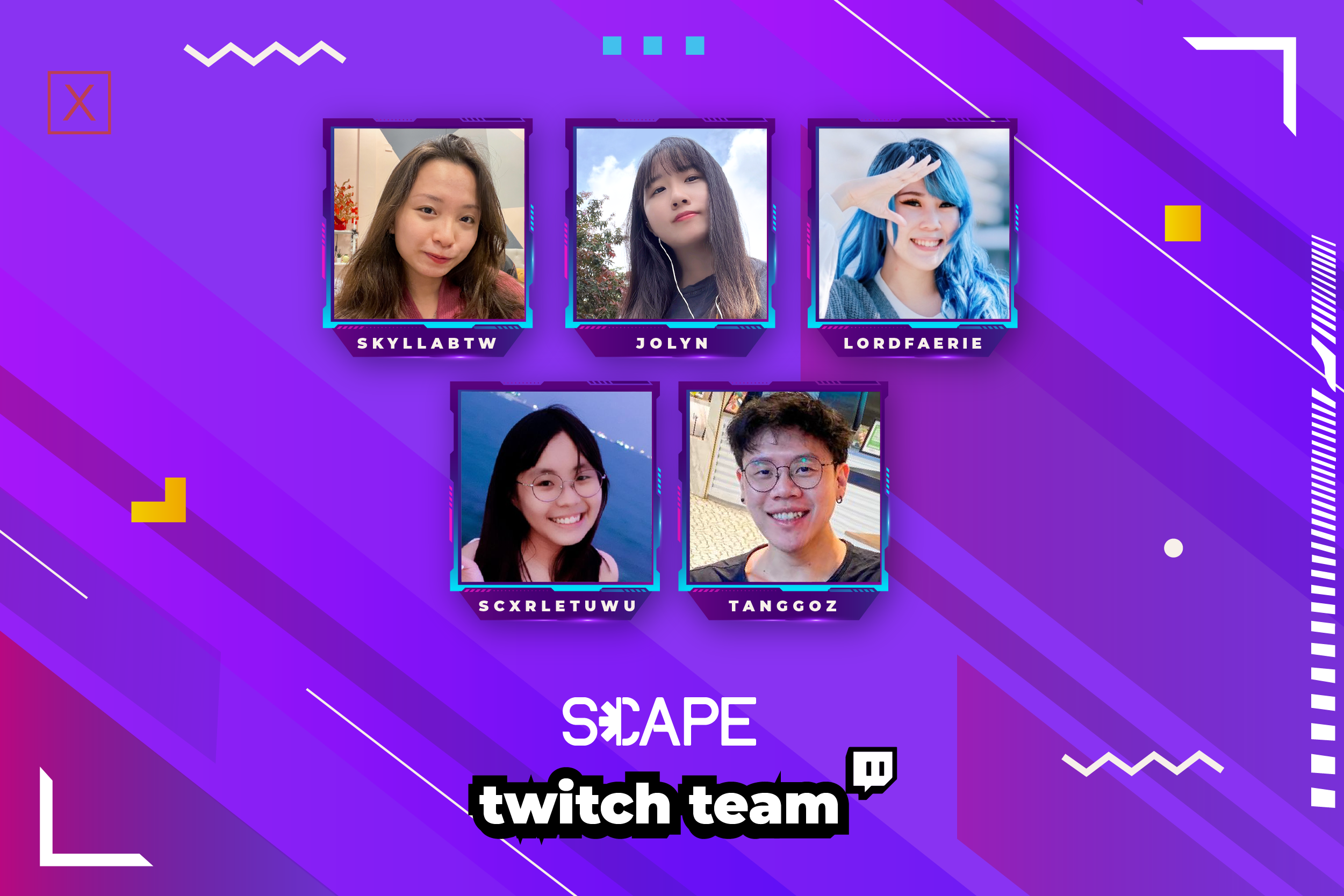 Introducing

*SCAPE's second batch of Twitch Team

members who will join us in an exciting journey in 2022 to level up their streaming experience.
The *SCAPE Twitch Team is an initiative to support aspiring and passionate streamers within the community, with the aim to allow our streamers to reach their streaming goals. Do drop by their streams to watch their content and show your support!
Patrick, better known as "tanggoz", is a variety live streamer that focuses on the "Just Chatting" category. His stream is a simple person-to-camera affair, where he discusses topics surrounding tech, gaming, lifestyle, entrepreneurship and more. Join him on his Twitch live stream for music streams and VALORANT gameplays too!

Zi Le 'skyllabtw' Tea is a small 142cm variety streamer with a HUGE amount of energy that transcends beyond imagination. 

She is known for organising and hosting modern Tetris tournaments, developing meaningful festive streams, and for her passion in giving back to charitable causes through fundraising streams. 

Aside from these, you can occasionally catch her playing different community games such as Crab Game, and FPS games such as VALORANT. There will never be a dull time with Skylla as she will lift your spirits with her humor and endearing words!

Jolyn is an illustrator and IRL streamer, known for her iconic pink cat named Paper. Catch her stream and you might be in on an adventure to an art exhibition, pop up market, or other cool events. Either way it'll always be a good time 😉

Lordfaerie, or Fae, is a full-time design student and Apex Legends streamer. She has constantly honed her gaming skills and expanded her horizons from FPS shooters to RPG games. Always loving a good challenge, you won't see her playing on easy mode. To the extent that she integrates real time sabotages in Apex Legends which her viewers can engage in.

Scxrletuwu, also known as Scarlet, is a comfy and chill streamer that enjoys chatting about anything under the sun, from awkward encounters to weird and random topics. Although she is not the best gamer, Scarlet hopes to build bonds through discovering and playing games with viewers. She also wishes to build a welcoming, warm and comfy community and to make new friends along the way.