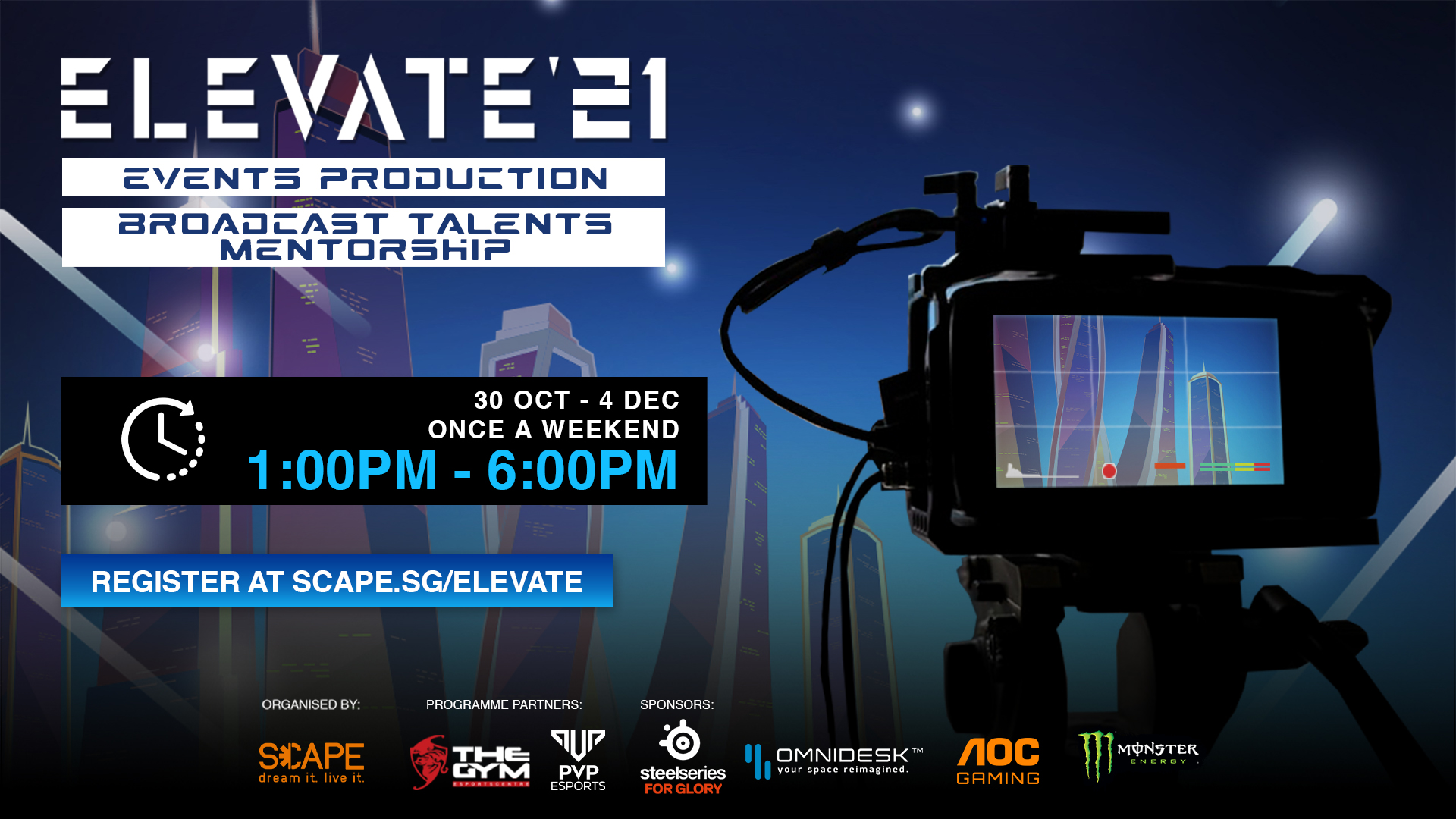 ELEVATE'21 is a programme aimed at supporting the development of aspiring esports casters, hosts and event production managers. This month-long initiative acts as a gateway to identify and support the growth of esports youth who are keen in being a part of the local esports ecosystem of peripheral interests. The programme aims at equipping youth with the appropriate transferrable skills to pursue possible employability regardless of industry.
This programme consists of a series of masterclasses, mentoring sessions and a final showcase segment. From play-by-play commentary sessions to event production management workshops, ELEVATE'21 features an impressive line-up of industry speakers, mentoring experts and green lane opportunities that will help youth with varied interest levels in shoutcasting, hosting and event production management. The showcase segment will enable knowledge application through a simulated professional showcase platform critic by local industry professionals.
Elevate'21 Full Schedule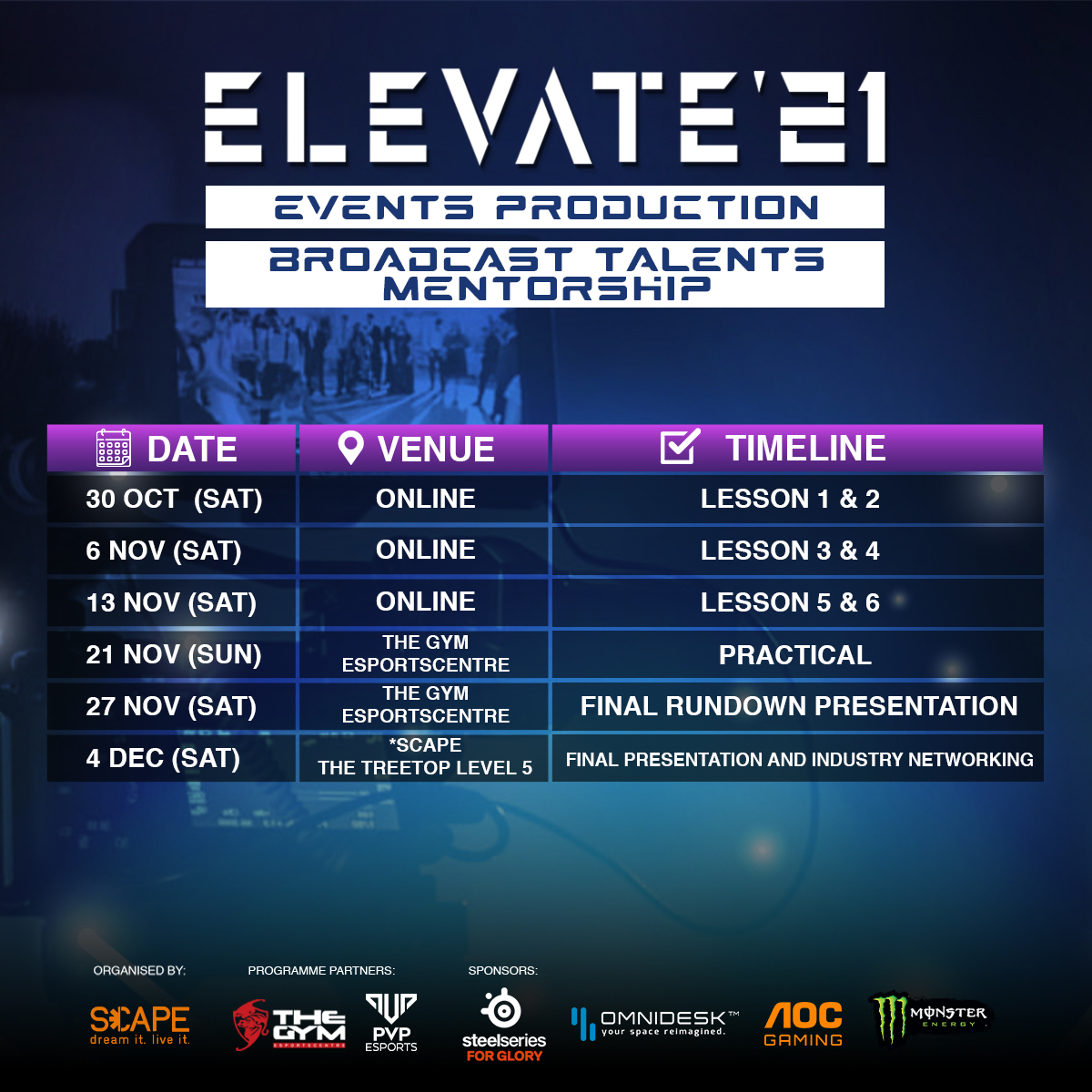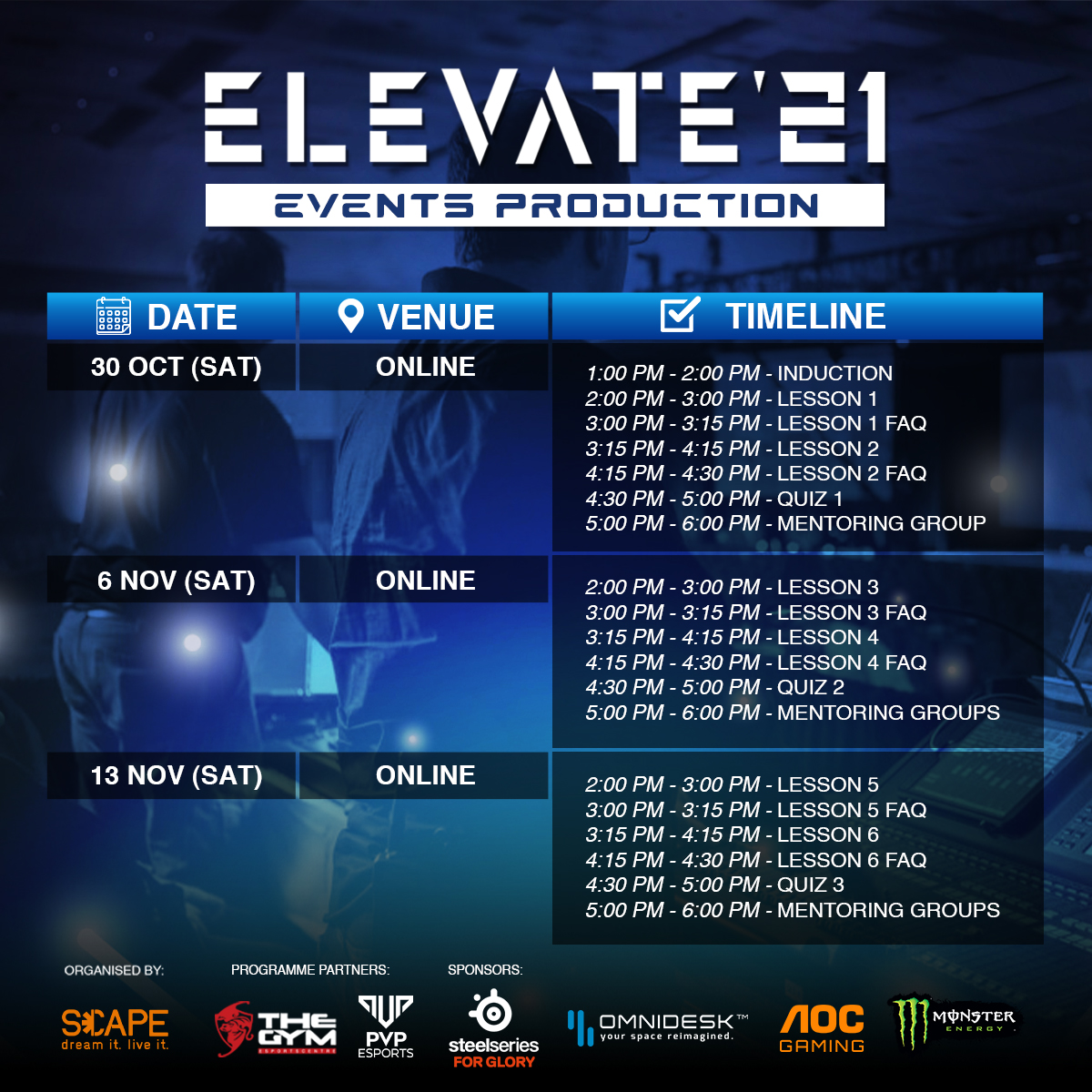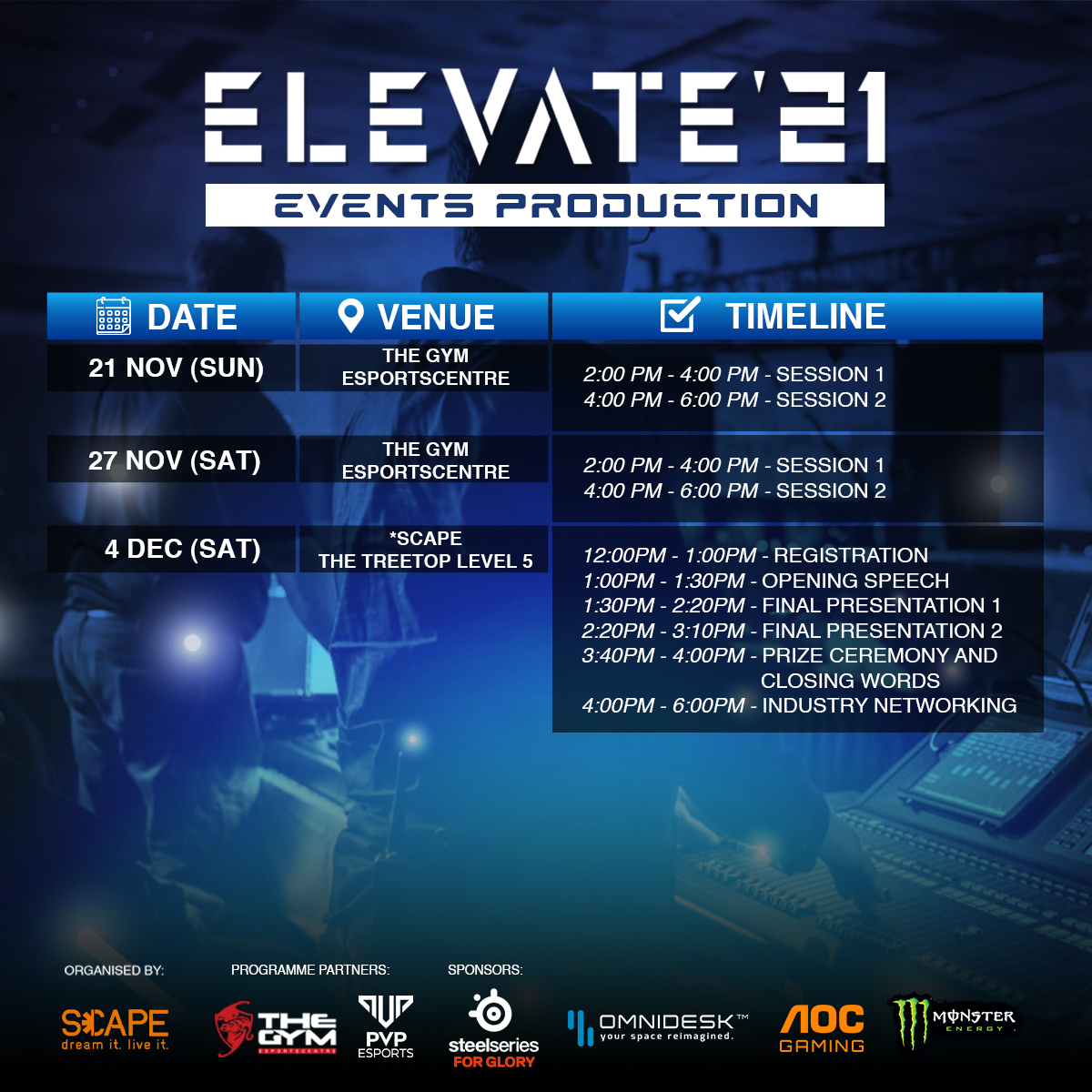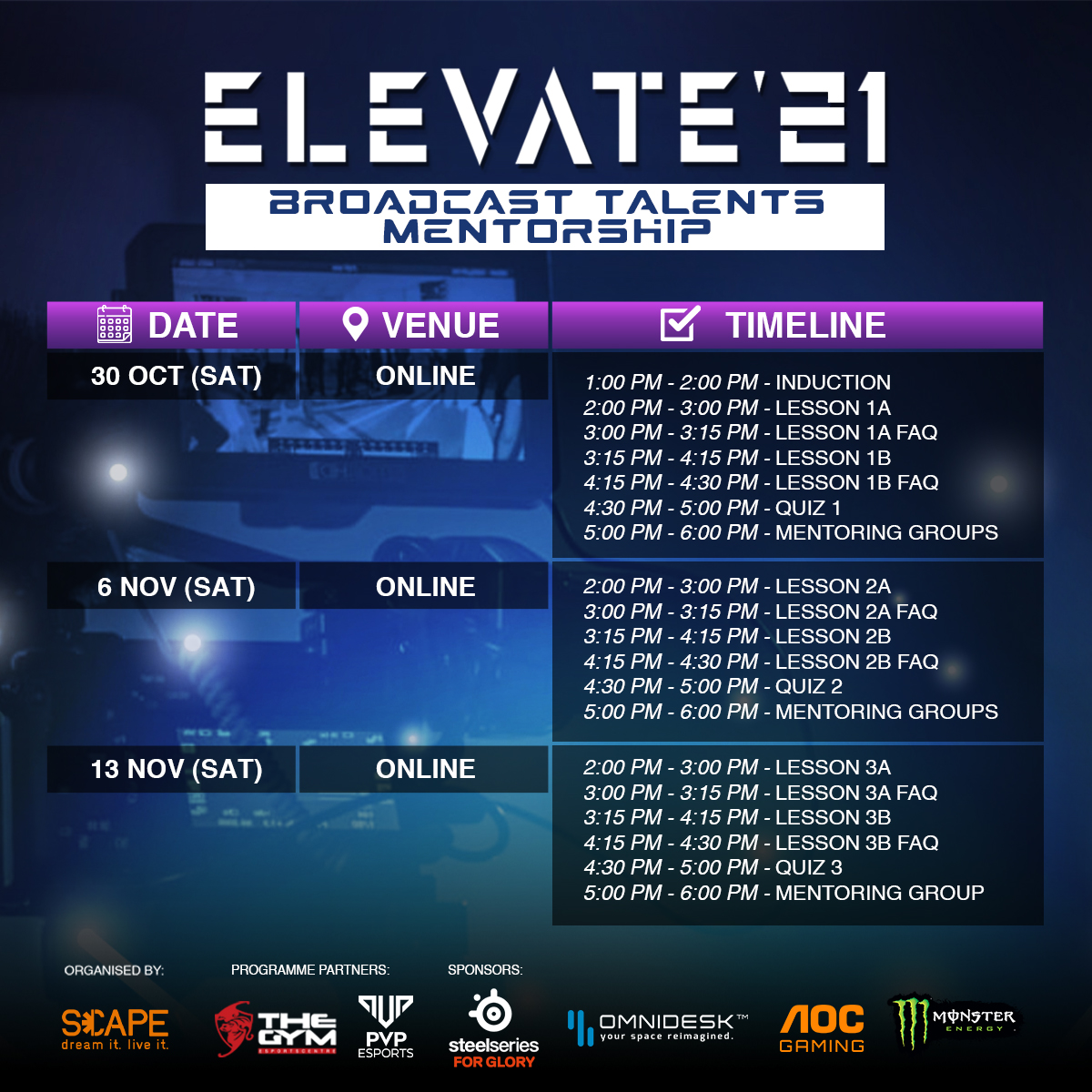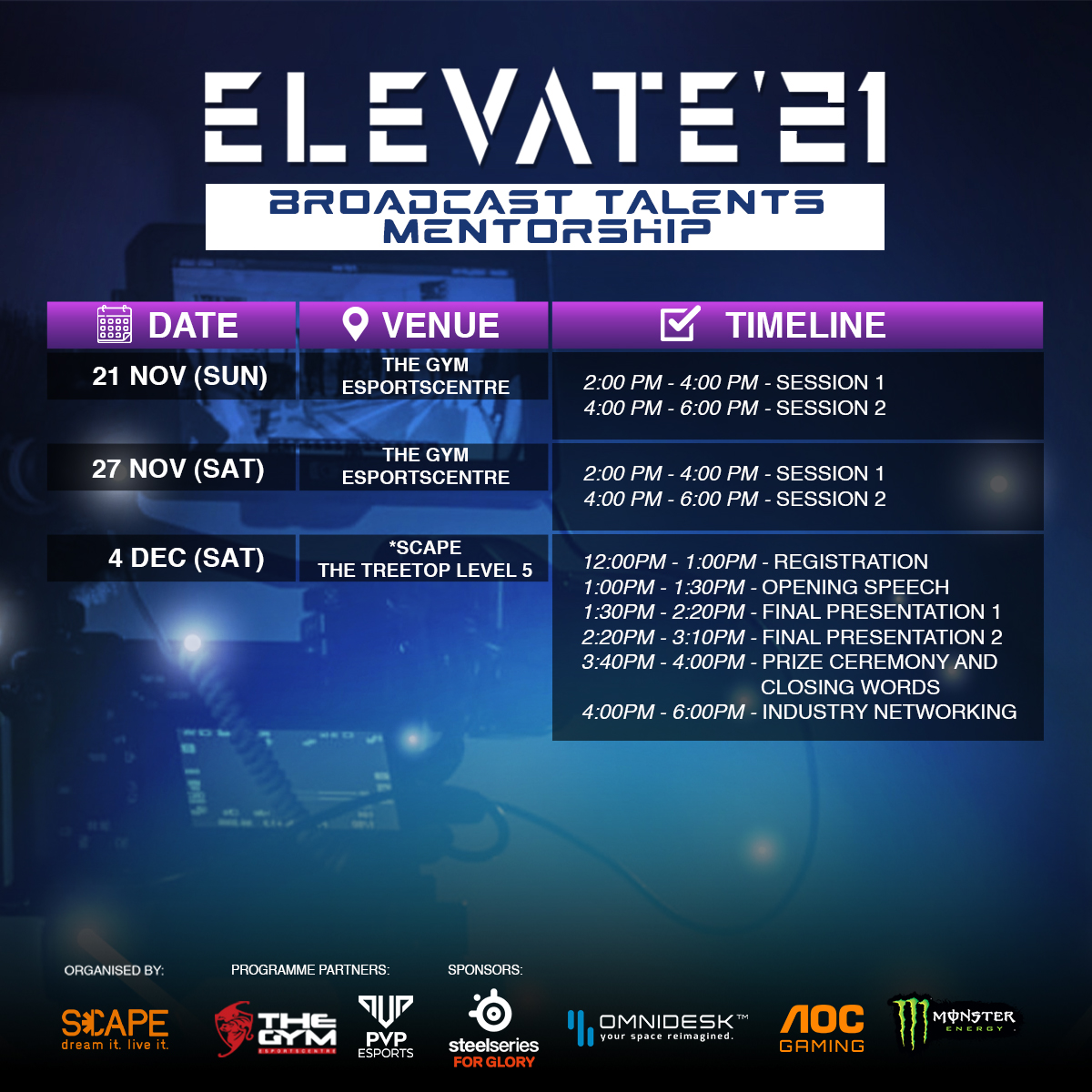 ---
Full Syllabus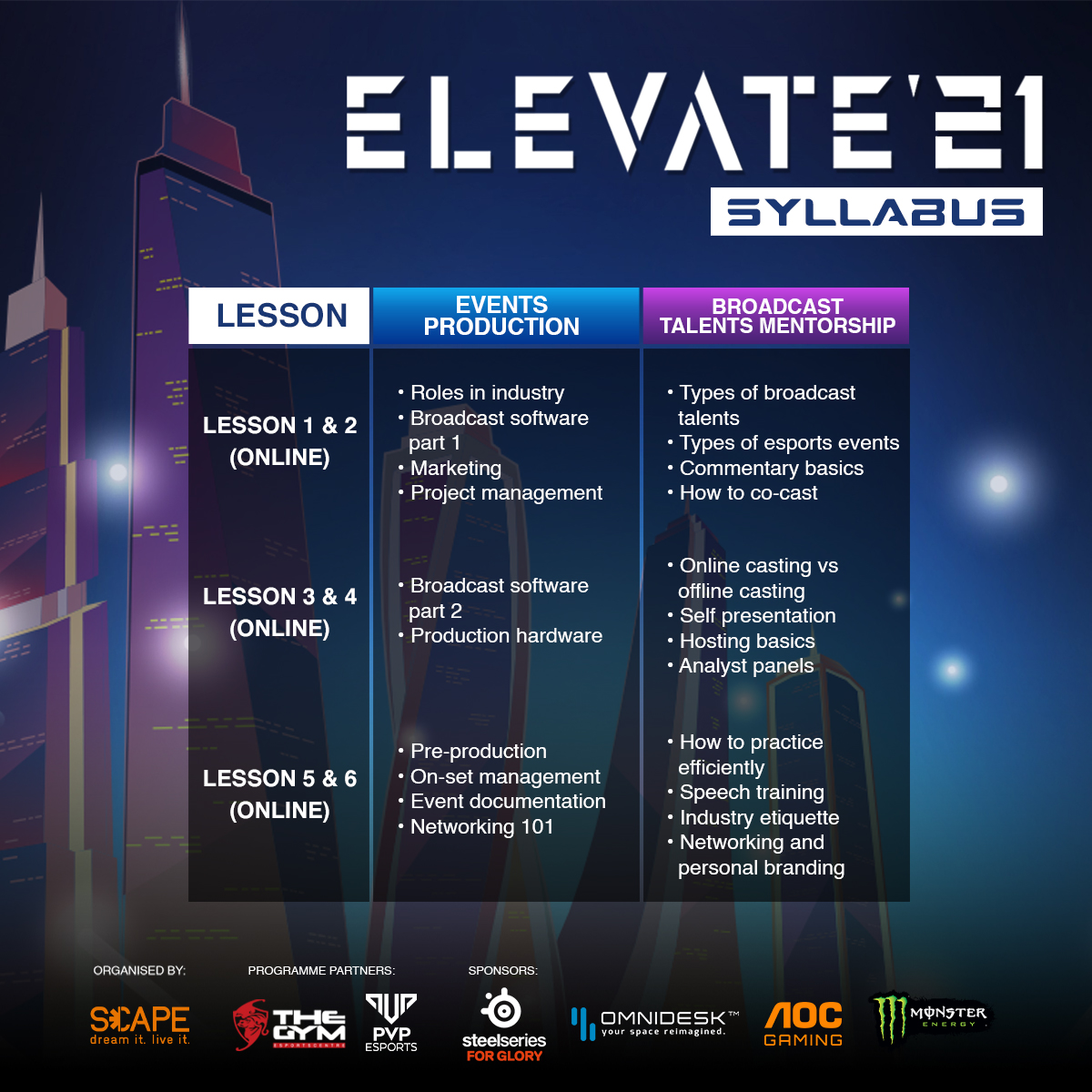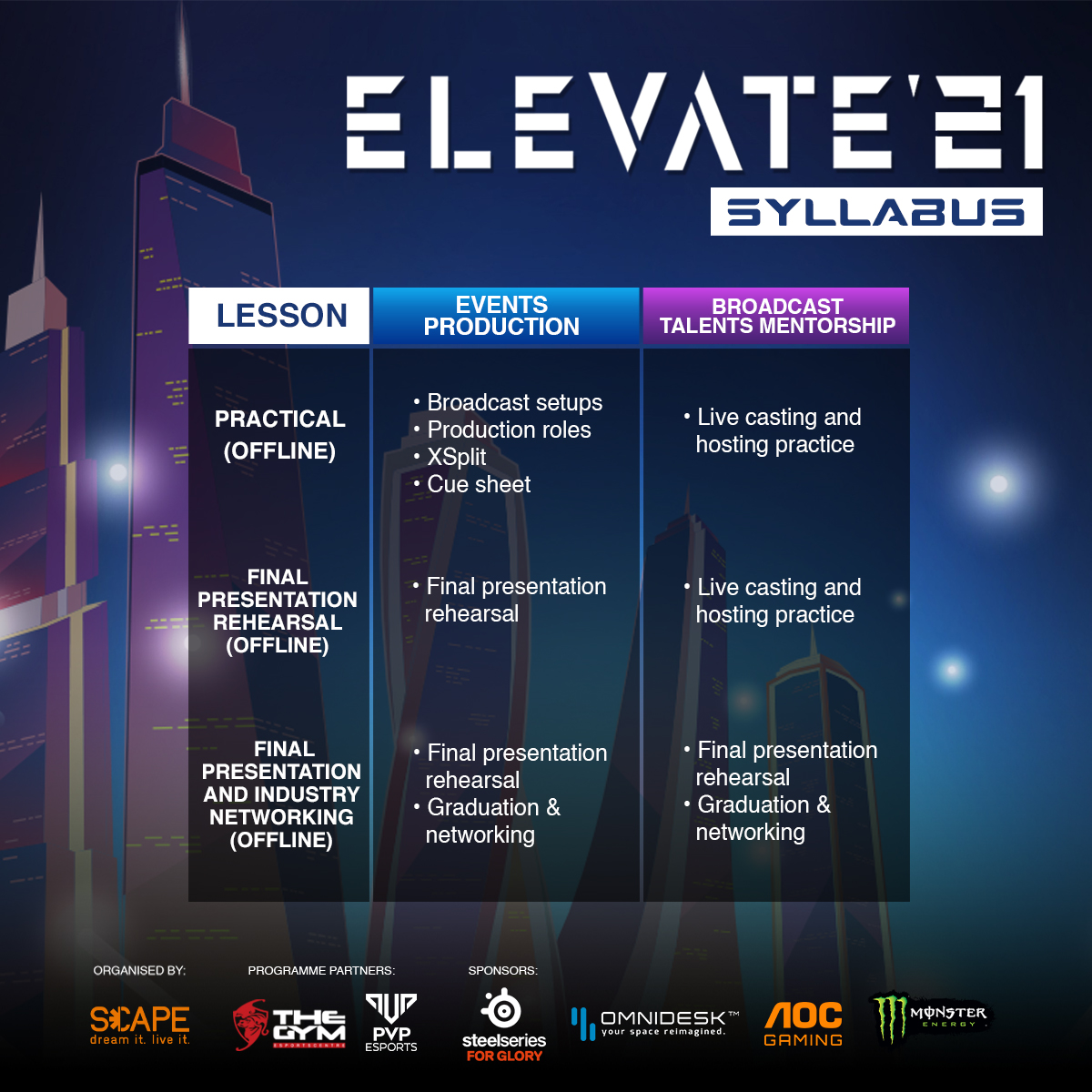 ---
Meet our Mentors!
Daryl Lim

Daryl "HungryCasts" Lim is a six year veteran League of Legends Colour Caster, specialising as a historian and analyst of South-East Asia (Garena Premier League). 

In addition, he has experience covering other titles such as Valorant and PUBG internationally. 

Apart from casting, Daryl strives to nurture the talents of aspiring shoutcasters. In the past two years, he has worked with numerous organisations such as SCOGA and *SCAPE to induct new shoutcasters into the industry.

Grandon Oh

Grandon "gamernissem" Oh is a play by play shoutcaster working actively on MOBA titles. What started as a love for esports and a part time hobby has turned into a full time opportunity to work on multiple titles across a number of leagues. 

Starting as an observer for Garena he continued to work on his craft and was given the opportunity to cast a game and slowly received more schedules. Grandon has worked with multiple companies since then with notable events such as the LST, the HK PUBG Major and RoS Global tournament.

Lysander is an esports host with almost 8 years of experience on multiple esports live broadcasts. Having worked on roles in front and behind of the camera, he has been equipped with a holistic view on the inner workings of the industry and its practices. 

He looks forward to sharing his knowledge and its culture to help pave a smoother path for aspiring talents entering the space.

Kentrell Kwek

Kentrell "heyimquack" Kwek is a play-by-play caster specializing in FPS games such as VALORANT. Entertaining viewers with his light and energetic commentary style, he is also able to break down strategies and tactics through his insight for the game. 

Kentrell learned the fundamentals of shoutcasting from *SCAPE's first Elevate programme and has since joined Loudmouths Esports team of talents. He has casted for numerous tournaments such as VCT Game Changers SEA and VALO2ASIA Invitational, to name a few.

Denise Teo

Denise aka "supercatkei" is recognized as one of the top live streamers to look out for in Southeast Asia in 2021. 

Despite her young presence on Twitch, Denise has been actively engaged in educating and nurturing the next-gen of content creators. Prior to Twitch, Denise was involved in several international startups, focusing on career development. She also has professional experience in events and film production.

Fong Jia Jun

Jia Jun is a seasoned showrunner in the events production space. His experiences include running 5 years worth of community esports events, corporate conferences and most recently, the inaugural seasons of Singapore's Mobile Legends Professional League, makes him an invaluable source of knowledge for aspiring talents looking to join up.

 

Fabian has over 8 years of experience in the esports broadcast industry, he started off working in Garena as a program director and esports producer. The more notable events that he has worked on are the Garena Carnival, Garena Premier League finals, and the League of Legends Worlds Southeast Asia Qualifiers. 

After leaving Garena, he founded FBL productions and has worked with many companies for example, SCOGA to direct the Campus Game festival at the indoor stadium, Sony to produce and direct talk shows like WELP tonight and also held live streaming workshops for companies such as Mediacorp.