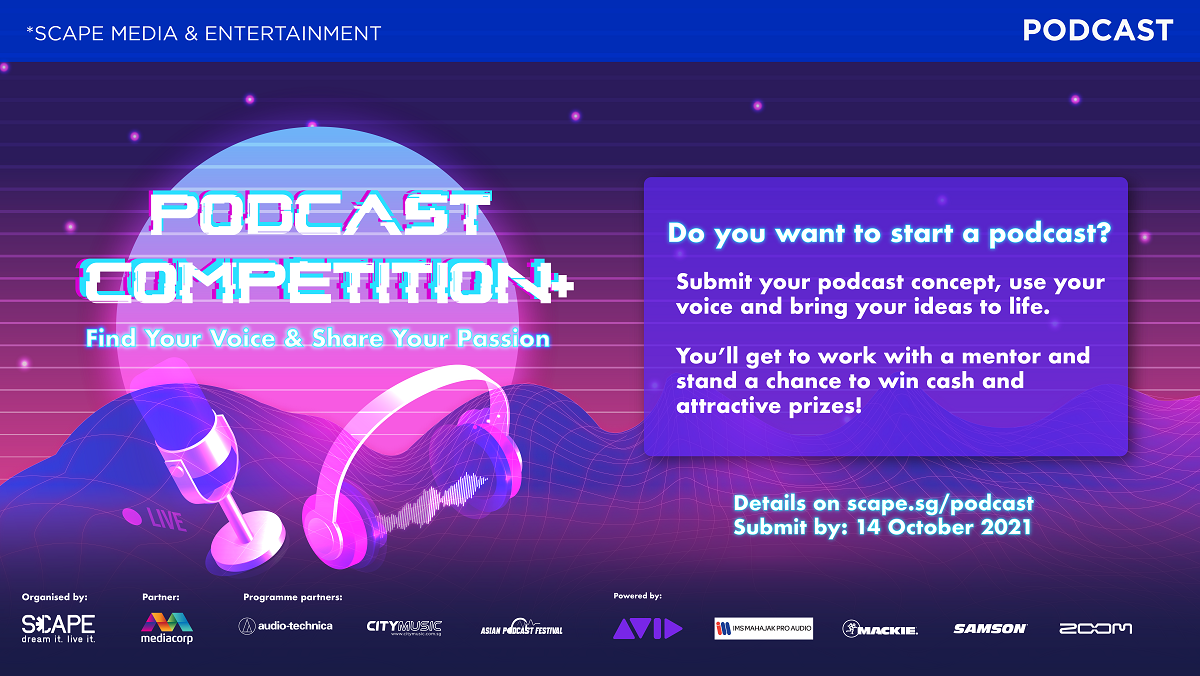 Find Your Voice & Share Your Passion
Always wanted to start your own podcast? Dream of becoming the next top podcaster?
Submit your podcast concept, use your voice and bring ideas to life.
All participants stand a chance to win an Audio Technica podcast mic worth $128.
You'll get to work with a mentor and stand a chance to win cash and attractive prizes!
Winners also stand a chance to develop their podcast into a series with *SCAPE.
Click Here to sign up by 14 October 2021
Podcast Competition+ Rules: 
1. OVERVIEW
The Podcast Competition+ is brought to you by *SCAPE to nurture aspiring podcasters to produce youthful and quality podcast content.
Shortlisted Applicants will receive support and mentorship to develop a podcast episode.
Additionally, winners will win attractive prizes and a chance to embark on a partnership with *SCAPE and/or its partners for further development into a podcast series.
The Podcast Competition+ submission period begins at 0000 SGT on 20 September 2021, and ends at 2359 SGT on 14 October 2021.
2. ELIGIBILITY
The Podcast Competition+ is open to any Singaporean or PR ages 15-35 years old (before 31st December 2021) residing in Singapore during the time of submission.
*SCAPE reserves the right to verify and confirm each Applicant's compliance with eligibility requirements. The Applicant may be required to submit further information to assist in the verification of eligibility.
3. HOW TO ENTER
To enter, the Applicant must submit a proposal and audio recording introducing the topic content of his/her choice (the "Submission").
The Submission should consist of:
i. A proposal (not more than 2 pages) detailing the following:
Title of Programme
Concept Synopsis: A summary of the topic, or issues that will be addressed in the Podcast. Share the central theme for the podcast.
Target Listeners: Podcast audience's demographic and psychographic profile.
Delivery Tone: Describe how the podcast will be presented and the tone that it will be presented in (i.e. casual chat show, serious 1-on-1 interviews, etc). Additionally, please reference 2-3 existing podcasts that are comparable and discuss how this concept is similar and/or unique.
Please download and complete the proposal template here.
ii. Audio Teaser
Between one and a half (1.5) and two and a half (2.5) minutes in length.
Include self-introduction and share what you want to do for your podcast.
Submissions must comply with the requirements set out in the Terms and Conditions.
*SCAPE reserves the right to determine, in its sole discretion, which entries have satisfied the entry requirements and to disqualify any Submission it believes is not consistent with the spirit and theme of the competition.
4. SELECTION PROCESS
There will be two (2) rounds of judging, preliminary and final;
During the preliminary round, all submissions that meet the requirements set out in the Rules and Terms and Conditions will be assessed by the judges.
Approximately 10 finalists will be shortlisted based on the following in weighted scores.
originality of content
personality and charisma of the presenters
potential for further development
overall presentation
5. TRAINING AND MENTORSHIP
The shortlisted finalists will undergo a 5-week training cum mentorship programme based on the following format:
Asia Podcast Festival's Podlab
Shortlisted finalists are required to attend all compulsory modules stated in the training schedule. They are also encouraged to take up as many electives to equip themselves with the relevant skills and tools for their podcast production.
Please refer to the training schedule here.
One-on-one consultation
In addition to the training, shortlisted finalists will receive a one-on-one consultation with their mentor for the development of their podcast episode for the final judging.
Final Submission
The submitted podcast episode will be assessed by the panel of judges as well as public voting for the audience choice award.
The judges will select two (2) grand winners, while the public will vote for one (1) audience choice winner.
6. WINNERS ANNOUNCEMENT
The winners will be announced on 20 December 2021.
*SCAPE reserves the right to extend or modify the winner notification and announcement schedule or format as deemed necessary, in its sole discretion, to complete the verification process contemplated by these Rules and/or to select an alternate Winner.
7. PRIZES
Each of the grand Winners will stand a chance to receive some of the following prizes:
Podcast to be featured on *SCAPE and/or *SCAPE's partner platforms.
Partnership with *SCAPE to co-produce a podcast series
Sponsorship & Cash Prizes
More exciting prizes to be revealed soon!
For the avoidance of doubt, the prizes offered may be subject to changes from time to time and *SCAPE reserves the right to substitute and/or change any of the prizes offered at any stage of the Podcast Competition+.
7. OTHERS 
Without limitation to the Official Rules set out above, all Applicants shall be required to comply with the [Terms & Conditions] of the Podcast Competition+.
Click Here to sign up by 14 October 2021
For any inquiries or questions, please feel free to contact us at media@scape.sg.
Explore Podcast Competition+