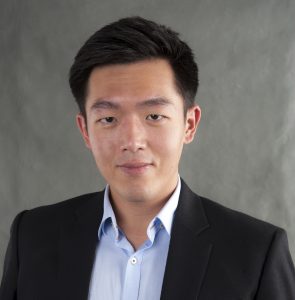 Danny Koordi
Assistant Commissioning Editor for Podcasts
at Mediacorp
Having previously started several podcast projects independently while working in his day job as an auditor, Danny took the leap by starting his own podcast production business back in 2019, and is now currently the Asst Commissioning Editor for Podcasts at Mediacorp, where he oversees content strategy and podcast production across the entire network.
His past projects have included Screwed Up Moments for local social enterprise The Happiness Initiative, Work ReImagined for Fuji Xerox, and The Unlocking Podcast, a partnership with local illustrator Anngee Neo. At Mediacorp, he helms podcast production for various shows such as Hey Mama! with Sophie Gollifer, The Naked Truth with Gerald and Kim, and more recently, the brand new horror audio drama series After Dark; whilst also dabbling in podcast related partnerships with organizations such as Scape, Wattpad, Temasek Polytechnic, and Ngee Ann Polytechnic.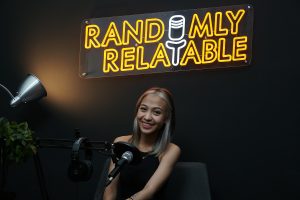 Sabrina Shiraz
Co-host & Co-founder of Randomly Relatable SG
Sabrina is the co-host/co-founder of RRSG. Her corporate title is Project Manager where she in charge of handling design collaterals for the podcast, liaising with clients and content creation/ideation. She is currently working full time as a Content Producer and handling content creation for Ceramiracle, Inc.
She is a Bachelors of Professional Communications graduate from the Royal Melbourne Institute ofTechnology. Being the female voice of the podcast, she gives a balance perspective between Shuraim and Uwais to ensure that there is a check and balance of views. Her on air personality is that she is a cheerful, vibrant and sometimes oblivious/unaware individual. However, her branding is that she is more than what meets the eye. Her intellect and wit will show in the podcast from time to time.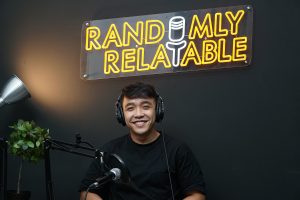 Shuraim Basir
Co-host & Co-founder of Randomly Relatable SG
Shuraim is the co-host/co-founder of RRSG. His corporate title is Digital Content Manager where he is charged with ensuring the quality of the audio and video content, content creation/ideation and is in charge of the PR of RRSG. He is currently working full time as a Media Planner at Zenith Media under Publicis Groupe.
He is a Bachelors of Arts in Mass Communications and Public Relations graduate from Northumbria University (Newcastle). Shuraim is known as the voice of reason and ensuring political correctness where appropriate throughout the podcast. His on air personality is that he is the person that is passionate about social/youth issues, non-reactive/passive nature and being the "older" one that provides perspectives from a more mature point of view.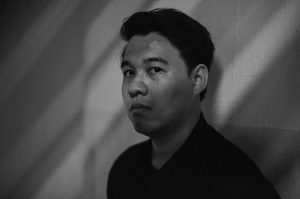 Kyle Ong
Filmmaker & Podcast Producer of Ghost Maps Podcast
Kyle Ong is a Filmmaker / Podcaster that has spent the past 8 years creating content for brands such as Discovery Channel, Nikon, DBS, BMW, Singtel and Iron Man.
He is also the co-creator & producer of one of the top English Horror Podcasts in Southeast Asia, GHOST MAPS. Kyle also facilitates courses on Podcasting for new Podcasters.
Kyle's methodology is that "Stories are everywhere, in everything and they live in us" – like the dialogue between Rey and Luke Skywalker "And between it all, balance, energy a story."