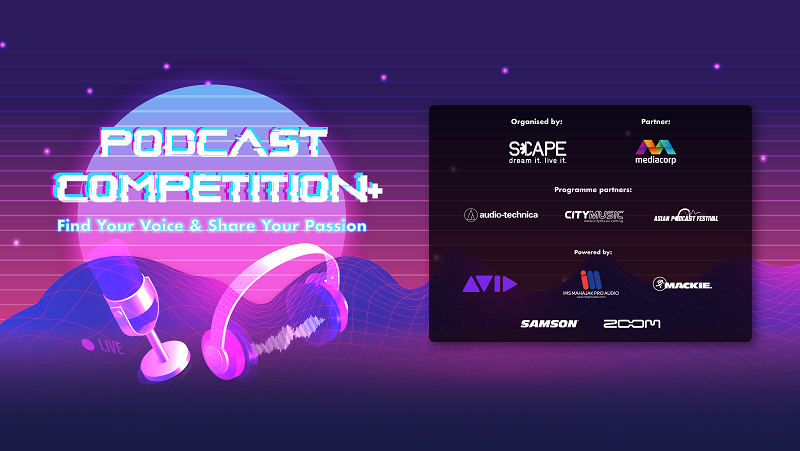 We are pleased to announce the top 9 finalists of the Podcast Competition+.
From discussing family issues to uncovering crime scenes and world of movies, these podcasts cover a wide range of topics! Check out these podcasts and vote for your favourite podcast by 17 December 2021, 6pm.
Winners of the Podcast Competition+:
First Prize – Critical Cliches
By Elisabeth & Vidya
Superheroes. Rom-Coms. Dragons. C-dramas. K-dramas. Their own drama. Join hosts Elisabeth and Vidya as they guide you in this journey through the world of TV and movies. With their zero experience in podcasting and zero standards when it comes to TV watching, E and V process their favourite shows and movies by navigating through all the cliches, tropes and features that make good stories good and guilty pleasures fun.
From shows that were cancelled after one season to movies that fail the Bechdel test, they've seen it all and if they haven't yet, they're going to.
---
Second Prize – Beyond the Crime Scene
By Insyirah Ismail
Abuse happens more often than you think, and some of this abuse goes unnoticed. In Beyond The Crime Scene, nurse Insyirah Ismail uncovers crimes that have shaken Singapore. She goes beyond the crime scene by seeking expert advice on how to overcome the psychological and social issues beneath these crimes, and imparting lessons to her listeners.
In this episode, she uncovers the Chin Swee Road Murder. She speaks to Dr Razwana Begum, a Senior Lecturer in SUSS who has worked with victims of child abuse and have advocated for healthier parenting techniques. You and I have a part to play in mitigating child abuse. To find out more, tune in to Beyond The Crime Scene.
---
Audience Choice – YES SERGEANT!
By Tan Ding Xuan
Have you ever wondered what it's like to serve national service? Getting up at 0430 hours, putting on that helmet, and trudging through the jungle with your rifle… not forgetting those countless water parades and 1-minute showers (who can forget that?!)
If this sounds new to you, join Ding Xuan on his brand-new podcast YES SERGEANT! Listen out for real-life struggles, growth, first-hand experiences and interesting army stories you don't want to miss!
Finalists of the Podcast Competition+: 
Behind Closed Doors
By Farah Aqidah
Introducing Behind Closed Doors, a podcast that dives into hidden issues in families that can neither be seen nor heard.
---
I Dare You
By Cayenne Chin
'I dare you' is a weekly podcast that explores different concepts and actionable steps to make life better. Instead of just using drab and dreary self-development books, Cayenne takes a fun approach to gamify the skillsets that help you have more fun, have better relationships and move you to the next level. Some of the topics include how being radically honest can shift your life for better relationships, how theatre can help you get that promotion you have always wanted and what it takes to fix your relationships with your parents *cough* mummy and daddy issues, anyone? *cough* a step at a time. Get ready to embark on this new adventure as your host deep dives with you on this exhilarating journey!
---
Millennial Millionaire
By Jeremiah Su & Asher Aw
What is the secret to entrepreneurship and success? Millennial Millionaire aims to demystify the journey of young money and new money, in an unabashed, unashamed, unfiltered manner. No bs, all real talk.
Join us as founders share their experiences and answer that million dollar question; How did they do it!
---
Next Time Do What?
By Renald Loh
Youths growing up in Singapore are familiar with the hustle and grind of our education system. But there comes a point in time where we all need to decide: "What am I going to do with my life and career?"
Next Time Do What? is a series of candid conversations with people who do interesting things for a living. The show helps students and young adults explore a variety of vocations, so they can go a step closer to figuring out what career paths suit them best.
---
off the record.
By Gloria Tham
Welcome to off the record. – a safe space for conversations that are intimate, open and honest. A lot of people find deep conversations to be an enjoyable outlet with the potential to boost a stronger sense of connection. At the same time, we often underestimate how much others are interested in our lives and wrongly believe deeper conversations are a lot more awkward, less enjoyable and difficult to start. This is the gap that off the record. Wants to fill – to provide an avenue for meaningful conversations to be exchanged because the only thing that stands between ourselves and greater connectedness is us.
Go off the record. with Gloria as she speaks to different individuals, including personalities, thought leaders, changemakers and even everyday people like yourself. Deep dive into conversations with the intention to uncover lessons from different journeys and experiences. Discover different viewpoints on some of life's most challenging questions through topics like passion, fears, successes, struggles, relationships and more. off the record. is available for free on Spotify. You are also invited to join us in conversation on Instagram at @go.offtherecord.
---
Unreal Adventures
By Nicholas Chen
Behold! It's Unreal Adventures! This week, our heroes dive into the depths of the slum quarters in Baldur's Gate and try to uncover the mystery behind the recent bouts of insanity infesting the district. Will they prevail or will they succumb to madness themselves?
Find out in the episode premiere of UNREAL ADVENTURES ⚔️🐲