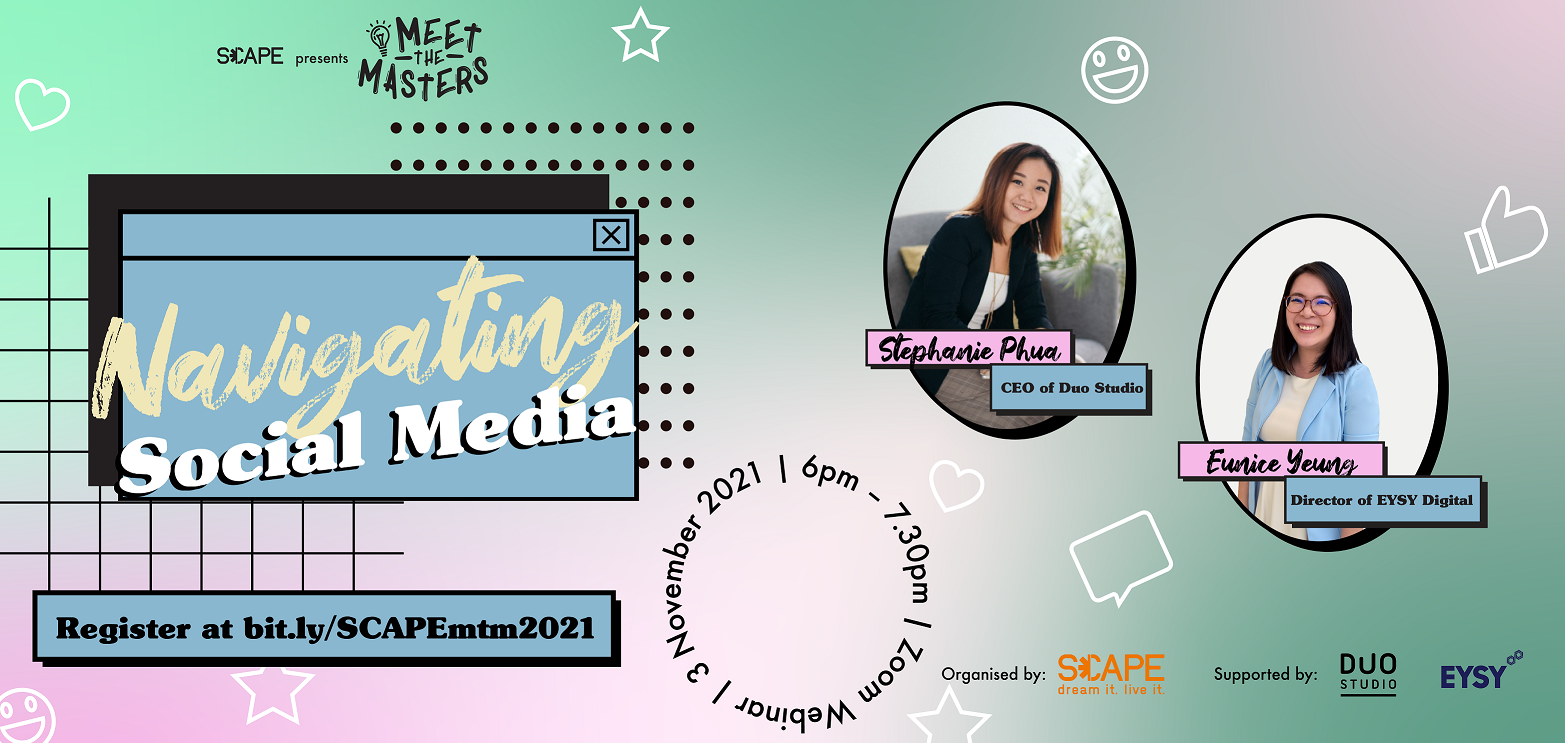 About
Meet the Masters is a series of talks where industry veterans/thought leaders/entrepreneurs will be invited down to share their experience and journey to aspiring youth entrepreneurs.
Navigating Social Media (3 November 2021)
What does a career in the social media space look like? What are the necessary skills and traits needed to become a social media marketer?
Get personal with Stephanie Phua, CEO of Duo Studio, as she shares her entrepreneurial journey – transiting from a creative to a businesswoman, and how she marries both creativity and data-driven content strategies into her core business. Also joining this session is a digital marketer cum entrepreneur, Eunice Yeung, Director of EYSY Digital. Eunice will be moderating this session and be bringing in her perspective on how social media enhances a company's branding in this digital era.
Date: Wednesday, 3 November 2021
Time: 6pm – 7.30pm
Platform: Zoom
Speakers: Stephanie Phua (CEO, Duo Studio), Eunice Yeung (Director, EYSY Digital)
Go Regional, Go ASEAN (2 September 2020)
Join us as we hear from Leon Qiu, Impact Entrepreneur of the Year 2020 at the National Youth Entrepreneurship Awards, and CEO of Get All Myanmar Co., a digital commerce platform that empowers microentrepreneurs with technology. Get is currently based in Yangon and is expanding throughout the Southeast Asian region.
Speakers: Leon Qiu (CEO, Get), Calvin Wee (Co-founder, The Young Seakers)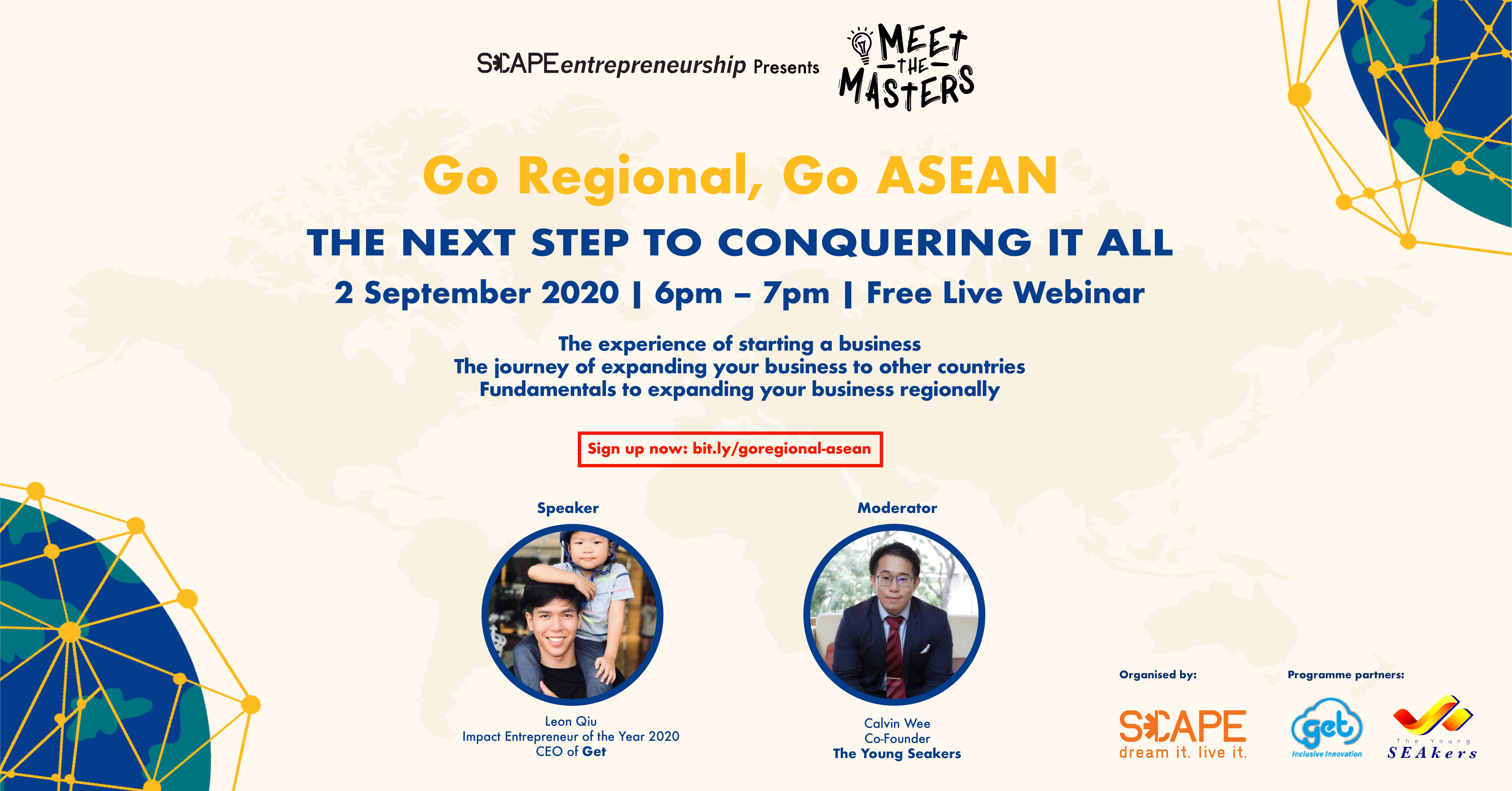 Launching An App – The Good, The Bad, The Ugly (15 July 2020)
Together with Lee Kai Yi, Co-founder of Staffany, were Delphine Guenther and Jasmine Tang, the team behind SPROUT, they have shared on their successes and failures during their app creation process, and the key decisions they have made leading to the launch of their app 
Speakers: Lee Kai Yi (Co-founder, Staffany), Delphine Guenther (Philanthropies Lead, Microsoft Singapore), Jasmine Tang (Co-founder, Empire Code)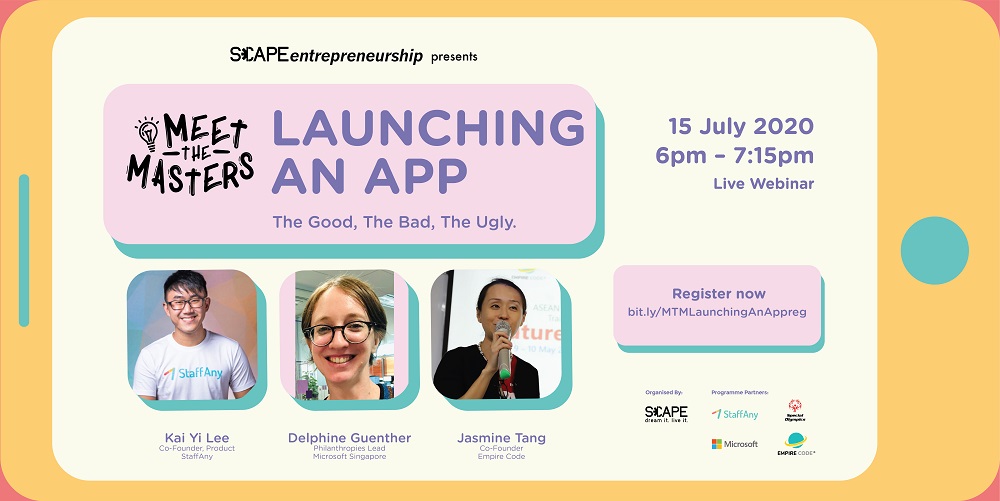 Cope & Grow Amidst COVID-19 (14 May 2020)

In this session, Shawn Phua from SMECentre@ASME and Baharudin Nordin from SME Digital Tech Hub shared with our attendees how they can improve operations and generate new revenue through digitalization and technology adaption, as well as various schemes available to help our entrepreneurs through COVID-19.
Speakers: Shawn Phua (Senior Business Adviser, SMECentre@ASME), Baharudin Nordin (Director/Consultant, SME Digital Tech Hub) 
The Future of Retail Entrepreneurship  (28 November 2019)

What is the future of retail entrepreneurship and how is it changing from what we know today? Our speakers shared with us more on how their businesses are changing and how entrepreneurs can be adaptable to become more resilient. Our speakers for this session include Emile Dumont from The Posture Lab, Nikki Chua from Retailers Market, Rachel Lim from Love, Bonito, and Rani Dhaschainey from The Curve Cult.
Speakers: Rachel Lim (Co-Founder of Love, Bonito), Nikki Chua (Co-Founder, Retailers Market) 
Rani Dhaschainey (Founder, The Curve Cult), Emile Dumont (Founder, The Posture Lab)