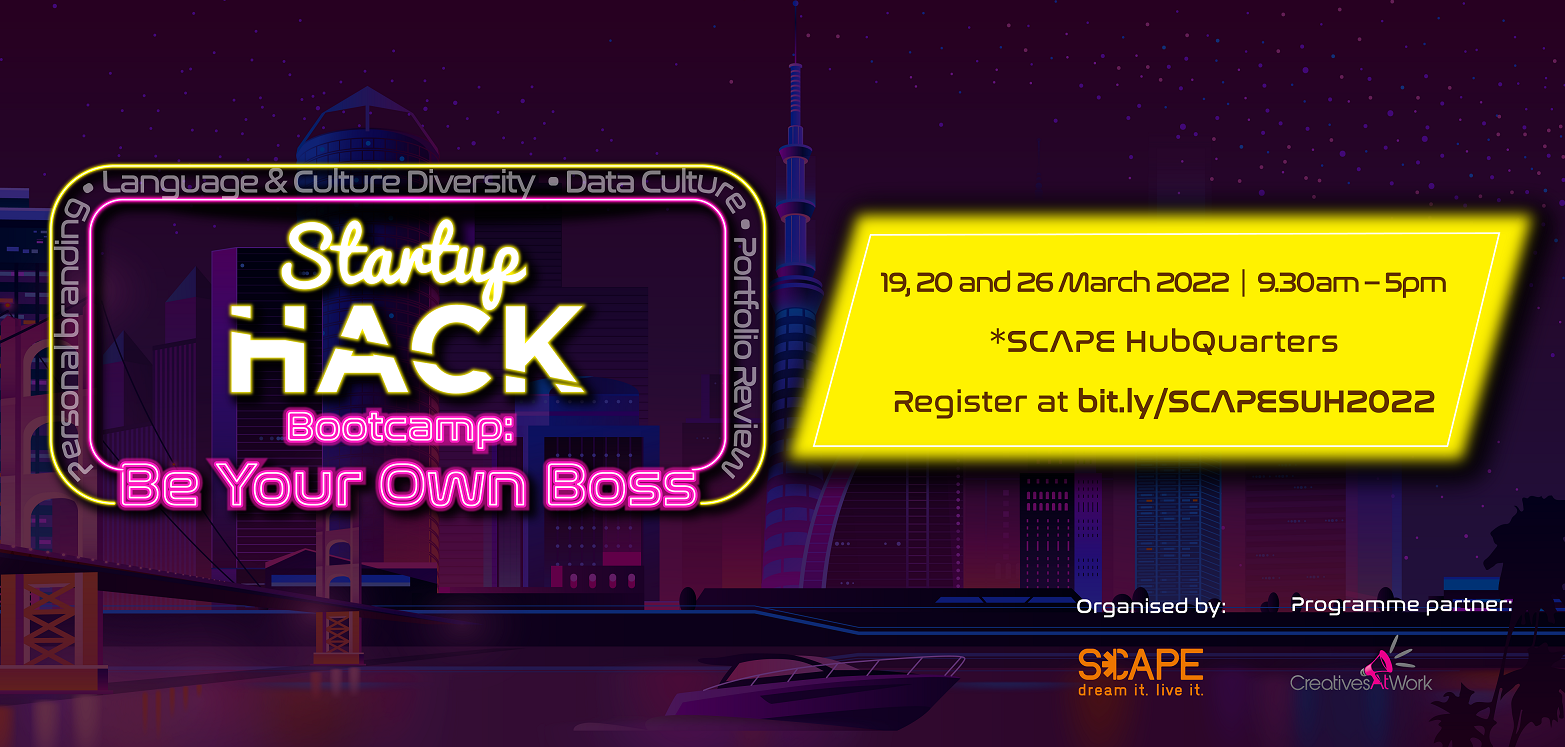 About
Startup Hack is a workshop and seminar-based platform where we help startups and individuals gain relevant or new skills that will help boost their businesses, by inviting subject matter experts that will impart their knowledge in a compact session.
We also invite subject matter experts to conduct workshops on various business topics.
Startup Hack Bootcamp Masterclass: Be Your Own Boss (19, 20, 26 March 2022)
Have you heard about the Great Resignation? Are you thinking about it as well? Have you thought about working for yourself? Freelancing is not always the laid-back lifestyle that people describe. It's challenging, in some ways, many times more so than being an employee.
The programme will include hands-on activities and personal portfolio review to work on your brand and profile, with real-time feedback. Hear from speakers and mentors who have been-there-done-that, to find out how they make their business decisions to advance their independent careers. You'll also get a chance to interact and be part of a growing community of successful freelancers, business-owners and solopreneurs. Each workshop brings opportunities for freelancers to present the issues they face, and to grow their network so that you, will become a Super Freelancer.
If you are looking at a career shift and is ready to move into new area of works, this is where CreativesAtWork and the mentors will come in to help you chart out a new career path for your freelancer journey.
Ace-ing your Social Media Calendar (9 December 2021)
Spend an evening with Eunice Yeung from Eysy Digital as she takes you through the thought process behind creating a social media calendar for clients and businesses; through the lens of a digital marketing agency. There will be a guided hands-on experience where you will be able learn practical tips on how to create one from scratch. 
Internationalisation 101 (5 August 2021)
There is a constant push for Singapore companies to look beyond our shores for continued growth and create a competitive advantage. However, business expansion could be a complex process and knowing the general pitfalls can reduce the risk of failing.
Decoding Data Analytics (26 June 2020)
Data is now an integral part of every business. It is crucial to learn how to leverage data to make crucial business decisions, to generate insights and have the power to change the world. Data visualisations allow concise communication that directly informs strategic decision-making in an organisation. In this workshop students will be able to analyse real world data sets using Tableau, create data dashboards and visualise the data to help in decision-making.
Startup Hack Bootcamp (19 – 21 November 2020)
Starting up your own business can be daunting, and you might not know where to begin. *SCAPE is partnering with Amazon Web Services to bring you an exclusive Startup Hack Bootcamp. A 3-day intensive bootcamp that equips you with the skills you need to kickstart your very own entrepreneurship journey.
Creating Data-Driven Ads (22 October 2020)
Join us for the next Startup Hack workshop where we introduce you to the tools suitable in creating appealing content for digital marketing campaigns. Learn how you can use text, images, and bite-sized videos, based off data-driven decisions with ease.
Building an AI Chatbot (13 August 2020)
Chatbots are the new, quick and effective way to connect with your community and customers. Reducing the need for time-consuming emails and hotlines, it's able to increase effectiveness of your business. With today's AI capabilities, chatbots are also able to inject and embody personalities that will make your startup truly unique! The founders of BotDistrikt and creators of Bus Uncle bring you through a step-by-step workshop on how to build an AI chatbot.
Have in mind a hot topic that you think we should cover for our next Startup Hack workshop?  Drop us a mail at hubquarters@scape.sg!