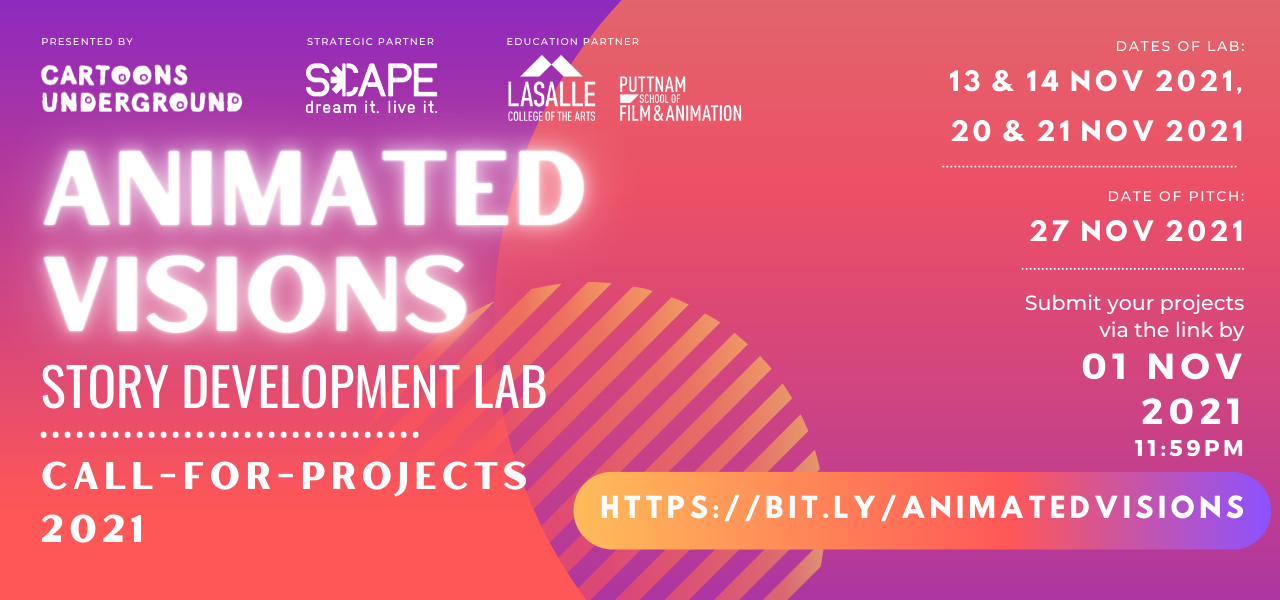 CALL-FOR-PROJECTS 2021
Calling all animation storytellers! Do you have a story to tell? Dreaming of creating the next hit animated series or award-winning animation film?
It's time to submit your ideas* and develop your project into a full pitch under mentorship from award-winning directors.
Through this Animation Lab, you will:
Learn through masterclass talks with industry professionals
Get one-on-one feedback on how to strengthen your pitch
Be discovered by local animation studios
Dates Of Lab:
13 & 14 Nov 2021
20 & 21 Nov 2021
Dates Of Pitch: 
27 Nov 2021 
Venue: 
*SCAPE
LASALLE College of the Arts
Cash prize to be won for the Best Project Pitch!
*Open to any genre, length and format (shorts, series, features etc)
Click Here to Submit your project by 1 Nov 2021
Cartoons Underground is organising a Story Development Lab, in partnership with *SCAPE. We are calling for YOUR project proposals and story ideas, and are open to any genre (fantasy, horror, drama, you name it!) and any length/format (shorts, series, features, or any other format you can envision!).
This Story Development Lab is aimed at helping participants to develop their animated project ideas into a fully realized pitch with concrete logline, treatment, character biography. The participants will have the opportunity to receive one-to-one feedback from the lab mentors, on how to strengthen their ideas and learn more about producing your next animated hit!
At the end of the lab, participants will get a chance to pitch their projects in front of a panel of judges, who will award the Best Project Pitch award to the team with the most successful and well-developed Pitch.
LAB MENTORS
Jerrold Chong

Writer/Director/Animator

Jerrold Chong is a graduate of the California Institute of the Arts (CalArts) Character Animation programme. Most recently, he co-directed Singapore's official NDP 2021 Music Video "The Road Ahead" with Huang Junxiang. He also wrote and co-directed the animated short film, "Piece of Meat", which premiered at the 2019 Cannes Directors' Fortnight and was selected at the 2019 Annecy International Animation Festival, on top of various other international film festivals. His films "Automatonomy" and "What Has To Be" have also won the Best Animation Award at Singapore's National Youth Film Awards (Open Category) consecutively. He is based in Singapore and is a co-founder of independent animation studio Finding Pictures.

Harry and Henry Zhuang 

Co-founders, Weaving Clouds

After having their first stop-motion animation 'Contained' travelled to numerous film festival and winning awards, twin brothers Henry & Harry Zhuang embark on a journey to explore the boundaries of animation medium. Their independent short film, "The Tiger Of 142B' traveled to festivals such as Bucheon International Fantastic Film Festival (BiFan) and Animafest Zagreb, and had won 'Best Film' in SEAShort Film and 'Rising Talent' award in Beijing's China Independent Animation Film Forum. Their short film 'Ju Ren' and their animation series 'Little Tami's Book' was selected to be screen in the prestigious Annecy International Animation Festival.