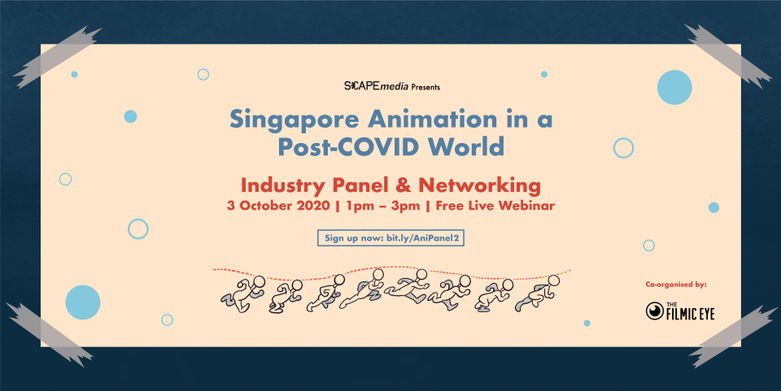 The local animation scene has been vibrant and vital to the film and media industry for many years. But has COVID-19 changed the game, and how has the pandemic impacted work opportunities? Join us for this online panel and networking session with speakers from three local independent animation studios—Robot Playground Media, Crave FX & Finding Pictures—as they discuss about the current state and future of their industry, producing original vs. commercial content for clients, their animation styles, hiring processes, and tips on how to prepare your portfolio.
PANEL DISCUSSION
Broad discussion on the independent animation industry in Singapore, facilitated by moderator
Studio profile: What type of work do they create? Do they focus on specific animation techniques (2D, 3D, stop-motion)? What is their production pipeline like?
Original vs. commercial content: How do they steer the style and direction of the studio? Who are their prospective clients? How can people pitch projects or ideas for collaboration?
Tips for potential hire: How to prepare your portfolio? What to look out for? What is the company looking for? Hits and misses in the hiring process.
Full-time vs. freelancing: Discuss the notion of securing a full-time position. Is that sustainable for the modern industry where most studios have quick turn-around projects?
Post-COVID world: How can the independent animation industry seize opportunities and overcome challenges in a post-COVID world?
BREAKOUT ROOM
More participant-centric Q&A with the panelists
Participants who opt-in for the networking session are pre-selected and split into three groups A, B & C.
Each group will rotate to meet with each of the three panelists in the respective breakout rooms.  Each breakout session is around 20 mins.
Moderator
TAN WEI KEONG
Awarded the Young Artist Award by the National Arts Council of Singapore in 2019. His most recent film, KINGDOM, competed at the Berlin International Film Festival 2019. His previous film, BETWEEN US TWO, received the Best Singapore Short Film award at the Singapore International Film Festival 2017 and Grand Jury Prize Documentary Short at Outfest Los Angeles 2018. His films have been selected at many film festivals, including those at Annecy, Zagreb and Toronto
Panel Speaker 
ERVIN HAN
Co-founder of Robot Playground Media, an award-winning content and animation studio based in Singapore. With over 17 years of experience in animation, Ervin produced numerous short films, series, commercials and worked on shows for Disney and Cartoon Network. His animated short, THE VIOLIN, won an Asian Television Award in 2017, and his animated anthology, TIMESCAPES, has been screened at numerous festivals and was in competition at the Seoul International Animated Film Festival and Asia Pacific Screen Awards in 2018.
DAVIER YOON


An artist and animator whose expertise spans a range of animation techniques. He graduated from Nanyang Technological University School of Art Design and Media in 2010. In 2013, He co-founded CraveFX, a studio that specialises in animation, motion graphics and visual effects. As a director, he has made his mark on videos, large and small, for various high-profile projects such as the Singapore Bicentennial Experience and the National Day Parade. Davier is also currently teaching motion graphics as an adjunct lecturer at Nanyang Polytechnic

MARK WEE
An animation filmmaker and producer who loves creating, designing and watching all forms of animated films. He hopes to discover the endless possibilities of storytelling and to be able to tell that one, universal story. Mark graduated in 2017 with a MA(Arts) from Nanyang Technological University. His film, THE ANIMALS, has been screened in various international film festivals, including the 9th FIRST Xining International Film Festival, the 19th Toronto Reel Asian International Film Festival and winning the Best Student Short Film at the 2015 Festival NonStop Barcelona Animació. In 2018, he co-founded the independent animation studio, Finding Pictures.