Creative Arts
Movement For All: Modern Dance with Lo Pui Sze
04 Jun - 23 Jul, 7:30 PM - 9:00 PM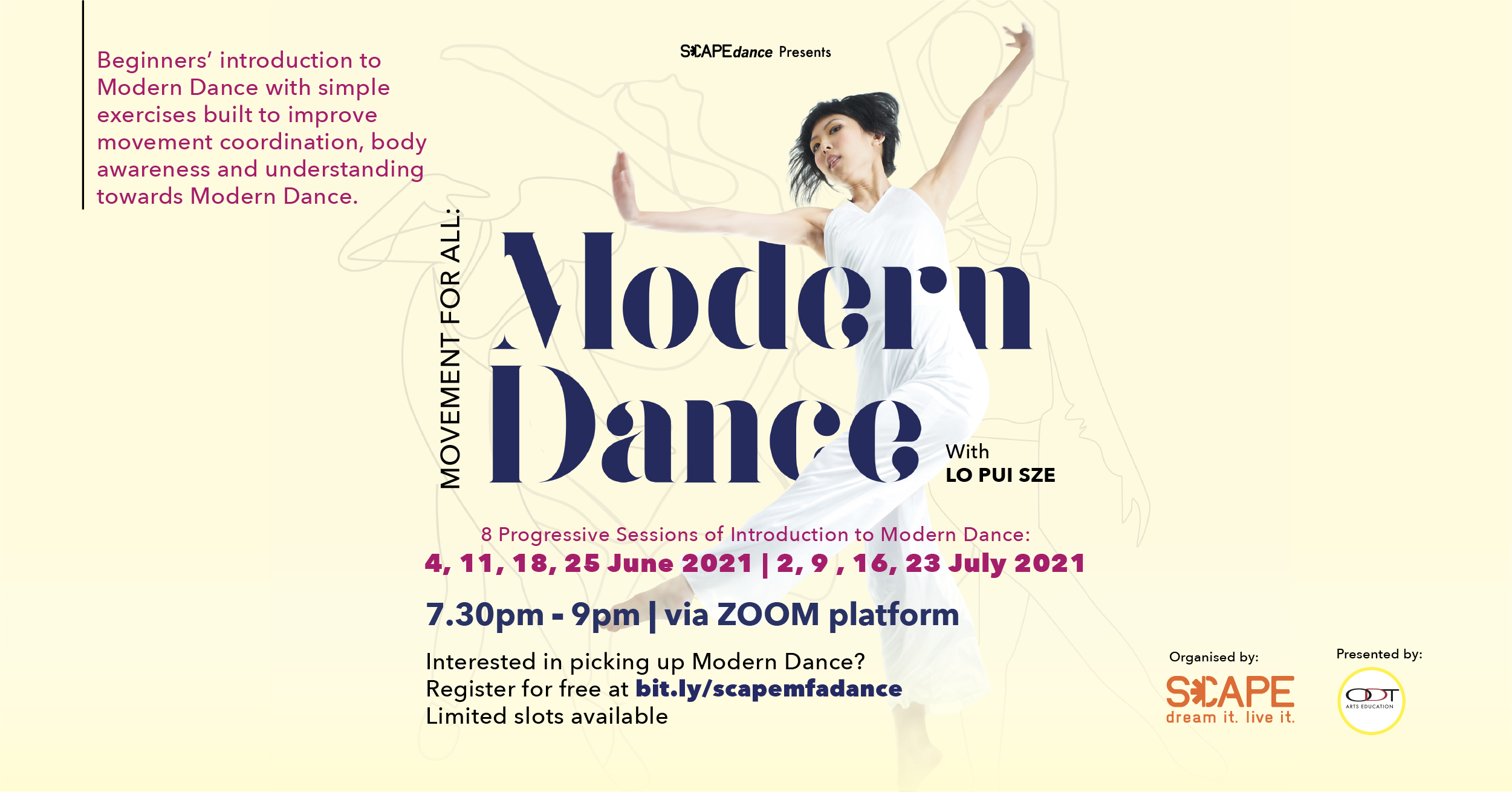 Modern Dance Classes Designed For Beginners With Little to No Experience
Movement For All is back with another 8 sessions of Introduction to Modern Dance with Lo Pui Sze. These classes are designed for beginners who are looking to begin their journey in dance. In this season, you can expect simple progressive exercises built to improve movement coordination, heighten body awareness and increase understanding towards Modern Dance.
8 Progressive Sessions of Introduction to Modern Dance:
4, 11, 18, 25 June 2021 | 2, 9, 16, 23 July 2021
7.30pm – 9pm | Via Zoom Platform
Interested in picking up Modern Dance?

Click Here to register today
Additional Slots Available
Each class is priced at SGD 5. Use the promo code 'SCAPEMFAOFF' and the cost will be fully subsidised by *SCAPE.
In line with prevailing Safe Management Measures, classes will be held online. There will be possibility of moving the classes to a physical class when the situation improves.
Modern Dance Instructor
Ms Lo Pui Sze
Associate Artistic Director at Odyssey Dance Theatre

Ms Lo Pui Sze (Associate Artistic Director, Odyssey Dance Theatre) holds a Master of Fine Arts (Dance) from the Queensland University of Technology (Australia). Since 2001, she has accumulated her wealth in dance experiences with leading roles in more than 20 repertoires by Dr Danny Tan, and represented Singapore for ODT's performances at the ASEAN Festival of Arts 2003 in Malaysia, the Asian Dance Choreographers Festival 2004 in South Korea, Italy's Siena Festival & the 21st Korea Dance Festival 2012 in Yeosu. Since 2008, she has choreographic collaborations with many eminent practitioners such as Brian Lucas from Australia. Her outstanding works were invited to South Korea's Mullae International Arts Festival 2012 and Italy's Move Off Festivals – Winter Edition and Bangkok's International Dance Festival. She has presented in Xposition 'O' 2011, an international collaboration work – "Silent Connexion" with artists from Japan & South Korea. Her choreographic work – "A Part of Us" in 2015, which culminated various exchanges amongst dancers and musicians from Singapore, Taiwan and Italy, was presented and well-received in the Move Off Festival in Italy and Xposition 'O' 2015 in Singapore.
Additional Slots Available