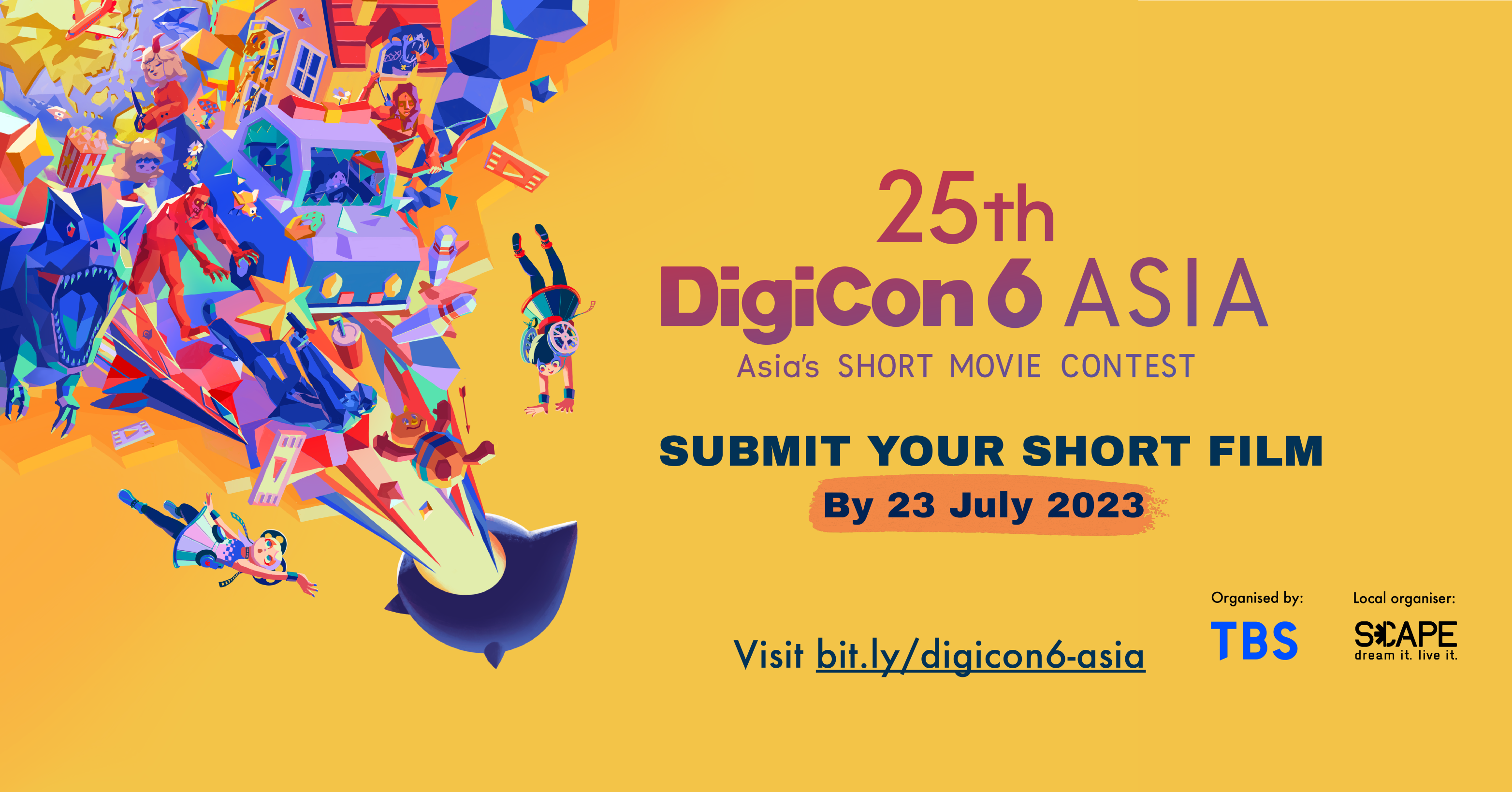 Content made in Asia, by Asian, to Asian– and to the world!
DigiCon6 Contest is now inviting talented short film and animation creators to submit entries.
Winners stand a chance to be invited to the Grand Finals in Japan to represent Singapore and win cash prizes of up to One Million Yen!
About the 25th DigiCon6 ASIA 2023
Organised by Tokyo Broadcasting System Holdings, Inc. (TBS Japan), the "DigiCon6 ASIA Awards" is an annual digital content competition in Asia. It was first launched in 2000 as a domestic contest in Japan and then opened wide its doors in 2006 to welcome the participation of aspiring and talented creators throughout Asia. This year, the competition welcomes participation from 15 countries throughout Asia and regional partners organise regional contests. The winners in each regional contest can then further compete in Japan's Grand Finals.  
 
In the face of a rapidly diversifying media environment, DigiCon6 ASIA is devoted to identifying and encouraging innovative creators who will be the next-generation leaders of the content industry in Asia. As the Singapore local organisers for the 25th DigiCon6 ASIA Awards, *SCAPE believes that this is an excellent platform for young Singaporean filmmakers to be exposed to the regional filmmaking community, and an opportunity to network with filmmakers and professionals alike in Asia.  
Click Here to Submit Entries by 23 July 2023
Submission

Any work within 15 minutes created Digitally
CG Animation(2D/3D), Stop Motion/Claymation, Live Action etc

Deadline
Eligibility

Singapore Citizens and Permanent Residents
No age restriction

Apply
Fee
Juries 
Ervin Han

As CEO and Executive Producer, Ervin Han leads Robot Playground Media's original development across all formats and platforms. He also writes, directs and produces various animation projects, from features to short films and TV series. He created Singapore's first adult animated comedy series Downstairs, currently on Netflix and now into its third season. He has directed about a dozen short films that have travelled internationally to festivals, and his works have won multiple Asian Academy Creative Awards and an Asian Television Award for Best 2D Animated Programme. An 18-year veteran in the animation industry, Ervin hopes to help elevate Southeast Asia animation as a well of talent, craft, and stories for a global audience.

Henry & Harry Zhuang

Henry & Harry Zhuang pride themselves as animation storytellers and believe that each type of animation techniques has its forte that can help enhance the story in their own unique ways. Having received a scholarship from Media Development Authority(MDA), both Harry Zhuang and Henry Zhuang hold a Bachelor of Fine Arts Degrees from Nanyang Technological University – School of Art, Design and Media. Their first independent short film 'Contained' received Best Animation prize and Special Mention for 'Best Sound' at the 2nd Singapore Short Film Awards in 2011. Their next independent short film, 'The Tiger Of 142B' premiere at the Zagreb Animafest under the Grand Competition category, and traveled to festivals such as Bucheon International Fantastic Film Festival (BiFan), and had won 'Best Film' in SEAShort Film and 'Rising Talent' award in Beijing's China Independent Animation Film Forum. Their short film 'Ju Ren' and animation series ''Little Tami's Book' was in competition in the prestigious Annecy International Animation Festival.

Tan Si En

Tan Si En is a film and TV producer.

An alumnus of Berlinale Talents 2020 and Rotterdam Lab 2018, Si En was the producer for Wet Season by Anthony Chen, which made its World Premiere at the Toronto International Film Festival 2019, Platform Competition. The film was lauded critically and went on to receive 10 awards internationally. Her latest co production The Year Of The Everlasting Storm premiered in Cannes Film Festival 2021, and Arnold is a Model Student by Sorayos Prapapan premiered in Locarno Film Festival in 2022.

Si En was the assistant producer of POP AYE by Kirsten Tan, which won the Special Jury Prize at Sundance Film Festival 2017 and the VPRO Big Screen Award at International Film Festival Rotterdam. She is developing and producing prominent award winning projects such as Don't Cry, Butterfly by Duong Dieu Linh (Moulin d'Andé–CECI award), This City is a Battlefield by Mouly Surya, Some Nights I Feel Like Walking by Petersen Vargas, among others.

Si En's producing efforts have been featured in publications such as Screendaily, Variety, Channel News Asia and Yahoo. In 2020, she was recognised as one of The Straits Times 30 under 30 – The Arts. In 2021, she received the Youth Inspiration Award given by National Youth Council and *SCAPE.