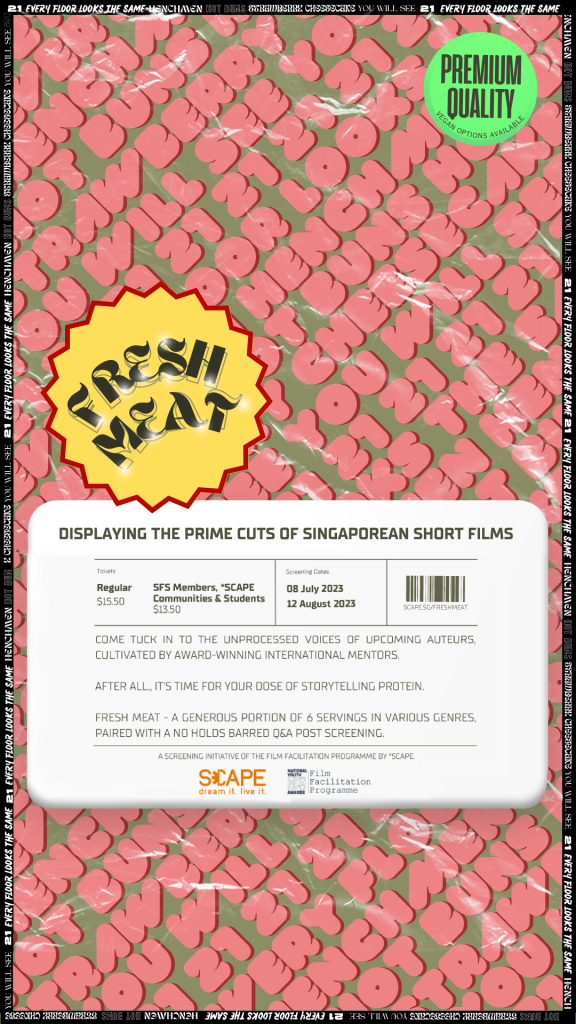 Not your run-of-the-mill stories, Fresh Meat is a display of the prime cuts of Singaporean short films, facilitated by *SCAPE and co-created with the youths.
Come tuck in to the unprocessed voices of upcoming auteurs, cultivated by award-winning international mentors.
After all, it's time for your dose of storytelling protein – a generous portion of 6 servings in various genres.
Ticketed film screening details:
Dates:
8 July 2023
12 August 2023 (Tix on sale from 19 July onwards)
Time: 4pm – 6pm
Venue: Suntec City Golden Village (Hall 4)

The running time for the film screening is approximately 80mins followed by a post-show Q&A with the filmmakers.
Fresh Meat Trailer:
---
Film synopsis:
Marred with her delinquent past, 'Lin' hopes to turn over a new leaf as she graduates from a juvenile rehabilitation centre with stellar scores in the national exam. However, it seems that her streak of unfortunate circumstances trails behind like a spectre lurking in her shadows.
---
Every Floor Looks The Same is an observation of the peculiar nature of life in Singapore, seen through the eyes of a languishing Osmanthüs who seeks to fill her day with fun, only to grapple with finding her space and reason in this world.
---
Set to the backdrop of an archetypal "action movie" (when a hitman seeks revenge on his former boss), we follow two henchmen, who try to avoid their inevitable fate, while waiting for their turn to "protect" their boss from the hitman.
---
Hot Buns is a satirical animation film that pokes fun at our obsession with feel-good narratives and moral outrage. In a world that's dominated by those with the Upper Hand – can those at the Bottom rise to the top?
---
In Singapore, where even vapes are illegal, three rebellious schoolgirls are caught smoking by the principal. Their revenge prank takes a sinister turn.
---
Gwyn is a young photographer grasping with the moral boundaries of her own art. When she is given a supernatural camera by her mentor, an obsession with an old man's physique overwhelms her. She stalks him, desperate to take a photograph.
---