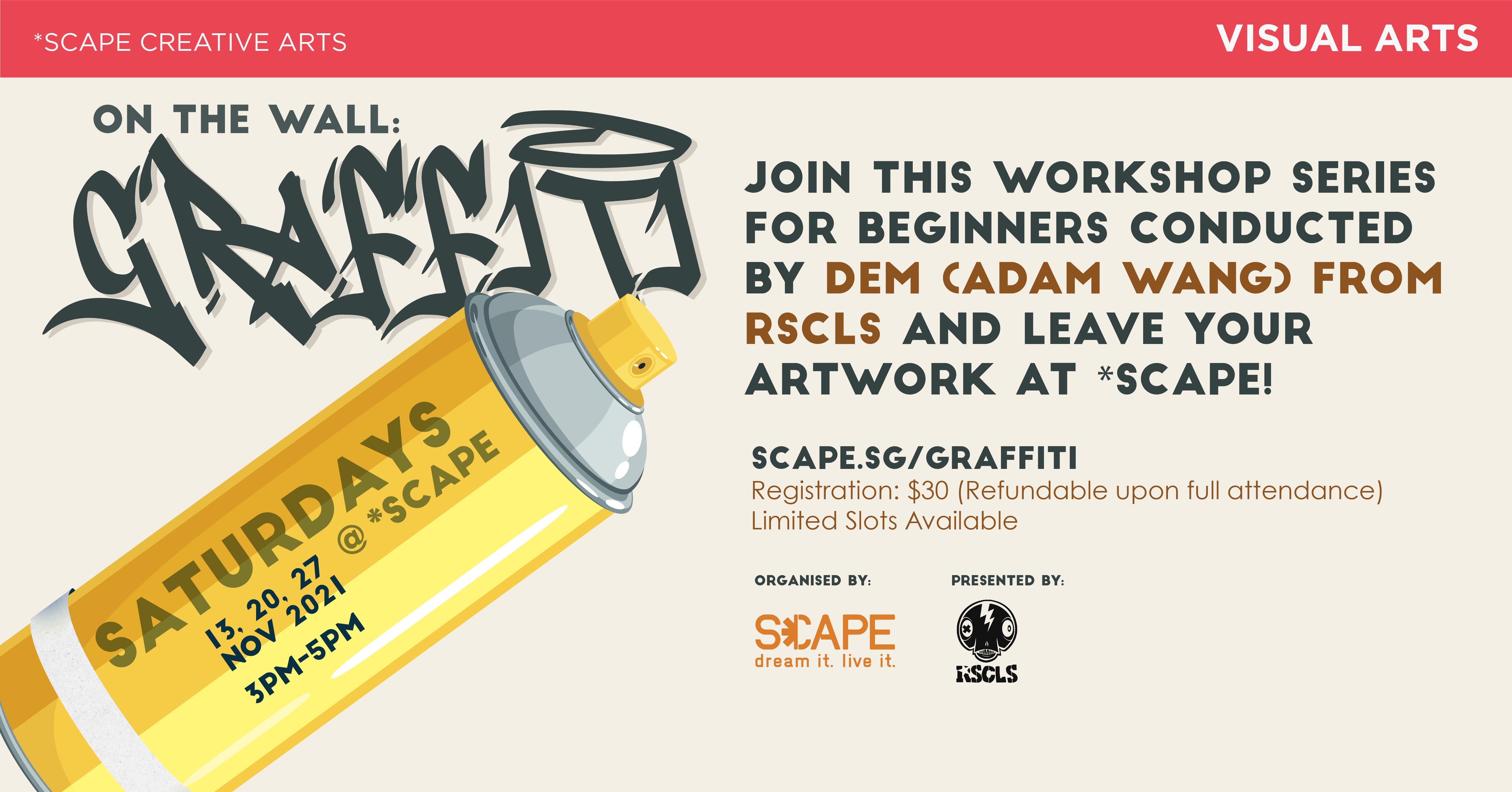 Turn Vandalism Into Graffiti Art
Want to learn graffiti art? Join this workshop series for beginners conducted by Dem (Adam Wang) from RSCLS and learn how to paint a graffiti piece from start to finish.
You'll get to learn the techniques of spray painting as well as basics of designing and creating a graffiti art wall. You'll also get to leave your artwork at *SCAPE!
Saturdays | 13, 20, 27 November 2021
3pm – 5pm | *SCAPE

Registration: $30 (Refundable upon full attendance) | Limited Slots Available
Registered participants have free access to selected walls at *SCAPE to create more artworks throughout December 2021.
Lesson Plan:
Day 1: 13 November 2021
Introduction (2hrs)
Introduction to the RSCLS, artists & the life & work of a graffiti artist.
Introduction of Graffiti Art, History of the artform and insights to the artform.
(approx. 30 – 45mins)
Introduction to the spray can, safety and techniques of spray painting.
Drawing + Painting Exploration
Day 2: 20 November 2021
Exploration, Sketching as a guide, Painting (2hrs)
Familiarization with spray paint techniques
Drawing/sketching as a guide
Understanding and building of letterforms
Painting Practise and Collaborative Mural Development
Day 3: 27 November 2021
Practise + Collaborative Mural (2hrs)
Practising and understanding various techniques of spray painting

Guidance on understanding experimentation and exploration of the tool

Conceptualising, Planning and Constructing artwork(s) for a final artwork

on 1 final Collaborative Mural

Learning to work in groups and embrace collaborative efforts
About RSCLS:
Formed in late 2006, RSCLS is an urban art collective that believes in the propagation of acts of artistic nonsense through open uninhibited random collaborations and discourse. A collective of artistic misfits and outsiders from diversity distinct backgrounds, the collective is united by their love for graffiti and street art.

As a collective, RSCLS is a recipient of the Seed Grant from the NATIONAL ARTS COUNCIL and have been involved in numerous exhibitions and events, both locally and internationally. THE SOLIDARITY MOVEMENT is an initiative by RSCLS to create a regional sharing network for urban arts. It is also a program that seeks to document, archive and provide an understanding and education of street art and graffiti as an art form in the cultural and urban context of each different city in South East Asia.

Members of RSCLS: DEM (Adam Wang) 

Wall Lords Asia 2012 – Finalist