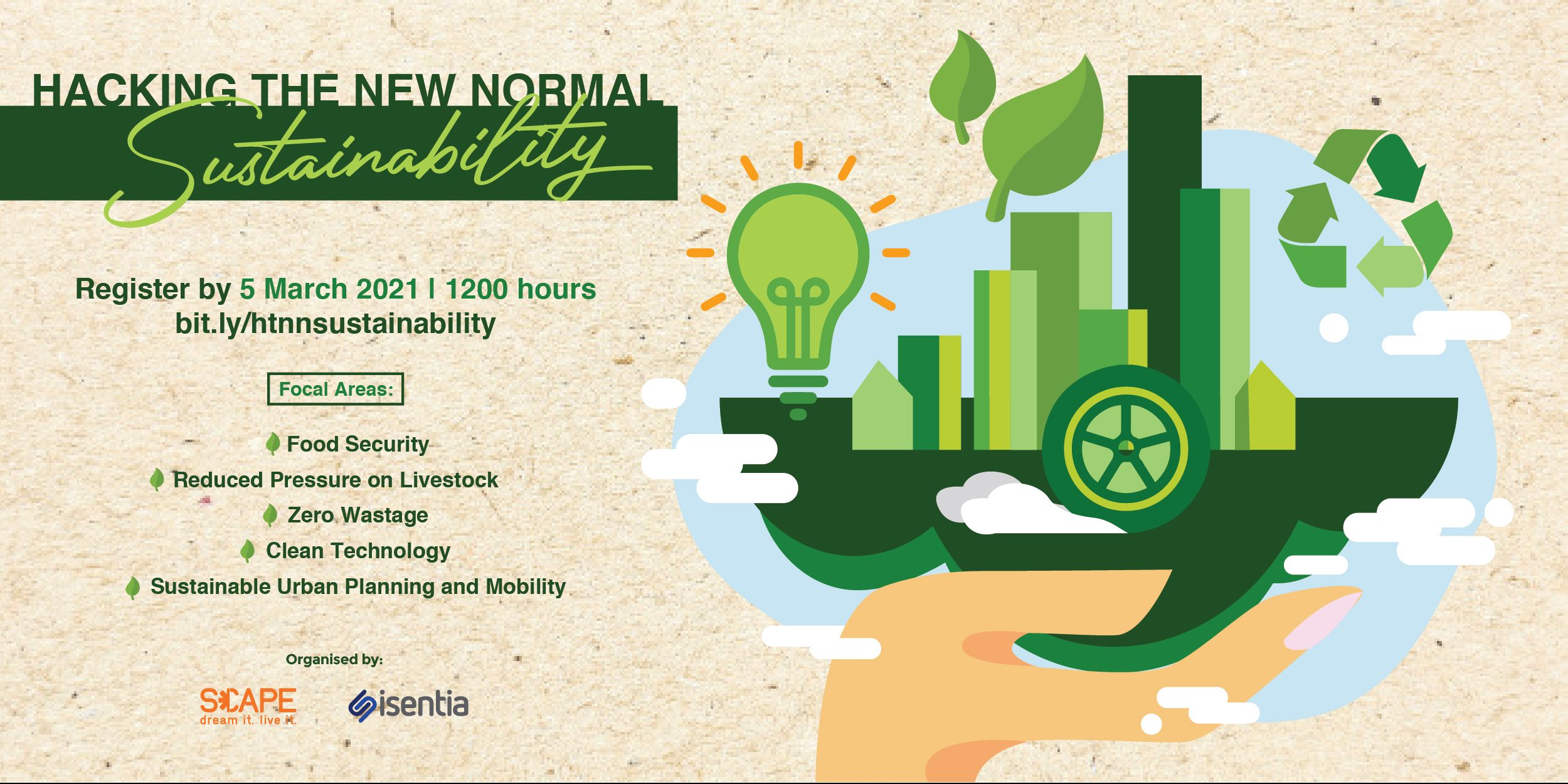 Hack the new normal with your innovative ideas to address sustainability challenges today.
(Registration of Interest before 5 March 2021 12:00 hours)
Hacking The New Normal SUSTAINABILITY is a growth hackathon that provides a platform for youths to showcase their abilities as well as industry networking opportunities. Organised by *SCAPE and supported by Isentia for the 2nd run, we hope to inspire more youths to creatively think out-of-the-box for business solutions in this new normal and address key challenges faced in the below focal areas evolving around sustainability.
Focal Areas
Food Security
Reduced Pressure on Livestock
Zero Wastage
Clean Tech
Sustainable Urban Planning and Mobility
You can register as an individual or form a team with 3-7 members to growth-hack case studies of real life issues. This would be a hands-on experience for you to gain practical experiences in problem solving and deep dive further to understand the key challenges. The whole hackathon will be delivered virtually and participants who have successfully completed the programme will be recognised and presented with an e-certificate.
WHO IS ELIGIBLE?
Youths below 35 years old
Open to Singaporeans/PR
You can register as an individual or form a team with 3 – 7 members including yourself.
TIMELINE AND KEY DATES
5 March Friday

12:00 hours

Deadline for Registration of Interest

Week of 1 March
Isentia team will contact you via email on status.

Please check your inbox or junk mailbox and contact info.asia@isentia.com for further clarifications.

8 March

10am – 12noon

Briefing and kick off
15 & 16 March Monday and Tuesday

Masterclasses
9 – 21 March
Hacking of The New Normal with your team with guidance by mentors and Isentia analyst
24 March Wednesday
Mentors' Selection of Final Teams
26 March Friday

(2pm – 5pm)

Presentation, Finale & Judging
Your team will be assigned to mentors that will be guiding them throughout the process.
TEAM PRIZES:
There will be 3 winner groups that will be chosen by our judges at the end of the hackathon with prizes to be won!
1st Prize – S$1000
2nd Prize – S$500
3rd Prize – S$300
Register now before 5 March 2021 12:00 hours.
Confirmed participants will receive a confirmation email by the first week of March 2021.
Terms and Conditions
"Hacking The New Normal" starts from 5 March 2021 and ends on 26 March 2021, 23:59.
This event is organised by *SCAPE Co., Ltd (the "Organiser") and supported by Isentia (the "Supporting Partner") and open to all participants aged 18 to 35 years old, with local residential addresses in Singapore only.
All confirmed participants must be present for all key dates for the hackathon and actively participate in the project.
By participating in this event, the participants agree to be bounded by these terms and conditions stated.
Only one entry is allowed per person. Multiple entries from the same person will be disqualified.
The prizes for this event are neither exchangeable for cash nor transferable. Team prize money is to be split within the group members equally.
Each group will have a minimum of 3 and a maximum of 7. If you are signing up as an individual, you will be assigned to a random group.
In the event the participant does not reply within 24 hours of notification, the Organiser and the Supporting Partner reserve the right to cancel their application or forfeit the prize and Organiser's decision is final.
The Organiser reserves the right to amend the Terms and Conditions without any prior notice.
The Organiser, the Supporting Partner, it's appointed agents and employees shall not be liable for any loss, injury and/or damage which may occur, however caused due to any unforeseen circumstances.
The Organiser's decision is final and no correspondence will be entertained.
Information stated is correct at the time of print and is subject to change without prior notice.
Check out highlights of inaugural Hacking The New Normal 2020:
Click here to view information from the previous Hacking The New Normal.