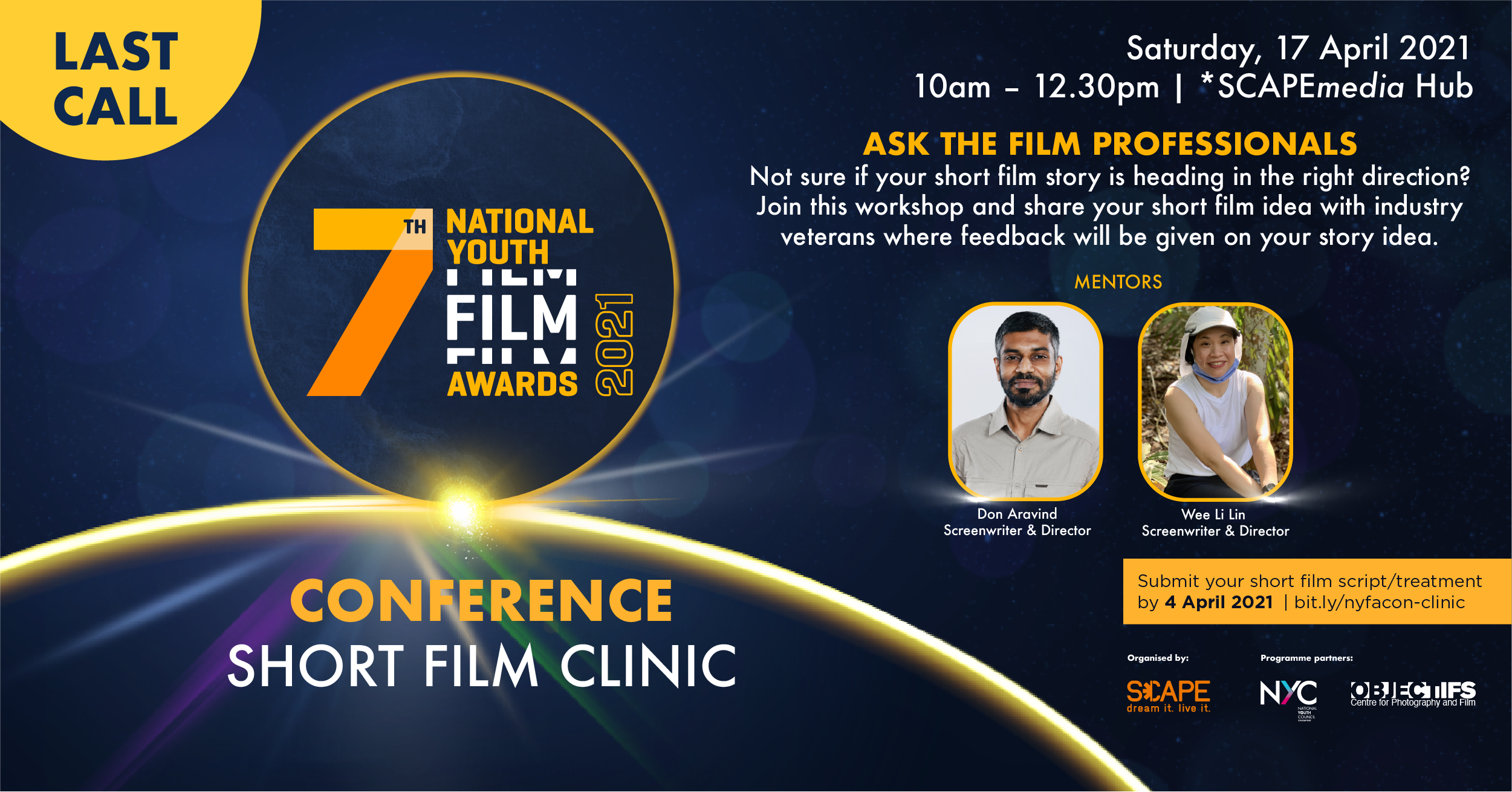 NYFA Conference: Short Film Clinic
Saturday, 17 April 2021 | 10am – 12.30pm | *SCAPEmedia Hub
Not sure if your short film story is heading in the right direction? Join this workshop and share your short film idea with industry veterans where feedback will be given on your story idea.
Registered participants should submit her/his script in advance, and come prepared with your script or treatment.
Applicants will be assessed by Objectifs and mentors Wee Li Lin and Don Aravind.
The Short Film Clinic is part of the NYFA Conference 2021, organised by *SCAPE.
Submit Your Short Film Script/ Treatment
By 4 April 2021
(Deadline Extended)
Mentors
Don Aravind
Screenwriter & DirectorDon Aravind has consistently been straddling between both film and television. His short films have screened locally and internationally at film festivals. In 2015, he was the pioneer batch of directors that worked on Singapore's first English daily long form "Tanglin". In 2018, he created his first web drama "Drive" under an initiative funded by the Infocomm Media Development Authority and produced by Viddsee Studios. The series was in competition at Festival Series Mania and the Marseille Web Festival in France. In 2019, Don was part of the HBO Asia's series "Food Lore", of which he had directed an episode.
Wee Li Lin
Screenwriter & DirectorWee Li Lin is one of the pioneer female filmmakers of Singapore. Her films have a signature whimsy, humor and heart that she has translated into shorts, features, telemovies and commercials. She has won awards locally and internationally, such as Best Director at the Singapore International Film Festival; and her films have participated in festivals such as New York's Tribeca Film Festival, Short Shorts Tokyo, the Udine Far East Film Festival in Italy, Shanghai International Film Festival, Hawaii International Film Festival and many others. Li Lin did her undergrad at Brown University and her graduate studies at NYU-Tisch Asia.
1. ELIGIBILITY
Applicants must be a Singaporean/PR based in Singapore.
Applicants must be 15-35 years old.
Applicants must be a screenwriter and/or writer/director of at least one short film.
Applicants must not have made a feature length film before.
Applicants must have worked on at least 1 short film before if he/she/they have never directed a short film (e.g. Cinematographers, Sound Designers, etc).
Applicants must be committed to the entire duration of the Short Film Clinic.
2. SUBMISSION REQUIREMENTS
Applicants are to submit the following in a single Google Drive folder:
Script draft (max. 15 pages, PDF) OR 1 page treatment
Director's biography (max. 1 page, PDF)
Director's statement (max. 1 page, PDF)
Past short film(s) — provide either a link to watch the work online, or the film file(s)
All submissions must be made in the English language. Films in any other language other than English must have English subtitles.
3. GENERAL REGULATIONS
All entries must be complete and submitted through the *SCAPE website by 23 March 2021, 11.59PM (SGT).
Successful applicants will be informed of the selection results by 6 April 2021.
*SCAPE will not provide individual explanation on the non-selection of a project.
Rights of the written materials produced during the Short Film Clinic will belong solely to the applicant.
Submit Your Short Film Script/ Treatment
By 4 April 2021
(Deadline Extended)