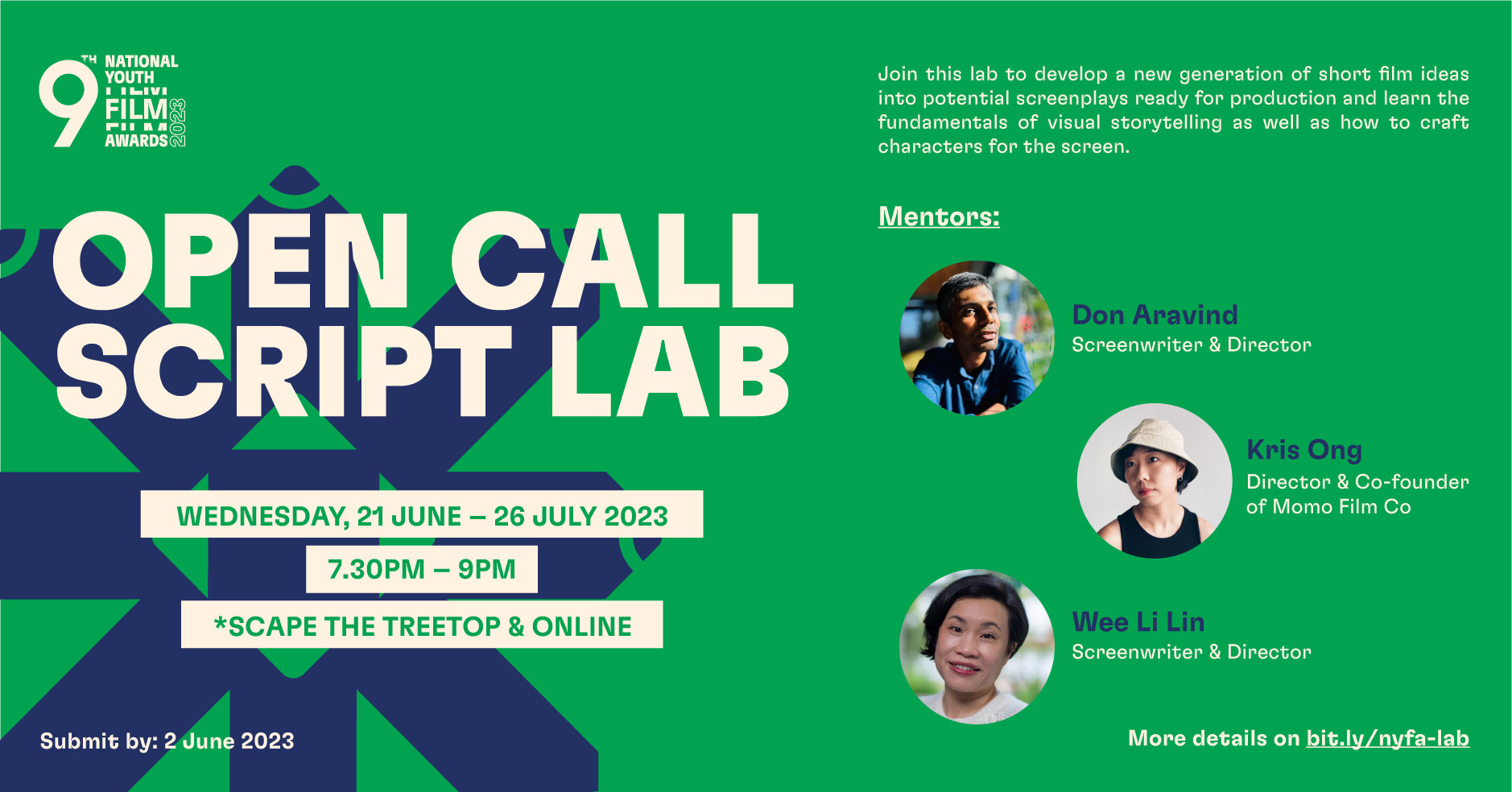 NYFA Script Lab is part of NYFA 2023, organised by *SCAPE. It is a 6 weeks mentorship programme focusing on developing a new generation of short film ideas into potential screenplays ready for production. Student participants will learn the fundamentals of visual storytelling and how to craft dialogue and characters for the screen. The lab will include mentor lectures, critique sessions and peer discussions.
Student applicants are required to prepare and submit a logline, synopsis and 1 page treatment or concept for assessment by the lab mentors. Successful applicants will be notified by 12 June 2023.
Submission deadline: 2 June 2023 (11.59PM SGT)
Duration:
1 online session: 21 June 2023, Wednesday, evening consultation schedule to be decided
5 in-person sessions, 28 June to 26 July 2023, Wednesday, 730pm to 930pm
Venue: Online and *SCAPE The TreeTop (Level 5)
---
ELIGIBILITY
Applicants must be based in Singapore.
Applicants must be students 35 years old and below (born in 1988 and after) and currently enrolled r graduating/graduated from full-time education in Singapore.
Prior experience in filmmaking, screenwriting or any media-related industry is not a prerequisite for the lab
Applicants must be committed to the entire duration of the workshop.
SUBMISSION REQUIREMENTS
Applicants are to submit the following in a single Google Drive/Dropbox folder:
Logline, synopsis and 1 page treatment or concept
Applicant's biography (max. 1 page, PDF), and profile photo
Applicant's motivation letter (max. 1 page, PDF)
Past short film(s) (if available) — provide either a link to watch the work online, or the film file(s)
All submissions must be made in the English language. Films in any other language other than English must have English subtitles.
GENERAL REGULATIONS
All entries must be complete and submitted through the *SCAPE website before 2 June 2023, 11.59PM (SGT).
Successful applicants will be informed of the selection results by 12 June 2023.
*SCAPE will not provide individual explanation on the non-selection of a project.
The written materials produced by the applicant during the NYFA Script Lab will belong solely to the applicant.
---
MENTORS

Don Aravind
Screenwriter & Director

Don Aravind has been straddling between film, television and commercials as a working director. His short films have screened locally and internationally at film festivals including the Singapore International Film Festival (SGIFF). In 2015, he was the pioneer batch of directors that worked on Singapore's first English daily long form "Tanglin". In 2018, he created his first web drama "Drive" under an initiative funded by the Infocomm Media Development Authority and produced by Viddsee Studios. The series was in competition at Festival Series Mania and the Marseille Web Festival in France. In 2019, Don was part of the HBO Asia's series "Food Lore", of which he had directed an episode. Besides film, Don spends a large amount of time in music making and dog walking at a shelter.  

Kris Ong
Director & Co-founder of Momo Film Co

Kris Ong is a writer/ director and co-founder of Momo Film Co. Her latest screenwriting effort, 'Ajoomma', executive produced by Anthony Chen and directed by He Shuming, premiered at Busan International Film Festival 2022 and was nominated for 4 Golden Horse Awards, including Best Original Screenplay for Shuming and Kris. The film also won Best Screenplay at QCinema International Film Festival.

As a director, her works have screened at over 30 international film festivals. Her short film 'Sunday' had its world premiere at the Palm Springs International ShortFest 2019. Other short films by Kris include 'You Idiot' and the upcoming 'Mountainland: A Celebration' and 'I Just Came to Dance.'

She was previously a script consultant at HBO Asia from 2019-2021, and is an alumnus of Sundance Intensive Asia, Singapore International Film Festival's Southeast Asian Film Lab, and Yamagata Documentary Dojo. She is the co-founder of Momo Film Co, part of Beach House Pictures and Canadian-based Blue Ant Media, alongside Singaporean creative producer Tan Si En. The company is committed to producing high-quality asian drama for viewers around the world. In 2020, she was featured in The Straits Times 30 under 30 – The Arts list for her work in Momo Film Co.

Wee Li Lin
Screenwriter & DirectorWee Li Lin is one of the pioneer female filmmakers in Singapore. Her films have a signature humour, warmth, and whimsy to them.Li Lin has made numerous short films, two feature films, as well as several telemovies and commercials. She has won several awards locally and internationally, such as "Best Director" at the Singapore International Film Festival. In 2018, Li Lin was commissioned to direct Singapore's National Day music video "We are Singapore". It was such a hit that it became the highest trending video on YouTube in Singapore that year.

Li Lin's films have screened at prestigious festivals around the world, such as the Tribeca Film Festival in New York, Short Shorts in Tokyo, the Udine Far East Film Festival in Italy, the Shanghai International Film Festival, the Hawaii International Film Festival, and many others.

Li Lin did her undergrad at Brown University and her graduate studies at NYU-Tisch Asia where she studied dramatic writing under an IMDA scholarship. She also teaches film-related studies at various tertiary institutions around Singapore on a part-time basis.