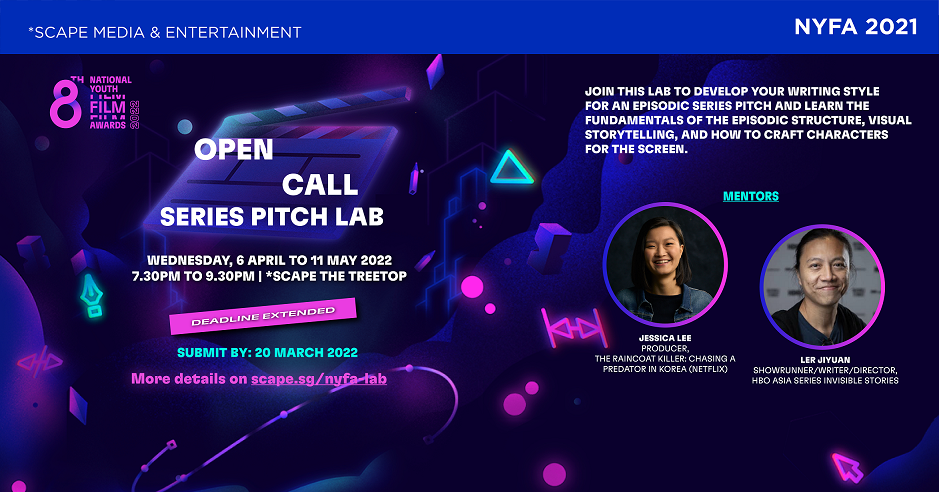 The Series Pitch Lab
The Series Pitch Lab is part of NYFA 2022, organised by *SCAPE. It is a 6 weeks mentorship programme that focuses on the fundamentals of a television series pitch bible. The lab provides filmmakers and writers with the foundation and skills to develop their writing style for an episodic series pitch. Participants will learn the fundamentals of the episodic structure, visual storytelling, and how to craft characters for the screen. The learning experience is enhanced by critique and discussions of case studies. At the end of the lab, each participant will be familiar with the fundamentals of writing for a series pitch.
Registered participants should submit their treatment in advance, and come prepared with their treatment. Applicants will be assessed by mentors Jessica Lee and Ler Jiyuan and successful applicants will be notified by 25 March 2022.
Submission deadline: 20 March 2022 (11.59PM SGT)
Duration: 6 sessions / 6 April to 11 May, Wednesday, 730pm to 930pm
Venue: *SCAPE Treetop (Level 5)
---
ELIGIBILITY
Applicants must be based in Singapore.
Applicants must have at least 1 year of experience in film or television, OR 1 year experience in a media-related industry.
Applicants must be committed to the entire duration of the workshop.
SUBMISSION REQUIREMENTS
Applicants are to submit the following in a single Google Drive/Dropbox folder:
Logline, synopsis and 1 page treatment or concept
Filmmaker's biography (max. 1 page, PDF), and CV (indicating timeframe of your industry/professional experience)
Filmmaker's statement (max. 1 page, PDF)
Past short film(s) (if available) — provide either a link to watch the work online, or the film file(s)
All submissions must be made in the English language. Films in any other language other than English must have English subtitles.
GENERAL REGULATIONS
All entries must be complete and submitted through the *SCAPE website before 13 March 2022, 11.59PM (SGT).
Successful applicants will be informed of the selection results by 25 March 2022.
*SCAPE will not provide individual explanation on the non-selection of a project.
The written materials produced by the applicant during the Series Lab will belong solely to the applicant.
---
MENTORS
Ler Jiyuan

Ler Jiyuan is the director of several high-profile Singaporean TV dramas such as HBO Asia's Grisse, Mediacorp Telemovie Gone Case, based on the award-winning novel by Dave Chua and Telemovie The Love Machine, which was nominated for five awards at the 2016 Asian Television Awards. Ler is the writer/director for short films The Drum, which won the 2018 Viddsee Juree Gold Awards and was in competition at the 2017 Clermont Ferrand Short Film Festival; and Paper House, which premiered at the 2017 Singapore Chinese Film Festival. He is the Showrunner/Writer/Director of critically acclaimed HBO Asia series Invisible Stories, which went on to garner several awards and nominations, including a Best National Director award for Ler at the 2020 Creative Content Asia Awards. Invisible Stories was listed by Variety magazine as one of the top 15 International Series of 2020.

Jessica Lee

Jessica Lee is Head of Development at Beach House Pictures, where she oversees the development of premium factual and unscripted programming such as The Raincoat Killer: Chasing a Predator in Korea (Netflix), Wild City: River World (CNA), Art of Craft (CCTV9), and more. She is the only Singaporean to win the FreedomFilmFestival 2020 award for her directorial debut, The Shades of Love, a powerful documentary on sex workers in Singapore. Jessica also collaborated with the National Library Board to direct a documentary series about women in history, set to premiere in 2022. She is currently producing another feature documentary for Netflix and directing a premium factual series for CNA. Her past credits include working at VICE's production office in China and she was a researcher on award-winning shows for National Geographic Channel, Discovery Channel, HGTV, CCTV, and CNA.