Media and Entertainment
Watcha Writing? – Reviewing Your Favourite Movies
19 Jun - 17 Jul, 10:30 AM - 12:30 PM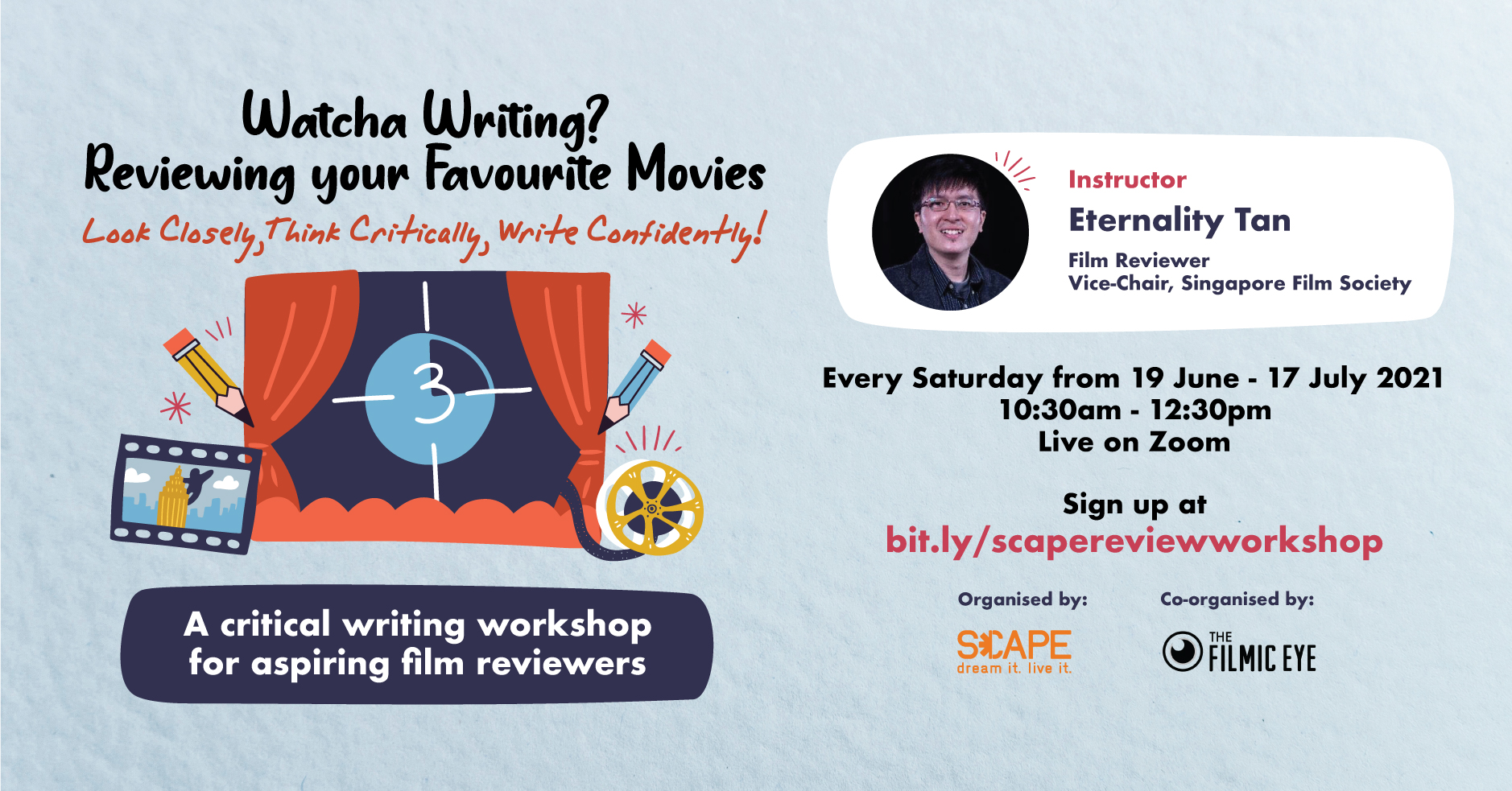 Watcha Writing?
Reviewing Your Favourite Movies
Movies and television series are a cornerstone of our lives. How do we make sense of the audiovisual medium and translate our analyses and opinions coherently into words?
This 10-hour introductory workshop aims to orientate you to the rigour, craft and process of reviewing films. You will get to deconstruct films through different aspects, including its film language and themes, and apply critical thinking strategies in your writings.
Through a series of discussions and hands-on writing activities, you will get the opportunity to analyse your reviews with your peers and the programme mentor. If you have a budding passion for films and writing, and want to learn more and hone your skills, this is the right place to be!
Every Saturday from 19 June – 17 July 2021
10.30am – 12.30pm | Live on Zoom

Registration closes 14 June 2021, 6pm
The course comes with $10 non-refundable fee, for successful applicants
Eligibility Requirement:
Singaporeans/PR aged 15 – 35
By the end of the programme, you will learn how to:
Analyse visual and aural elements in film
Examine narrative, characters and contexts
Assess analyses and writings critically
Use writing strategies to produce a critical film review
Programme Structure 
Session 1: Look Closely
Introduction to basic film language – focusing on cinematography, mise-en-scene, editing, sound and music
Scene analysis – analysing scenes through its film language
Writing exercises – writing analytically and precisely using film language; writing short analyses
Session 2: Think Critically
Introduction to critical analysis – focusing on themes and genres and how they relate to plot, story, characters, narrative and film language
Contextualisation in critical thinking – identifying real-world trends or issues that shape how a film is produced or received, and how this shapes the way we think about the film
Analysing reviews – identifying good and bad writing
Writing exercises – writing critically and analytically; writing mini-reviews
Session 3: Write Confidently
Strategies for writing, structuring reviews
Pitfalls and treating writer's block
Mini-review of an assigned drama series on MeWatch (up to 3 episodes; watch at own time)
Session 4: Workshop
Mini-review of an assigned drama series on MeWatch
Capstone review of a self-picked film (watch at own time in the cinemas, Netflix, etc.)
Session 5: Workshop & Showcase
Continuing of capstone review
Showcase of participants' capstone reviews
Key learning takeaways & further opportunities
Programme Instructor
Eternality Tan
Film Reviewer
Vice-Chair, Singapore Film Society

ET holds a Master in Education (Curriculum & Teaching) from NIE and is currently the Vice-Chair and Programming Director of the Singapore Film Society, and Managing Director of The Filmic Eye, where he organises film festivals, screenings, talks and workshops. He is part of the adjunct faculty at the Wee Kim Wee School of Communication & Information (NTU), where he teaches Introduction to Film Studies and Film Festival Practicum. He also teaches Film Art & History at the School of Design & Media (NYP). Having published more than 2,100 reviews since 2007, ET is one of Singapore's most prolific film critics, running his eponymous award-winning site (www.eternalitytan.com) independently. He has also executive-produced 15 shorts commissioned by the National Arts Council and Singapore Writers Festival.