Music
*SCAPE Indie Series: ÆTHER two – anechois / Tides / cues / Naedr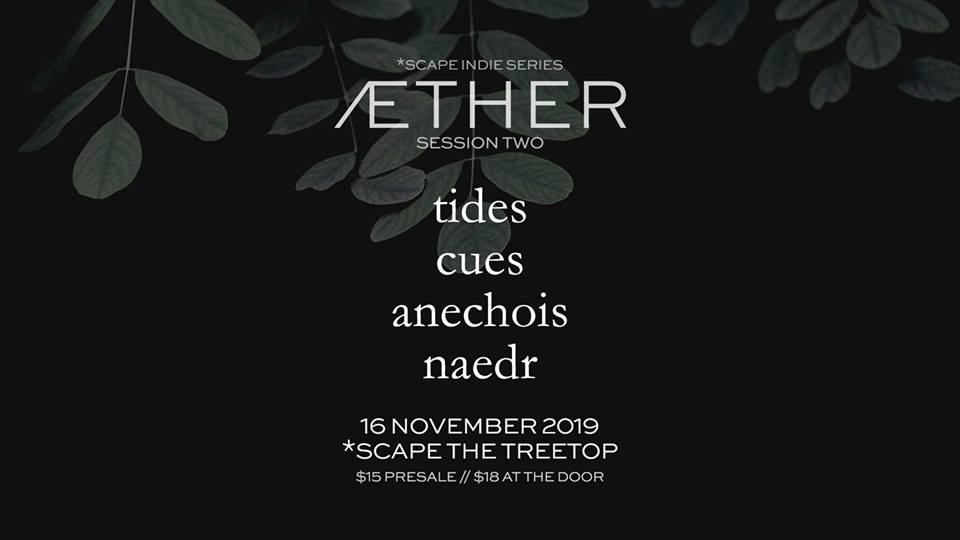 *SCAPEmusic and ÆTHER are glad to present ÆTHER session two as part of the *SCAPE Indie Series.
featuring:
cues
'We are a four piece band playing post/math rock influenced music. We don't play snooker.'
https://cues.bandcamp.com/
Tides
'Tides is a 4-piece emotional post-hardcore band. We aim to bring a new sound to the genre while keeping our lyrics sincere and relatable. We don't surf.'
https://wearetides.bandcamp.com
A N E C H O I S
'We are a 4 piece band with math and post-rock influences. We don't.. have enough reverb pedals.'
https://anechois.bandcamp.com/
Naedr
'screamo / skramz. we dont. 😥'
(members from Amateur Takes Control, Bethari, hauste, rûth and susurrus)
Doors open at 6:45pm.
$15 pre-sales (Cut-off date: 9th November 2019)
$18 at the door