Meet Ebeth and Shane, the Snazzy Duo Behind *SCAPE's New Podcast
The two alumni of *SCAPE's Podcast Competition+ have paired up to host Fresh Off The Pod (FOTP), a new infotainment podcast from *SCAPE. 
In the podcast, Ebeth and Shane riff back and forth on the trending headlines of the week — from cyber clothes to TikTok trends to bonding over sad music. Packed with amusing insights, interesting tidbits, and occasional digressions, the podcast is like listening in on a chat between friends. The duo is charming and relatable, and their easy chemistry makes the podcast so fun to listen to. 
Here, Ebeth and Shane take us through the new podcast, give advice to aspiring podcasters, and talk about their favourite things, from their shared love for good conversations to their favourite podcasts.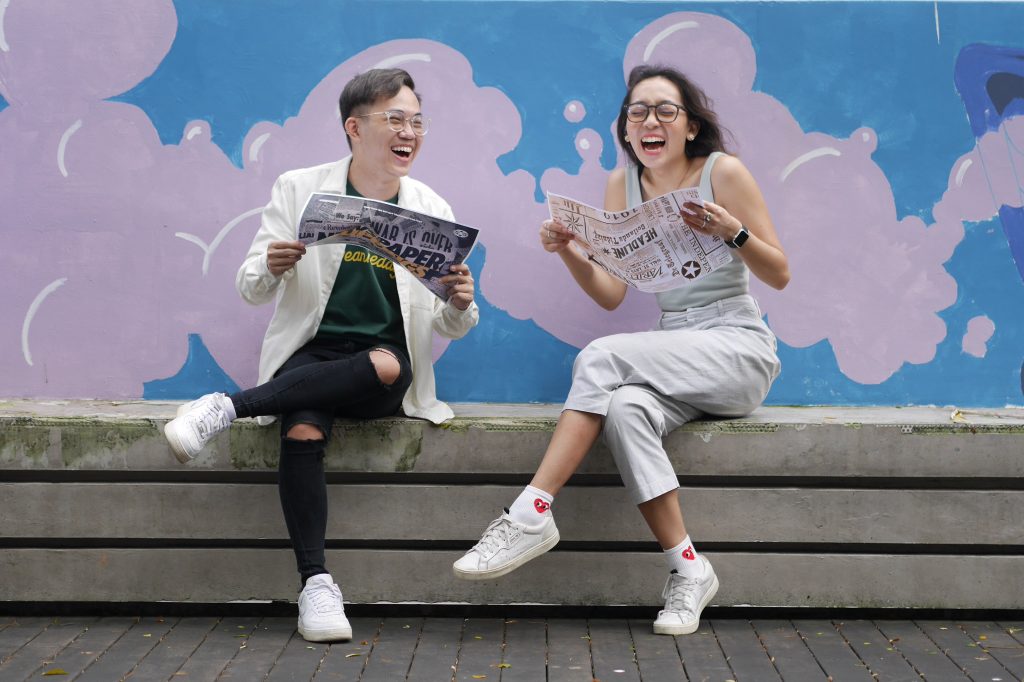 Tell us about yourself!
Ebeth: I'm Elizabeth, I go by many nicknames but my friends mostly call me Ebeth. My day job lies in the deep tech industry. At night, I'm either working on creative projects (like Fresh Off The Pod), making friends with dogs in the neighbourhood, or trying not to tap out at the MMA gym. I love a good book, enjoy the adrenaline rush but also appreciate a night in with Don Don Donki Jazz complete with a delicious craft beer or a fancy wine. When I am obligated to do up my excel sheets I'm probably listening to Doja Cat or rap to regain a sense of self…
Finally, I enjoy good, honest conversations, so here we are.
Shane: I'm Shane Soh, a data analyst by day and an aspiring podcast content creator by night! When I am not bingeing on Modern Family, I am either making a Spotify playlist to indulge in my vibes, struggling to inline skate, or silently pondering about life over coffee in my humble hood of Sembawang. Like Ebeth, I also enjoy having great conversations so I guess that makes us a match made in heaven?? I also like buses and trains, you can listen to Episode 1 to find out what I mean.
What's fresh to you?
Ebeth: A grilled cheese when it's golden crisp out the toaster, Park Seo Joon in a suit, tangy cherry tomatoes, the sweetness of freshly steamed crab meat. But most importantly, THIS PODCAST!
Shane: The smell of robusta beans from my kopitiam downstairs, a plate of freshly shucked oysters with a dash of lemon and tabasco, or a great new haircut! And YES, this podcast too!!
What inspired you to start podcasting?
Ebeth: A deep love for storytelling, the tingle of good honest conversations, and the intimacy of this platform/ audio medium, which feels very much like sitting in the exact same room with whoever's speaking. I stumbled upon podcasting when a friend sent me an open call to be part of *SCAPE's Podcast Competition+. I gave it a shot and the rest is history. 
Shane: I stumbled into podcasting after joining the first edition of *SCAPE's Podcast Competition and I've been stuck to this ever since! I love the intimacy of audio and how it forces you to think out of the box — how do you make sure that your listeners know exactly what you want them to feel? I also always wanted to be a Radio DJ since I was young so speaking in a front of the mic is second nature! 
What can listeners expect from Fresh Off The Pod?
Ebeth: Interesting headlines, engaging and trending topics, and most importantly, a wholesome and fun time together. We try out new experiences (like QiGong for example!) and piece them together so that we can invite you on our audio journey. Sometimes we also delve into deeper conversations. We hope FOTP brings you good vibes and you learn something new at the same time. 
Shane: Lots of great banter and conversations between two friends who were brought together via speed dating… I kid! Ebeth and I like to joke about how we're not "close" but if you listen very…closely, you'd realize that we are really just two quirky individuals who are curious about what's going on in the mad world of ours. We also tend to spiral quite a bit so we pick our headlines/activity based on how we're vibing for that week! 
What podcasts are you currently enjoying?
Ebeth: Modern Love, Something Private, rainymood. This last one is technically just a bunch of calming rain sounds and lofi, so I'm not sure if it's counted but it does bring the best vibes for winding down before bedtime.
Shane: 99% Invisible and This American Life!
Lastly, what advice would you give to aspiring podcasters?
Ebeth: Just start! We all begin somewhere, the hardest part is actualising projects you've been thinking about for the longest time, so just grit your teeth and begin. It made my hair stand and my skin crawl the first time I had to listen to myself on the recording. Sometimes it still does, but just be brave and authentic. I'm no guru, but I would also suggest to work on something you are genuinely passionate about so it feels less like work and more like self-expression. 😉
Shane: Invest in a good mic, some good blankets/a duvet, and start recording from the comfort of your bedroom! And start with a topic/issue that you're passionate about so you won't have to spend the whole time worrying about your script, you'll naturally be comfortable with talking about what you like. 🙂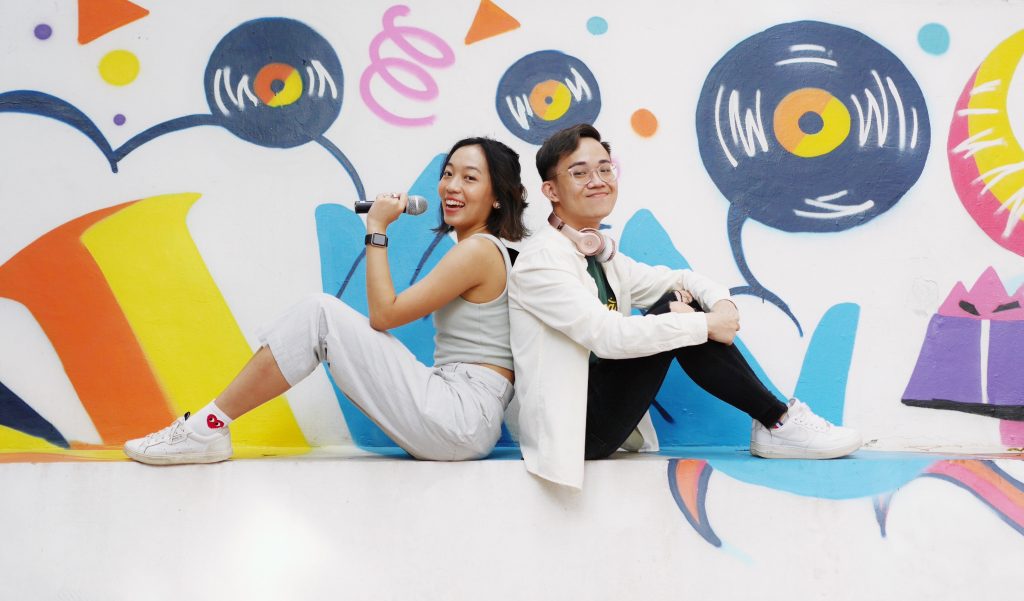 Ebeth and Shane's Podcast Equipment
For those who're interested to start your own podcast or just looking to up your podcast game, here's a look at Ebeth and Shane's podcasting gear. If you're looking for a recording space, *SCAPE also has a podcast studio available for rental.
AT2020USB+ Cardioid Condenser Mic

Equipped with a USB output, the AT2020USB+ Cardioid Condenser Mic is designed for Content Creators to digitally capturing music or any acoustic audio source using your favourite recording software.

Audio-Technica ATR2100x-USB

The ATR2100x-USB is a versatile content creation microphone, designed for live performance, podcasting, and voiceover use.

Zoom PodTrak P4 – The Ultimate Recorder for Podcasting

Compact, affordable, and loaded with features, the PodTrak P4 makes it easy to capture professional quality audio wherever you're recording your podcasts.
Subscribe to Fresh Off The Pod on Spotify or Apple Podcasts and make sure to leave feedback and comments because it helps others find the podcast! Our DMs are also open on our Instagram page @scapesg or if you want to find the hosts on their own socials, it's @ebeth.lee and @shanesoh.
Fresh Off The Pod is a new infotainment podcast from *SCAPE. Join Ebeth and Shane to get up to speed with fad checks, what's trending and hot headlines!