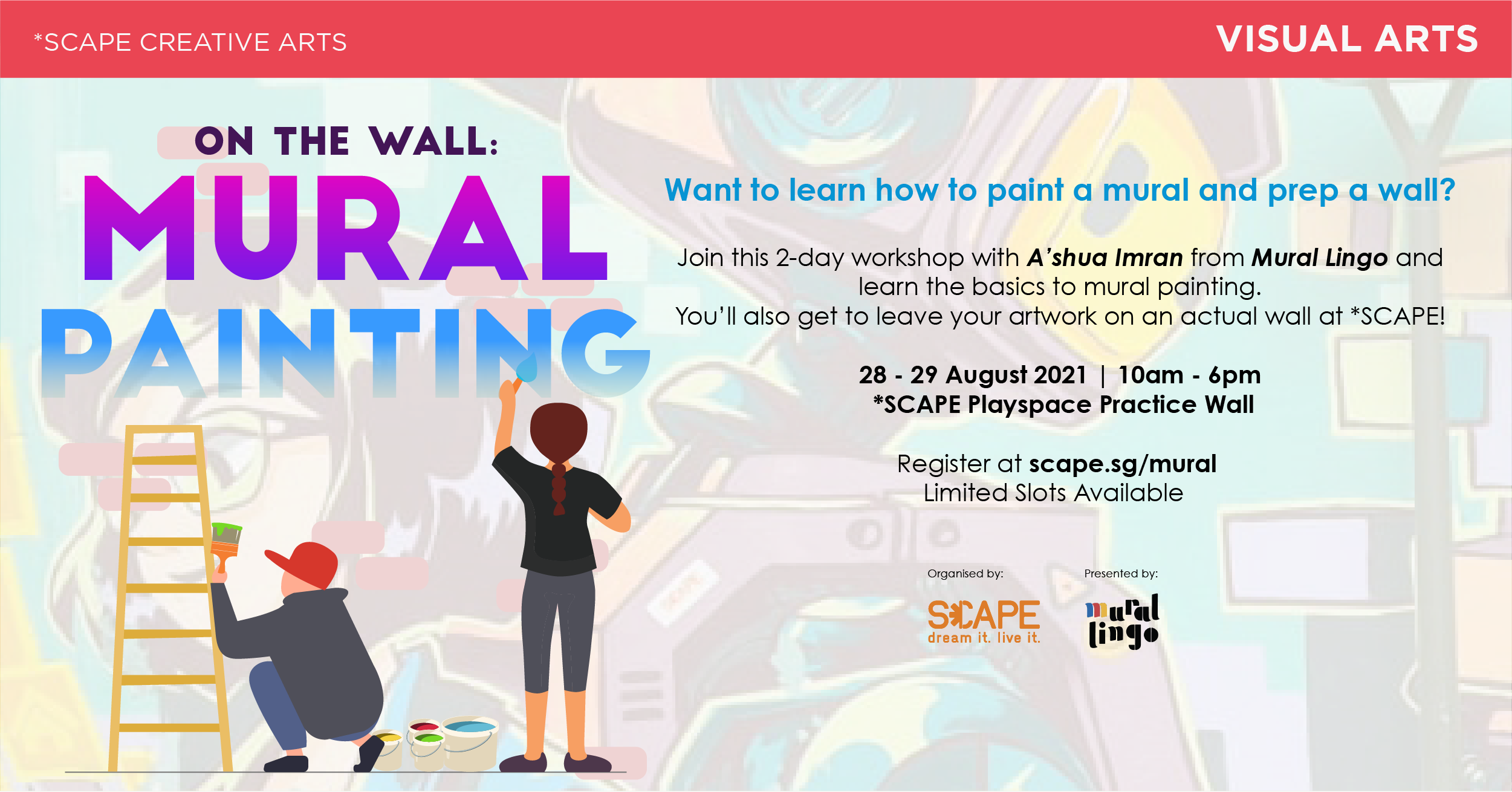 Want to learn how to paint a mural and prep a wall?
Join this 2-day workshop with A'shua Imran from Mural Lingo and learn the basics to mural painting.
Programme description:
In this 3-day workshop with *SCAPE and Mural Lingo, participants will learn the basics of mural painting as well as paint on an actual wall on the last day of workshop. Upon completion of the workshops, participants stand a chance to join Mural Lingo in completing an artwork at *SCAPE Open Wall.
28 – 29 August 2021 | 10am – 6pm 
*SCAPE Playspace Practice Wall 
Limited Slots Available
Lesson Plan:
Day 1: 28 August 2021, 10am – 6pm
Introduction

You will learn the basics of mural painting and will be introduced to the essential items and tools required to paint a mural. You will also learn the different ways to approach designing a mural as well as skills, tips and tricks to facilitate the painting.

You will learn how to develop your own mural design starting from basic sketches to digitising using software and colour picking.

Facilitator will be demonstrating how to project and sketch on actual wall after the session. Do continue to join us if you wish!

Day 2: 29 August 2021, 10am – 6pm
Sketch & Paint
The day that you have been waiting for has arrived! Today, you will learn how to sketch your design on a wall and learn how to prepare the wall for painting as well as practice painting on the wall.
About Mural Lingo:
| | |
| --- | --- |
| | Mural Lingo is a multidisciplinary studio that works at the intersection of technology and arts. We aim to create immersive experiences by using a combination of cutting edge technology and captivating murals. Our mission is to inspire a socially and environmentally conscious society through our work, life, and practice. Our vision is to nurture a space in the form of a media lab, where artists, technologists, engineers, and philosophers can share their research, initiate interdisciplinary collaborations and investigate the impacts of art and technology-driven projects to formulate a more humanistic approach to technology. |
Facilitator:
A'shua Imran
Artistic Director of Mural Lingo

A'shua Imran is a Singaporean artist working primarily in the medium of painting and performance. He graduated from LASALLE College of the Arts (Singapore) with a Bachelor of Arts in Fine Art (Goldsmiths, UK) in 2014, and has since presented his works in Singapore, Malaysia, Egypt, South Africa and Spain. Currently, Imran is the artistic director of Mural Lingo, a creative enterprise that works at the intersection of arts and technology. Over the past years, Imran has worked with organisations and institutions such as Google, National University Singapore, World Wildlife Fund – Singapore and many others. In 2017, he also participated in a 10 weeks artist-in-residence programme at Johannesburg, South Africa to conceptualise a public artwork.

Since 2014, Imran has given talks and ran workshops in educational institutions such as LASALLE College of the Arts (Singapore), GEMS World Academy (Singapore), Wits School of Art (Johannesburg, South Africa), and Carmarthen School of Art, (Wales, U.K.). In 2018, he was also invited as a Mentor to the Young Singaporeans Conference by Lee Kuan Yew School of Public Policy, NUS. He is currently based in Singapore & actively involved in local and international projects.