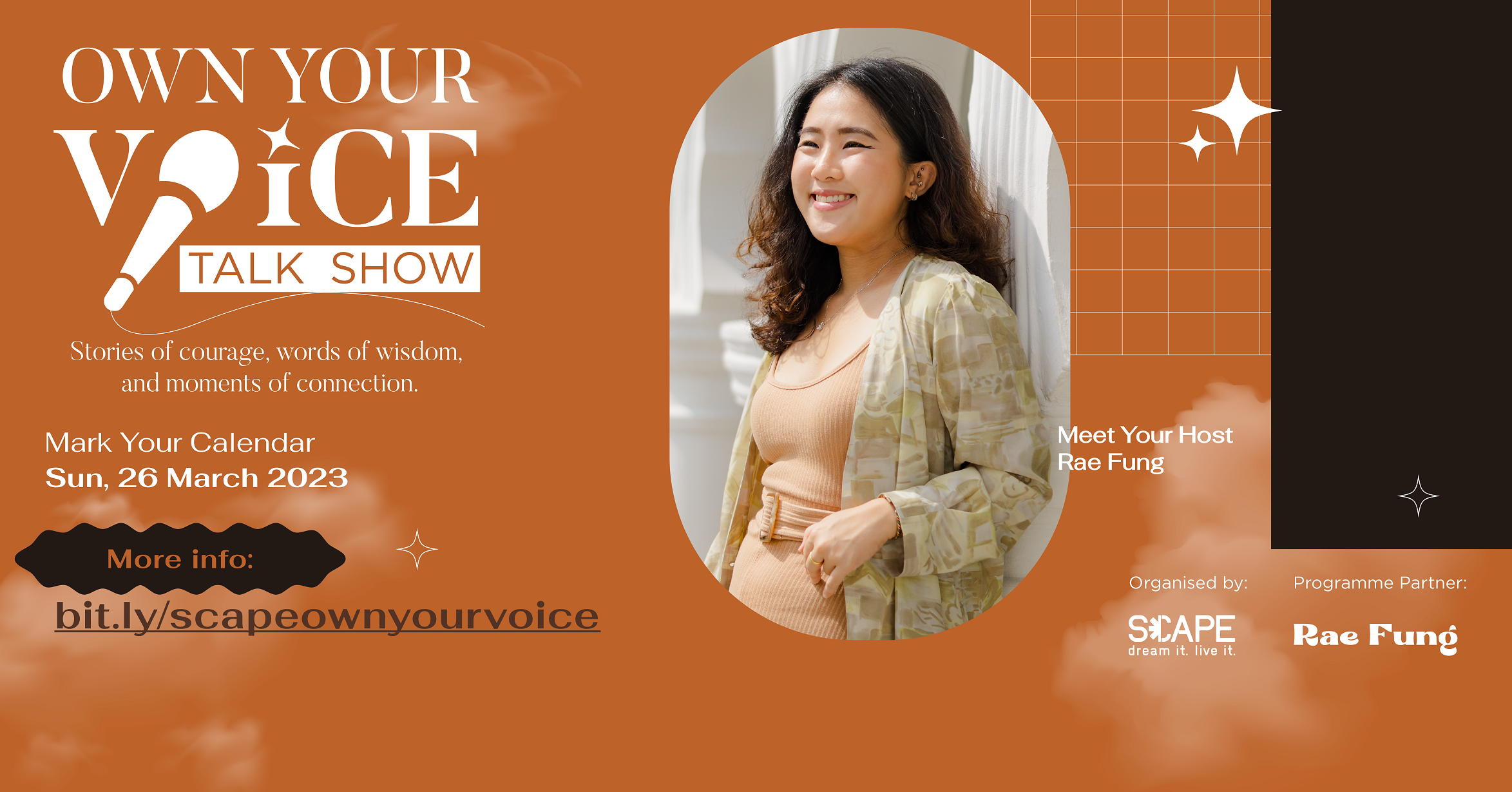 Do you remember the last time you've had a conversation that left you feeling seen, heard, and understood? Or the last time you've done work that makes you feel fuelled, invigorated, and energised?
Maybe it was a long time ago. Perhaps you've found yourself living a life like clockwork — wake up, work, hang out with friends, sleep, and repeat. The dreams and goals you've set for yourself years ago no longer seem that exciting anymore. Or maybe, you've been facing setback after setback in your career, your business, and your relationships, and you're struggling to find a glimmer of hope in your life.
We invite you to join us at the Own Your Voice Talk Show – Singapore first in-person, live talk show.
You will:
Explore alternative perspectives on success, relationships, purpose and fulfillment, and design your life with freedom.
Connect with like-minded individuals in a safe, judgment-free zone
Learn from guest speakers and experts
Explore topics that are rarely discussed, such as redefining success, overcoming failure, navigating uncomfortable conversations and difficult relationships
You'll leave feeling energised, accepted, and alive!
Sunday, 26 March 2023 | 3.30pm – 5pm | 7.30pm – 9pm
@ *SCAPE Gallery, Level 5
EP1: Defining Your Own Success
Time: 3.30pm – 5pm
Let's be honest. Since young, we've been taught how to be successful — study hard, get good grades, get a good job, and you'll live a good life. Maybe you've had dreams of pursuing your passion, but you've been told it's unrealistic and impractical. After years of following the blueprint of success you were taught, you're just not happy. Here's a message for you: it's never too late to design your life. It's never too late to define what success means to you, and live it fully.
In this episode of the Own Your Voice Show, you'll hear stories from guests who have defined their own success despite being told that they were "impractical" or "too young" "too old". You'll be led through an activity where you'll start defining your own success, and receive tips you can apply right away after the show.
EP2: Finding Hope Despite Disappointment and Failure
Time: 7.30pm – 9pm
Have you been through failure after failure, rejection after rejection, in your career or relationships? Are you feeling completely drained from the never-ending expectations and responsibilities? Sometimes, life throws us the toughest challenges, and it feels impossibly hard to hold on. The good news is, things can get better.In this episode of the Own Your Voice Show, you'll hear stories from guests who have been through disappointments and failure, yet found the hope to hold on to, and grew through the pain, to build the successful careers they have today. You'll receive practical tips and exercises on how to regulate your emotions and hold on to hope even when life gets hard.
Guest Speakers & Expert for Ep 1
Guest Speaker: Aiken Chia

Aiken Chia is a content creator most well known for his food and lifestyle videos. More recently, he has started his own Youtube channel, venturing into travel and short-form storytelling, with  the vision of showing  audiences a real and more authentic version of himself.

Growing up in a lower income single-parent family, Aiken compared himself with his "normal" peers and often felt neglected. Throughout his life, he lost hope, was almost sent to a boy's home at 14, and became broke in his late 20s. Today, he is a well-known personality, but most importantly, he loves his work and found purpose in his life. 

Aiken will share his story of how he defined his own success even through his darkest times, by  shifting his life's focus to the things that really matter – listening to his inner voice and choosing to make an impact on people's lives.

Guest Speaker: Yeo Chuen Cheun

Yeo Chuen Chuen is an internationally recognised Professional Coach, Speaker and Author. Her clients include diverse and global executives from Fortune 500 companies.

Just a few years ago, she was in a stable teaching job where she earned a good salary and was told that she "had a lot of potential". Despite already achieving "conventional success", she felt there was something more out there. She knew she had a dream to pursue a different career, but was afraid of being labelled as a bad wife and mother if she traded stability for an untested dream. She took 6 years to pluck up the courage to pursue her dream, and nearly ran out of money twice after that.

Chuen Chuen will share how she made her new career happen despite her fears of failure and judgement, and redefined her own measurements of success.

Guest Expert: Jason Ho

Jason Ho is the co-founder of Strengths School and is Southeast Asia's first CliftonStrengths coach. Having dabbled in over 32 jobs and businesses in a short span of time, Jason comes alive when pioneering new ground. A self-proclaimed "hacker", Jason is obsessed with trying to "hack performance", and seeks to answer the question, "How do we bring out the best in people?" 

With his experience in coaching C-suite leaders and teams, Jason will share his insights and guide the audience into a deeper awareness of their unique strengths and weaknesses to find their true passion. Through this activity, he hopes to guide the audience back to their own inner voice, in order to define their own success.
Guest Speakers & Expert for Ep 2
Guest Speaker: Yeo Sha-En

Yeo Sha-En is a two-time TEDx Speaker and founder of Happiness Scientists. A positive psychology practitioner, Sha-En has spoken to over 30,000 people in Singapore and the region, sharing science backed strategies to help uplift their lives.

Despite the title "Happiness Scientist", just like anyone else, Sha-En has days where she gets frustrated and tired from juggling the responsibilities of being an entrepreneur, a mother of two kids, a daughter to elderly parents, and a wife. She will share her own daily practices of how she copes with the demands in business and at home, and how she manages conflicting emotions of balancing filial piety and respecting your boundaries.

Guest Speaker: Alyssa Lie

Alyssa Lie is a multi-talented singer-songwriter and content creator, known for her vibrant personality, advocacy for self-love and wellness, and original music from the heart, amassing over 58,000 followers on TikTok and Instagram. 

Behind her positive spirit and infectious energy reveals her journey of working through self-doubt and self-sabotage, as well as building trust with her voice, even in the cut-throat entertainment industry. 

Alyssa will be sharing the struggles she went through as a fresh face in the music and entertainment industry and how she built resilience and chose to reframe her perception of the world in order to become the self-made artist that she is today. She has since released her debut EP, performed 3 solo concerts, and now works with international brands on social media.

Guest Expert: Simon Leow 

Simon Leow is the co-founder of Happiness Initiative, a social enterprise that focuses on the science of happiness. Fascinated with the science of well-being, Simon believes that well-being skills can be made accessible to everyone.

Having gone through a downward spiral before finding his true passion and purpose, Simon will share practical tips to build resilience skills by understanding and reframing one's beliefs, in order to find hope even through difficult times.
Your Host and Co-Creator of the Own Your Voice Talk Show
 
Rae Fung

Hello! I'm Rae. I used to be the girl who refused to speak up, who would hide in the background. I hated how I looked and believed that I had nothing valuable to say.

Today, I've coached, trained, and spoken to over 5000+ people globally, training top teams to elevate their communication, and guiding entrepreneurs and corporate professionals to build radical self-trust with their voice so they may speak up with authentic confidence.

What I know for sure, is that I can never be who I am today without the people I've met and the stories I've heard.

I discovered my gifts and acknowledge my value with the help of coaches and mentors in my life.

I relearned what success and happiness is after spending time with a grandmother living on the fields of Sa Pa.

I experienced unconditional love through my lowest and most vulnerable moments, shared with friends and family.

I've seen so clearly the power of perspective, and the gift of love. This is what the Own Your Voice Show is all about. You'll receive perspective and experience love that will inspire you to live the life you've always wanted to live.