NYFA 2022 YOUTH INSPIRATION AWARD
ABOUT THE NYFA YOUTH INSPIRATION AWARD
The National Youth Film Awards is a beacon for aspiring youth filmmakers since its inception  in 2015. For the last six years, NYFA has provided our youths with recognition, validation,  and industry network, in addition to being the key national platform to showcase their  talents in film.  
The NYFA Youth Inspiration Award was introduced in 2019 to recognise and honour young  industry professionals who have made exemplary contributions towards the filmmaking  industry in Singapore. Jerrold Cheong is presented this award in recognition for his hard work and excellent portfolio of animation projects (indie short films and tv series) that lift the local standards. His films have screened at numerous international film festivals, including Cannes Directors' Fortnight, Busan International Film Festival, Annecy International Animated Film Festival and Singapore International Film Festival (SGIFF). He also collaborated with other filmmakers, such as Huang Junxiang on the NDP music video last year. Jerrold Chong is a NYFA alumni and co-founder of Finding Pictures, an animation studio and the Education lead for Cartoons Underground, an independent animation festival in SEA. He worked very closely with *SCAPE to develop our first Story Lab which saw filmmakers continue to produce and win award in other regional labs. His dedication to his younger peers and to invest in Singapore's animation industry is evident.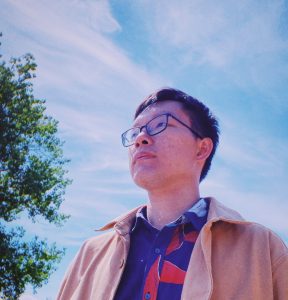 ABOUT THE AWARD RECIPIENT 
Jerrold Chong is an award-winning animation filmmaker and co-founder of local animation studio Finding Pictures. His love for animation is rooted in a fascination in the magic of the medium to tell stories that go beyond the limits of reality and the expectation. His works often take on the form of surreal, at times absurdist tales that explore universal themes of connection, time/memory and social issues, through the medium of stop-motion and hand-drawn animation.
In 2019, his film "Piece of Meat", co-directed with Huang Junxiang, premiered at Cannes' Directors' Fortnight and Annecy Animation Festival. His films have screened at numerous international film festivals, including Cannes Directors' Fortnight, Busan International Film Festival, Annecy International Animated Film Festival, Singapore International Film Festival (SGIFF), Encounters Short Film and Animation Festival in Bristol, Animatricks Animation Festival in Helsinki, Short Shorts Film Festival in Tokyo and Bucheon International Animation Festival in Korea, amongst others. His films "Automatonomy" and "What Has To Be" also won the Best Animation Award at the National Youth Film Awards Open Category for two oconsecutive years. Most recently he co-directed the official NDP 2021 Music Video "The Road Ahead".
As an organising member of Cartoons Underground – Singapore's very own independent animation festival – he has also helped to champion and grow the local animation community. He initiated the Animated Visions Story Development Lab in 2020, where selected projects and participants are mentored and guided towards developing their projects. In 2022, he took up the role of Programme Director for Cartoons Underground. He has also served as producer for animated short films such as Morrie Tan's "The Visit" and Olivia Griselda and Sarah Cheok's "She and Her Good Vibrations".
NYFA YOUTH INSPIRATION AWARD RECIPIENT MESSAGE
Thank you very much to NYFA, it is an honour to be selected for this award! Looking back, I am truly grateful for the many filmmakers, artists and collaborators whose works, passion and spirit have inspired me and illuminated the path before me. When I was younger, there were many moments where I would walk into a screening at the Substation, at SGIFF, at NYFA and I would come across a mind-blowing film (or two) that would open my mind's eye into the magical possibilities of cinema and storytelling. It's also within these spaces where I had the opportunity to meet filmmakers I admired, future collaborators and made friends with the filmmaking community. These memories are ones that I cherish dearly.
As many of you would agree, we cannot make a film on our own, let alone a good one. I am grateful to have found a community of talented collaborators and artists, and every day working with them is indeed a privilege. The process of storytelling, of creation is a humbling one. There are many times that I would think I knew what the film would be, but the creative process reveals new things about the characters, opens up new perspectives and approaches while brainstorming with the team. It's this collaborative discovery that I find the most enriching and special.
To all the nominees of this year's NYFA and all younger filmmakers, I hope that you will find the courage and conviction to explore never-before-told stories, to experiment with new approaches or techniques and most importantly, to allow yourselves to make mistakes. While the journey may not be how you have planned it, it will turn out to be a worthwhile one. May you all find your filmmaking tribe and dream together towards bigger things! A big thank you to all my friends within the filmmaking community, collaborators and mentors who have been my shining beacon, and given me the chance to live my dreams!
Jerrold Chong
Recipient
NYFA Youth Inspiration Award 2022