Music Day Out! 2022
Workshop / Showcase / Others
*SCAPE #02-15 and *SCAPE The Ground Theatre, Level 2 
Free for workshops / Ticketed for showcases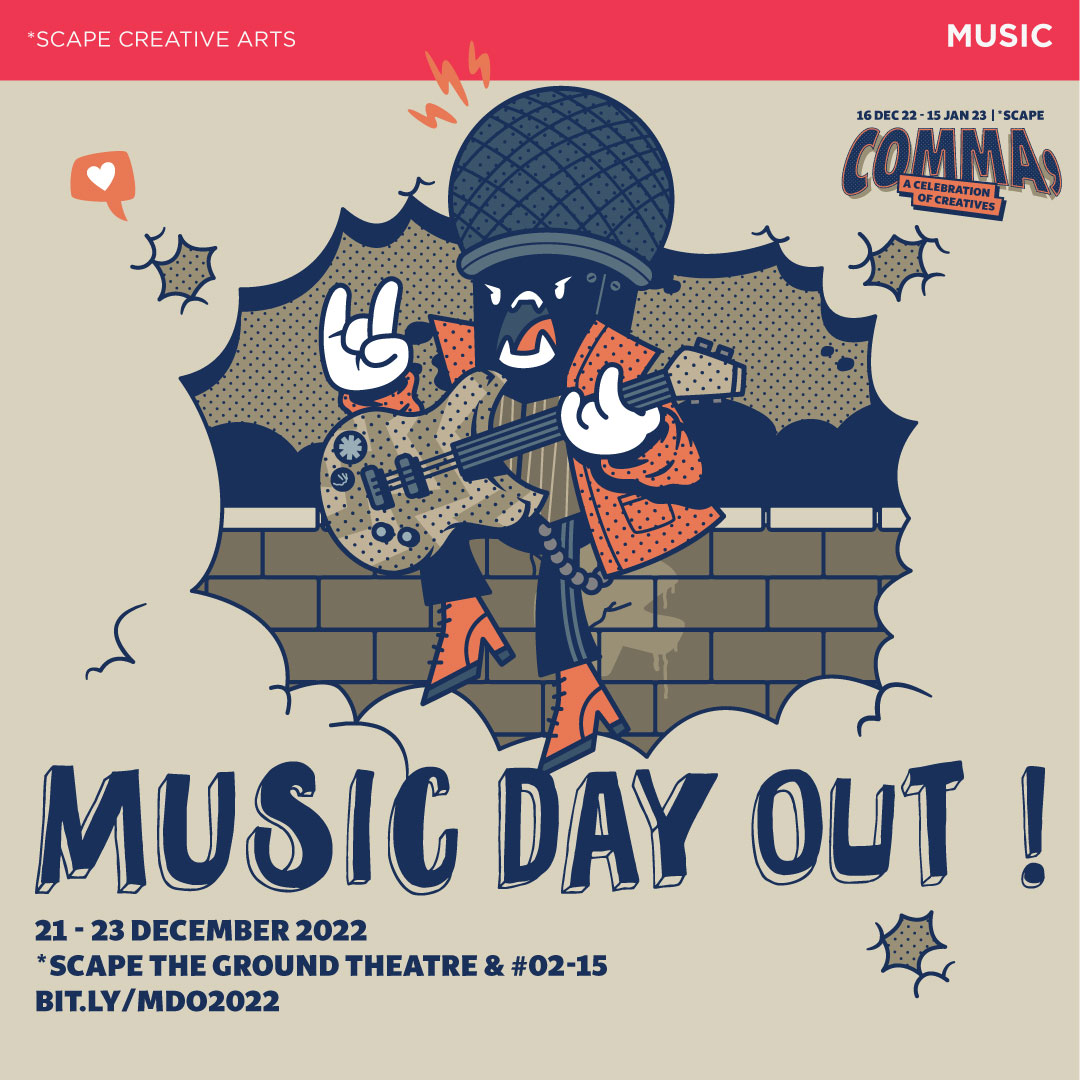 Music Day Out! is a Singapore music festival that celebrates the growing indie (independent) music culture. The festival is dedicated to the growth and development of indie artists as well as indie music lovers with musical knowledge, appreciation and artistry. 
Location: #02-15 and *SCAPE The Ground Theatre, Level 2 
Dates: 21 to 23 December 2022
Admission Type: Free for workshops / ticketed for showcase (Pay as you wish)
Music Day Out! Consultations and Workshops
The Music Day Out! Consultations and Workshops features a variety of speakers, topics, and network opportunities that will help creative and cultural entrepreneurs, organisations, practitioners to expand their knowledge and resources. The workshops present speakers to also expand perspectives on the independent music community.
Music Day Out! 2022 Consultation Sessions
Pick the brains of 4 music industry experts, each with a different specialty. Ask them to critique your plans, give you advice, or even get them to share best practices for you to adopt.
Consultations are 40 minutes long (max 2 consultations for each expert) and are available on a first-come-first-served basis. You may come as a group/band to consult.
Music Day Out! 2022 Workshops
Music Day Out! Workshop: "Touring in Southeast Asia" by Tala Records, Revive Arcade founder and Golden Mammoth ex-manager Arin Sharnaz
Figuring out the music scenes in our region is tricky enough, let alone working out a tour. Learn from Malaysian promoter and artist manager Arin as she shares about her thought process behind bringing bands around the region, and what to look out for in each market.
Music Day Out! Sharing Session: "Eh what went wrong ah?" a sharing session by Nicholas Wong (Marijannah and Bandwagon) and Darrel Laser (Forests). Moderated by David Siow (Steady State Records, M1LDL1FE, DSML)
A brutally honest sharing session with anecdotes around things that went wrong – worst gigs, tour mishaps, admin errors. badly equipped venues, diva behavior and more. Warning: juicy stories await!
Music Day Out! Independent Music Showcase
The Music Day Out! Independent Music Showcase presents a platform for independent artists to showcase their craft to a wide audience.
DAY ONE: WEDNESDAY, 21 DECEMBER 2022
DAY TWO: THURSDAY, 22 DECEMBER 2022
DAY THREE: FRIDAY, 23 DECEMBER 2022