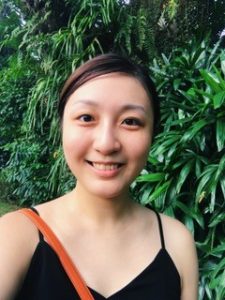 Personal 
Hi! I'm Esther, a resourceful, creative, and dynamic individual. 
 
I believe that jobs and roles don't exist in isolation — I enjoy finding new ways to make connections across ideas, processes, spaces and people. This has developed in me what I'd call my special sauce in my approach to marketing (and also in life): the ability to converge ideas and concepts from multiple touch points, in order to find new solutions and to enhance a user's experience with a brand. 
 
My personal interest and experience in entrepreneurship helps me approach problem-solving for a company with an entrepreneur's mindset — to execute ideas from a multi-pronged approach (marketing, web experience, retail spaces, collaborative content generation with audience etc) to create integrated solutions to achieve a company's goals. It also helps me be resourceful to find ways to outsource certain processes to relevant people, to increase the efficiency of systems. 
 
I thrive in an environment that is nurturing, open, and which gives me the space to be creative. I am most fired up when it comes to pioneering new projects and finding new, innovative solutions to problems; to create systems that are repeatable, sustainable and scalable. 
 
In my personal life, my interests range from traditional and digital painting, to music improvisation and hosting creative gatherings. I am constantly learning and playing with new art techniques via short courses online, and merging them across different mediums. 
 
I love encouraging people to find that authentic spark within them — it brings me great joy when others also discover the value and beauty that our unique and authentic selves can provide to the world! Preferring collaboration over competition, I believe in spurring each other on in our dreams, and collectively achieving so much more together.
Areas of expertise
Services provided
Marketing Strategy/Consultancy
Experiences/Accolades 
As a Marketing Strategist 
Initiated and spearheaded the following schemes with NUS Co-op: 

Student Entrepreneur's Market (SEM) (launching in 2022)




A programme to support student entrepreneurs in their businesses. Student entrepreneurs are offered heavily subsidised rates to retail their products at NUS Co-op's webstore and retail outlets; and to help grow awareness of their brands and the causes they stand for through our collaborative online promotional events.

Student Content Creators (launching in 2022)




A programme that nurtures the dreams of aspiring/existing NUS student content creators by allowing them to expand their reach to share their content (photos, videos, blogposts) on NUS Co-op's social media channels. Content featured will showcase their campus life experience, as well as to share about NUS Co-op's promotional items. 

Benefits of the above-mentioned programmes: 




1. Increases User-Generated Content (UGC) for NUS Co-op's social media channels and outsources some of the content creation work




2. Enhances NUS Co-op's brand image as a student-focused organisation, looking to serve and to support student in their dreams. 




3. Supports students in tangible ways that are relevant to their dreams 




4. These programmes create a system that is sustainable and scalable as it benefits both students and NUS Co-op alike 

 

Executed T-Shirt Design Competition 2022 (Ongoing) and successful giveaway contests with the following results:

 

Quantitative: Worked closely with sales team to achieve over 70% in graduation bears sales

 

Qualitative: Giveaway participants shared posts about themselves as part of the submission options, creating a sense of belonging with our online audience as participants shared their own stories

 
As an Artist 
Illustrated series of 5 dinosaur designs for the official museum t-shirts of Lee Kong Chian Natural History Museum

 
Social media handles