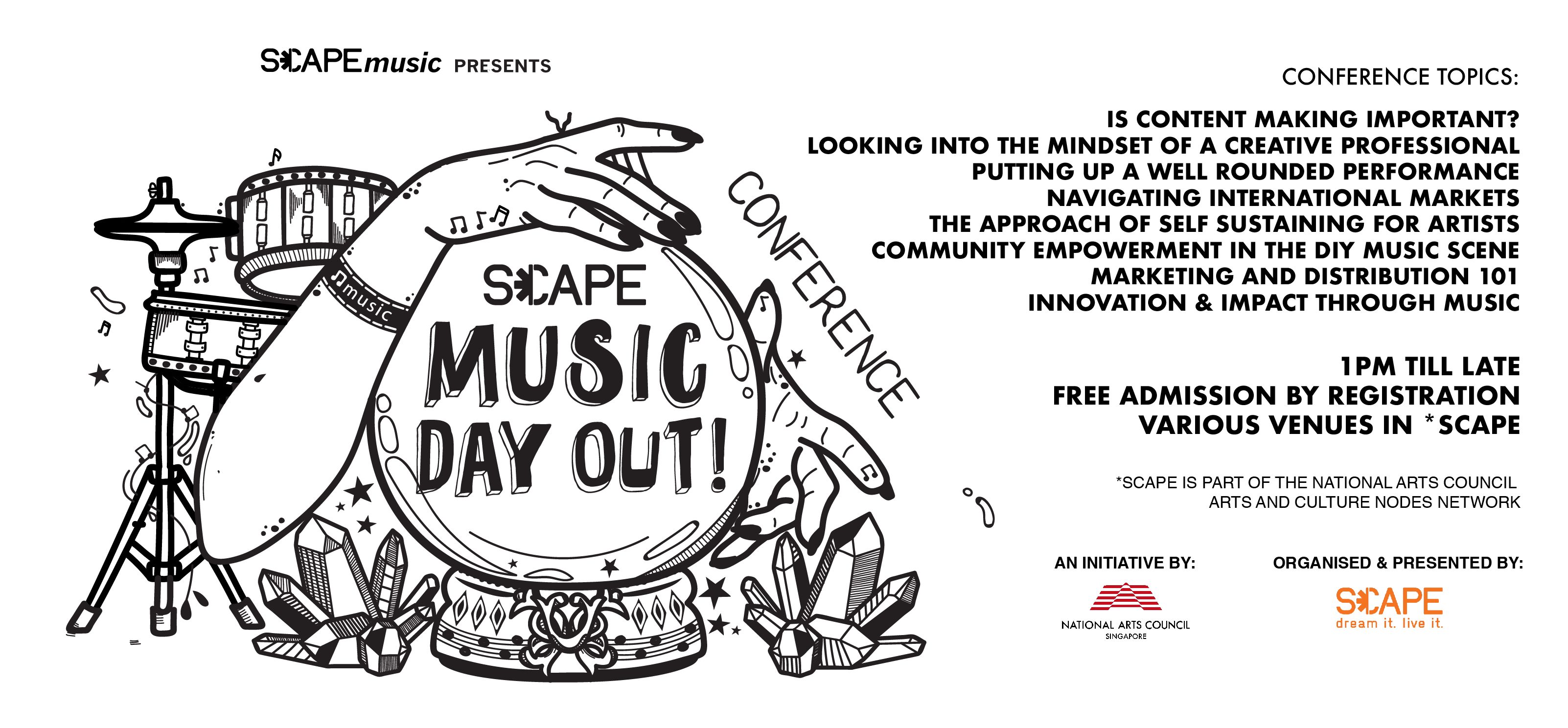 *SCAPE Music Day Out! DIY Conference features a variety of speakers, presentation topics, and network opportunities that will help creative and cultural entrepreneurs, organisations, practitioners to expand their knowledge and resources. The conference will present speakers to expand perspectives on the independent music community.
Music Conference Programme
Is Content Making Important for Independent Artists?
2:00pm – 3:00pm | 
*SCAPE The Gallery, Level 5
This topic covers the extrinsic and intrinsic values of how content making should be considered in the creative process of aspiring young creatives. Content making gives musicians a greater opportunity to connect and obtain more fans. Using valuable and interesting content for marketing is a form of pull marketing wherein artists' gets their fans more interested and emotionally invested in what they do.
Register here!
Looking Into the Mindset of a Creative Professional
2:00pm – 3:00pm | 
*SCAPE The TreeTop, Level 5
The intent is to expose and inspire attendees with a range of artistic practices, career tracks, and sustainable models in the music industry. Ways in which the routines of songwriters, programmers, music producers differed, this topic explores further the need to adopt certain traits in their creative journey.
Register here!
Putting Up a Well Rounded Performance
2:00pm – 3:00pm | 
*SCAPEmedia Hub, Level 5
This topic intends to place technicalities and musicianship on a parallel whereby youth creatives can learn more of different aspects within the music scene. This knowledge transfer then allows them to be transit towards being aspiring professionals.
Register here!
Navigating International Markets on Tour
2:00pm – 3:00pm | 
*SCAPE HubQuarters, Level 4
This intends to educate young musicians on certain tips and tricks to land an opportunity internationally. The music landscape have seen the rise of many artists travelling abroad to expand their audience reach and engagement. This topic will also discuss the importance on such markets for independent artists.
Register here!
BREAK
The Approach of Self-Sustaining For Artists
3:30pm – 4:30pm | *SCAPE The Gallery, Level 5
The role of the manager is a huge key to an artist's success. It is the guarantee that the artist has someone on their team they can trust to make good decision. But with at the earlier phase in the career, often times these artists start out self-managed. This topic will allow youth creatives a lens into the traits and considerations of being a self-sustaining artist.
Register here!

Community Empowerment in the DIY Music Scene
3:30pm – 4:30pm | *SCAPE The TreeTop, Level 5
Music can connect and impact different communities. These artists have been involved in different capacities across the arts scene, from being festival organisers, performers, to nurturing the next generation of musicians as mentors in the Noise Music Mentorship. They have also bridged music and other art forms, from theatre, literary arts to traditional arts.
Register here!
Marketing and Distribution 101
3:30pm – 4:30pm | 
*SCAPEmedia Hub, Level 5
Marketing and distribution is one of the key stages in a successful release of a new album/single. It ensures an artist's ability to reach and engage with their target audience. This topic serves as a guide for young artists who are not familiar with the various approach in pushing out their material.
Register here!
Innovation and Impact Through Music
3:30pm – 4:30pm | 
*SCAPE HubQuarters, Level 4
With the society's every-changing needs and demands, this will highlight the latest trends and game changers in the music scene to prepare young musicians to be future ready. This topic will also discuss certain innovative ways that artists, producers, managers have adopted to drive their artistry to a much greater level.
Register here!
For any queries, kindly email enquiries@scape.sg.