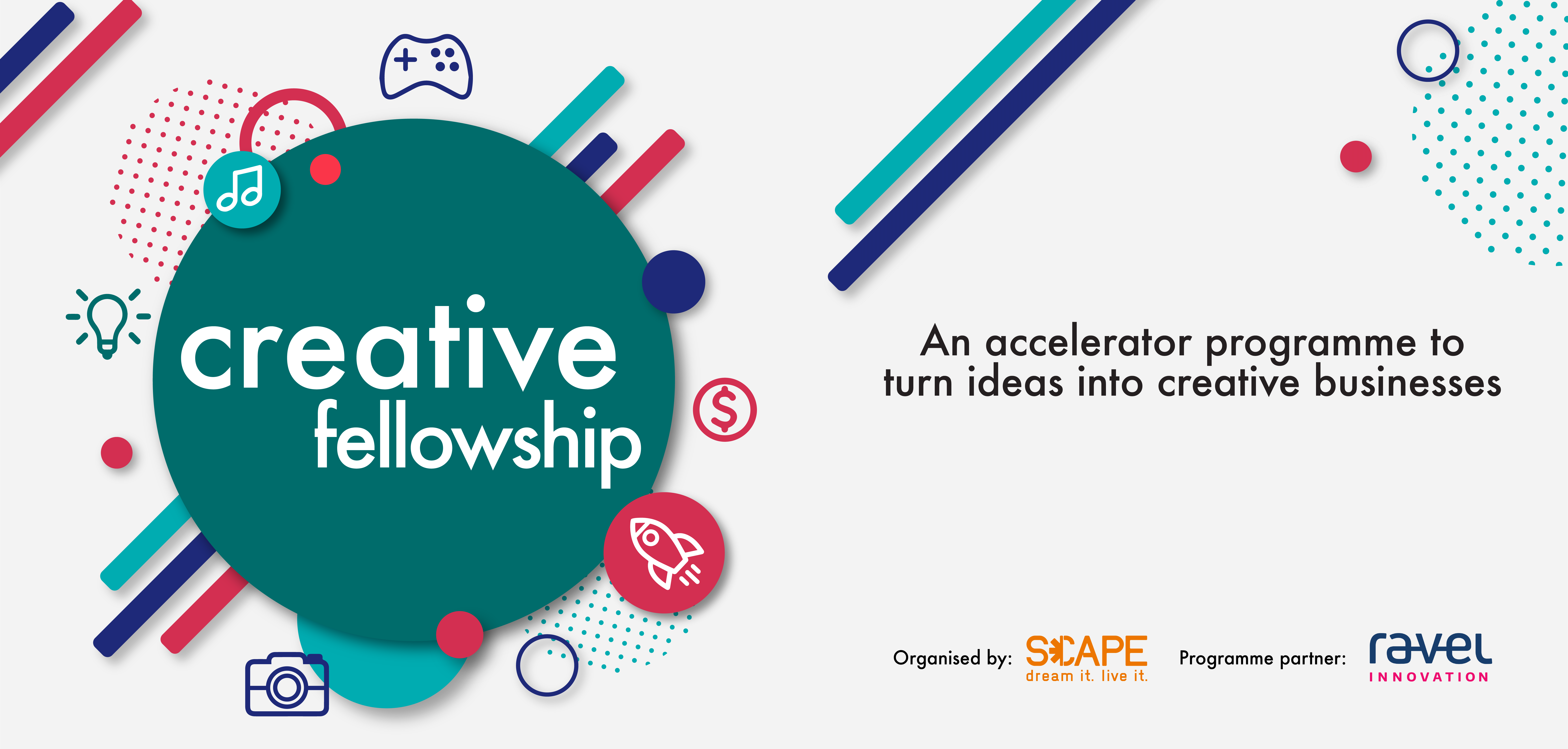 Submission closed on 21 July 2021 12pm
About
The *SCAPE Creative Fellowship programme is a startup accelerator programme boosting young entrepreneurs in Singapore with the knowledge and skills necessary to take their ideas and innovations to the next level.
The programme aims to instill positive youth development and hone their skills in areas of social entrepreneurship, business building and more.
Youth entrepreneurs will go through a 3-month programme that includes a series of exciting content workshops, practical beta tests, and mentorship sessions to help them turn their startup into a scalable business.
There is also a finale Grand Showcase in each season for participants to share their business ideas to an audience of potential clients, mentors, investors as well as avid supports of entrepreneurship and the creative industry.
Who is it for?
Creative Fellowship is looking for startups in the following industries:
Creative Arts (music, dance, visual arts, multi / interdisciplinary arts)

Media & Entertainment (film, video production, animation, esports, live-streaming, content creations)

Entrepreneurship & Careers (innovative startups; lifestyle, retail, sustainability, food & beverage)
Watch the clips to hear the previous seasons entrepreneurs' experiences!
Timeline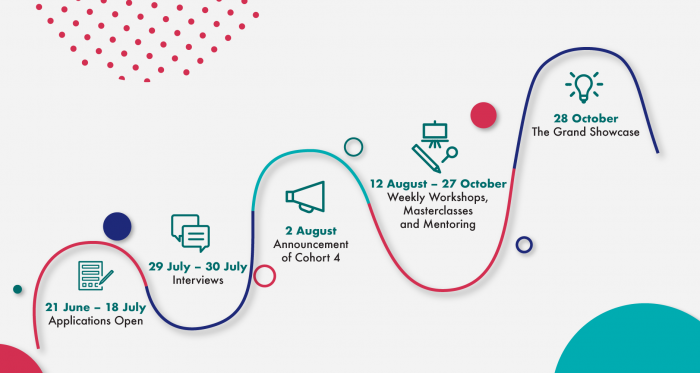 Programme Benefits
Workshops and masterclasses with experts in entrepreneurship, funding, finance, law, marketing, talent development, and more to equip startups with knowledge and 

and skill sets to develop and test a minimum viable product

The chance to network and meet with creative industry experts and mentors who can help




you develop your business ideas

Be part of the Google for Startups community:

Access to Google global startup programmes (e.g. Founders Lab, Growth Lab, Sales Academy)
Access to Google technical or product experts
Access to Google Digital Resources (across marketing, people operations, tech, etc)
Be part of the Ravel Innovation's virtual membership: access to all the events at Ravel Innovation as well as being onboarded with our community of 1000 members who are in the innovation ecosystem in Singapore

Access up to $100k worth of Business and Lifestyle perks

1 year of complimentary HubQuarters' hotdesking membership for the youth startups (2 pax per startup) and be part of *SCAPE community
Submission closed on 21 July 2021 12pm
Meet The Teams
Akadot TV

Akadot TV is a bilingual online media that documents stories of individuals who contribute to Japan-Singapore exchanges through short videos and articles. Aka (赤) means red in Japanese, and Akadot translates to Red Dot in English. Affectionately known as the "Little Red Dot", Singapore is often marked out by a red circle on world maps. A red circle is also used in the Japan flag. The name Akadot symbolizes this common link that brings Singapore and Japan together. Akadot TV also works with Japanese expats to host cultural experiences for Singaporeans under Akadot Experience.

Ento Industries

Over a third of food is wasted during production and transport even before it reaches the table. With a growing world population and increasing scarcity of food resources, the food industry has a dire need for solutions to close the loop on food waste. Ento Industries was borne of this need for better utilisation of resources in the food industry. Through harnessing the insatiable appetites of Black Soldier Flies, we have developed thorough processes that enable us to upcycle food waste into high-value feed and fertiliser for the agriculture industry.

Filmplace

Filmplace, the 1st global marketplace that helps solve problems within the media and ads industry. Helping brands to save time, resources, and money by up to 10X. Most importantly, Filmplace is also open up new opportunity to location owners where they can generate income of 30X as compared to renting to another person to live in.

Finute

Finute is an edutainment technology (EdTech) company that merges education and play using technology to empower the next generation of learners. Finute is the developer of Vanda Bay, a free-to-play 3D educational open-world multiplayer game experience. Finute organised the Virtual National Day Parade in 2020 which attracted a few thousand concurrent users to thank our frontline heroes and essential workers for their dedication and service during the pandemic. Vanda Bay's prototype predecessor, Marina Bay: Reimagined, had over 100K+ unique users before being discontinued for Vanda Bay. Vanda Bay is slated for an demo launch in August 2021 in conjuction with our Virtual National Day Parade 2021 celebrations.

Hale Smoothies

We are an early-stage startup in Singapore that aims to contribute to a healthier world by providing healthy, fresh, personalised & nutritional smoothies. Products will be made automatically on demand by the vending machines and served directly to the consumer. Consumers can pick from a selection of pre-made recipes or customize their own. The machine will use frozen fruits and vegetables, and several toppings. Smoothies will have no added preservatives, making them 100% natural.

Just Dabao

Just Dabao is a redistribution platform where consumers can rescue surplus food at ultra low prices. We remodelled sustainable lifestyle to be accessible and inexpensive.
Instagram | Telegram | LinkedIn

Red Hot Chili Pepper Pte Ltd

Started since May 2018, Ooh is the first homegrown MALA snack brand and offers the spiciest & most authentic flavour in Singapore. With the rising love for MALA within the new millenials, Ooh SG became the sensational hit in a short time and and expanded within Singapore rapidly through partners such as Teppei Group and Scoot. Featured by many local media such as The New Paper, 8Days, Straits Times, Womens Weekly, Retailing the products at Cold Storage, Jasons, Marketplace, Giant, NTUC Finest as well Amazon, Shopee, Lazada, Qoo10, GrabMart, PandaMart, Ooh SG today is focusing on their international expansion and putting their #localmade products into the global map.

SgFitFam Pte. Ltd.

SgFitFam was established in 2016 to address a need for a sustainable approach to personal training programs in Singapore. Our holistic personal training packages allow you the flexibility to have a mix of fitness professionals to address your various needs, be it strengthening, weight loss, rehabilitation, or practising mindfulness through the right specialist. To advocate sustainability in health and fitness, we also expanded our approach to corporate health programs consisting of group fitness classes, nutrition talks, and mental well-being workshops. We have provided more than 2000 sessions of quality fitness classes, engaging health talks for listed companies and MNCs to date with our wide variety of programs.

Skilio Pte Ltd.

At Skilio, we believe that success is multidimensional. Skilio is an AI powered soft skill development platform that facilitates growth of essential soft skills competencies from experiences. Skilio aims to provide an alternative to paper qualifications by showcasing an accurate representation of your true abilities.

Urban Origins

Urban Origins is a B2B2C platform that is dedicated to providing brand visibility to local food sources. We do that by being the marketplace that aggregates local urban farm produce, food from agri and food tech companies, upcycled food and home-cooked fresh food with at least one ingredient that is locally-sourced. By making local food sources more visible and accessible to both consumers and businesses, we directly contribute to the 30 by 30 Food Security Goal and the Singapore Green Plan 2030. We help make our local supply chain resilient, sustainable, efficient and reduce Singapore's dependence on other countries for food. We believe Singapore can be a role model for every city in the world, especially the ones that are as resource-stressed as ours.
Our Alumni
Presented by: *SCAPE
Co-organised by: Ravel Innovation
Contact us at fellowship@scape.sg
Check out past seasons: