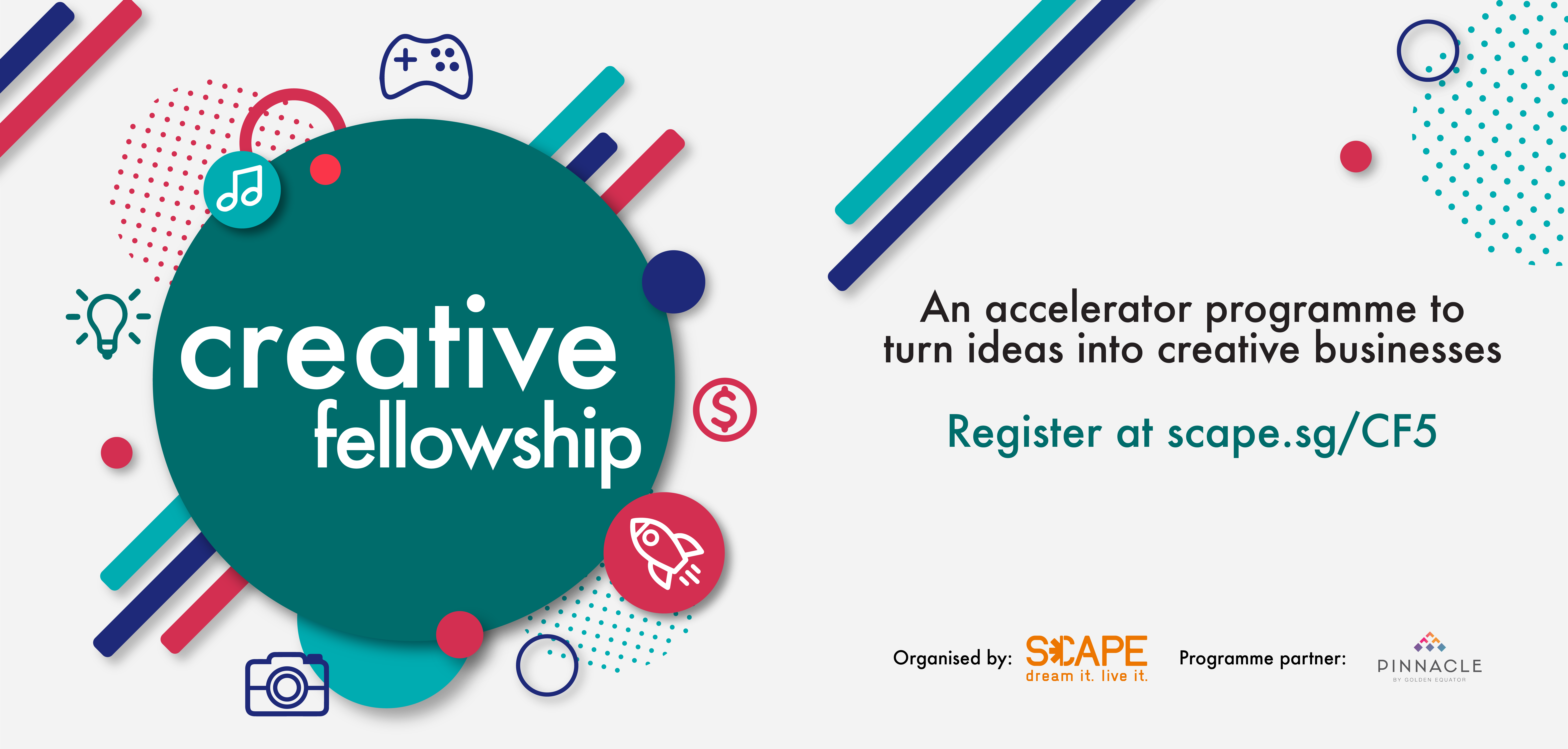 Submissions close on 20 January 2023
About
Are you a young entrepreneur with a big idea? Look no further than the *SCAPE Creative Fellowship programme! This creative accelerator programme is here to empower you with the knowledge and skills you need to transform your innovation to the next level.
For three (3) exciting months, you will go through a series of engaging workshops, masterclasses, and mentorship sessions that will help you turn your startup into a scalable business. Look out for the community and networking events as you connect to like-minded individuals and industry experts within the startup ecosystem.
This year, its fifth edition will also be one of the first few entrepreneurship programmes in Singapore to feature Web3 elements, giving you the chance to learn more about the latest technology and see how it can supercharge your business idea. 
But the fun doesn't stop there! The programme will conclude with a Demo Day, where you'll have the opportunity to network and pitch your business to an audience of potential clients, mentors, and investors.
Don't miss out on this amazing opportunity. Apply now for the *SCAPE Creative Fellowship programme and take the first step towards turning your startup dreams into a reality.
Who is it for?
*SCAPE Creative Fellowship is looking for young entrepreneurs or startup founders between the age of 18 – 35 years old, and either:
Have a creative component in its business solution, or 

Is solving a problem in the creative industry
Watch the clips to hear the previous seasons entrepreneurs' experiences and apply now to be part of the Creative Fellowship!
Timeline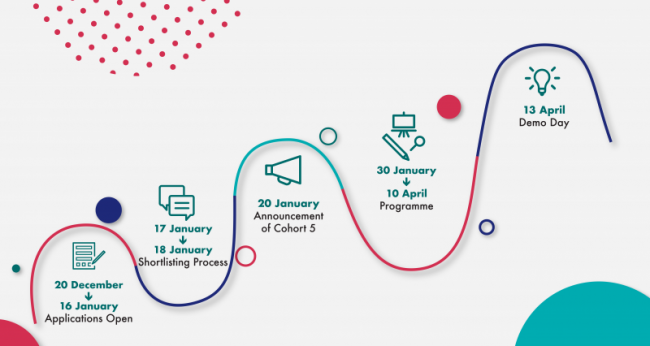 Programme Benefits
Get started with everything you need to know from creating your sales funnel to product design & development, with workshops and masterclasses organised by top industry experts.

Connect with international partners and mentors from diverse industries for personalised guidance on your entrepreneurial journey. 

 Learn more about the latest technology and see how it can enhance your business.

Stand to win 3 months of Hot Desk Space at SPECTRUM (worth over $10,000), and work alongside top businesses from various fields.
Stand to receive up to $10,000 Amazon Web Services (AWS) credits and business support to help scale your startup
The New Age of Business
Hear from industry experts as they share their own experiences on managing a business and the potential trends startups can look out for.
Date: 11 January 2023, Wednesday
Time: 6 – 7pm
From new technology to emerging markets, businesses are constantly required to evolve and adapt with time. In this virtual Fireside Chat session, moderated by *SCAPE Creative Fellowship Alumni and Co-Founder of Metafi, Raimie Tang, we sit down with industry experts, Loretta Chen, Co-Founder of Smobler Studios, and Jonathan Wong, Vice-President of Product & Technology of ONE Championship, and discuss how businesses can thrive in the new age of business. They will share their own experiences of running a business, how they have evolved to stay relevant in the everchanging landscape, and what are potential trends businesses, especially startups, can look out for.
Join us for this insightful session and learn more about how to grow in the new age of business.
Our Alumni
Presented by: *SCAPE
Co-organised by: Pinnacle by Golden Equator
Contact us at fellowship@scape.sg
Check out past seasons: