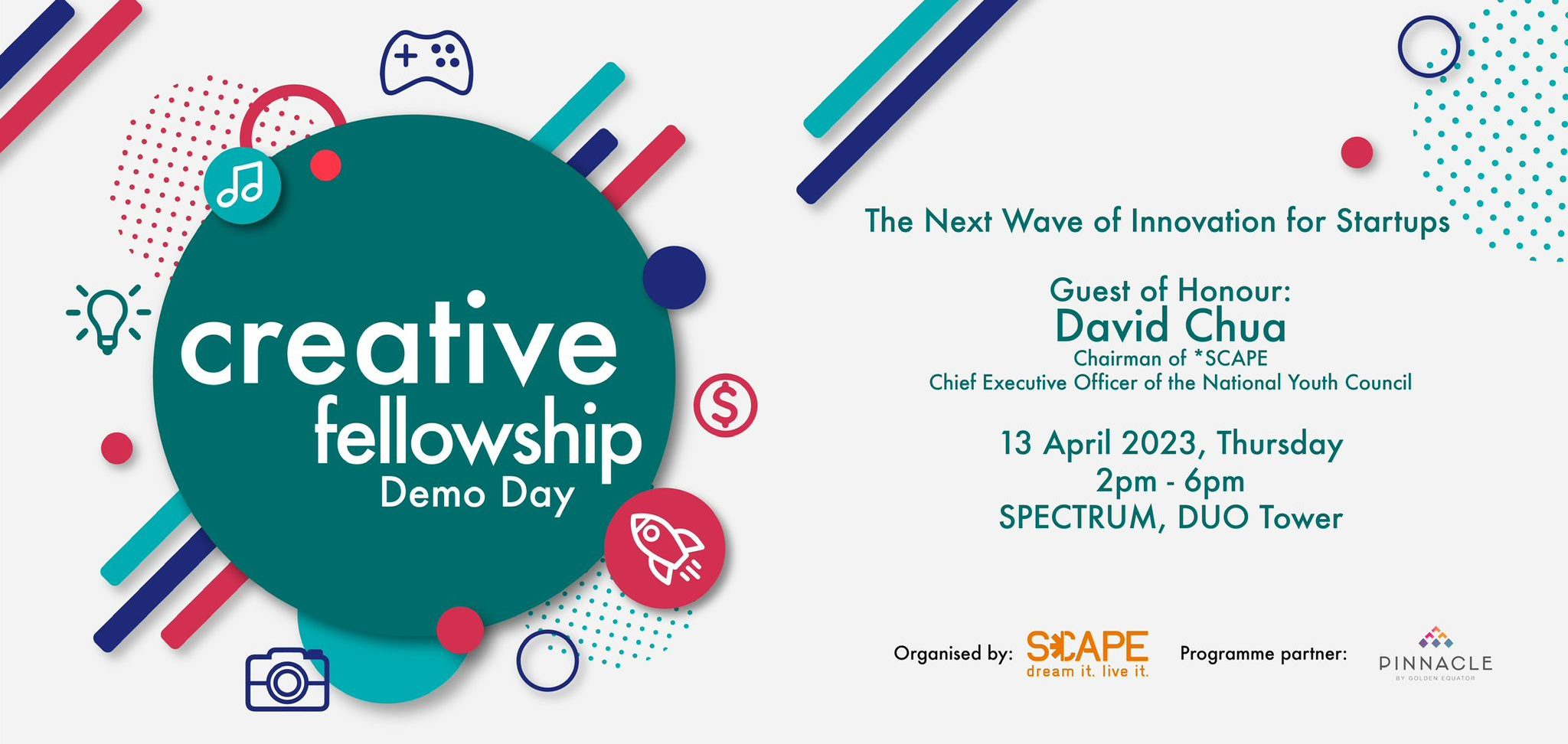 Submissions closed on 20 January 2023
About
Are you a young entrepreneur with a big idea? Look no further than the *SCAPE Creative Fellowship programme! This creative accelerator programme is here to empower you with the knowledge and skills you need to transform your innovation to the next level.
For three (3) exciting months, you will go through a series of engaging workshops, masterclasses, and mentorship sessions that will help you turn your startup into a scalable business. Look out for the community and networking events as you connect to like-minded individuals and industry experts within the startup ecosystem.
This year, its fifth edition will also be one of the first few entrepreneurship programmes in Singapore to feature Web3 elements, giving you the chance to learn more about the latest technology and see how it can supercharge your business idea. 
Demo Day
After 3 exciting months of workshops, masterclass, and mentorship session, our startups will present their businesses.
Date: 13 April 2023, Thursday
Time: 2pm – 6pm
Venue: SPECTRUM – Work, Play, Belong 3 Fraser Street Singapore, 189352
Join us as we conclude the fifth season of *SCAPE Creative Fellowship with a Demo Day on 13 April. Our amazing startups will be taking the stage and pitching their businesses to a panel of potential clients, mentors, and investors. We will also be joined by industry experts as we discuss "The Next Wave of Innovation for Startups" in our Fireside Chat.
Who is it for?
*SCAPE Creative Fellowship is looking for young entrepreneurs or startup founders between the age of 18 – 35 years old, and either:
Have a creative component in its business solution, or 

Is solving a problem in the creative industry
Watch the clips to hear the previous seasons entrepreneurs' experiences and apply now to be part of the Creative Fellowship!
Timeline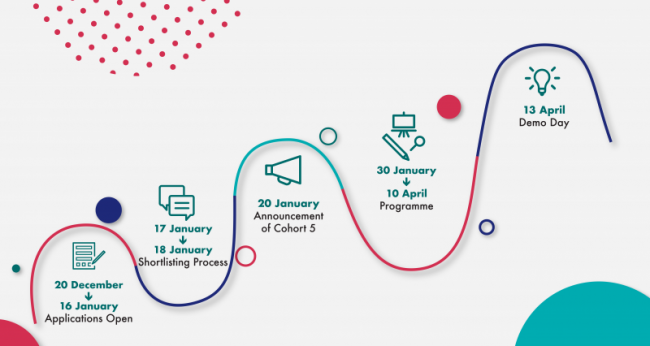 Programme Benefits
Get started with everything you need to know from creating your sales funnel to product design & development, with workshops and masterclasses organised by top industry experts.

Connect with international partners and mentors from diverse industries for personalised guidance on your entrepreneurial journey. 

 Learn more about the latest technology and see how it can enhance your business.

Stand to win 3 months of Hot Desk Space at SPECTRUM (worth over $10,000), and work alongside top businesses from various fields.
Stand to receive up to $10,000 Amazon Web Services (AWS) credits and business support to help scale your startup
Meet The Teams
| | |
| --- | --- |
| AlphaLearn | AlphaLearn is an edtech startup that aims to improve the current education landscape by using an app to help students learn with passion and motivation through meaningful rewards and fun challenges. |
| Careerly | Careerly is an Ed-Tech platform that exposes students on different industries by providing dynamic content that alters between different students. |
| Climate Technologies | Climate Technologies aims to create materials and technology more environmentally friendly, and have developed a biodegradable plastic made of seaweed to substitute single use plastics. |
| EzGreen | EzGreen is a gamified social platform that promotes and incentives daily sustainable lifestyle among households. |
| Guub | Guub is where creative collaborations happen! We are an end-to-end platform that connects individuals/organisations with artists to create exclusive merchandise collections easily. |
| Lilee Perfume | Each perfume is a scene, like passage from a screenplay. Lilee Perfume holds an ever-so-delicate harmony with east-west blends. |
| Oolong | Oolong is an application that tailors seamless and exciting meetups for youths that takes decision out of the conversations. |
| Playnium Pte Ltd | Playnium is an on demand live streaming platform, offering interactive edutainment content for children aged 3 to 8. |
| The Catalyst Collective | The Catalyst Collective is a youth-led ground-up that transform existing spaces into accessible community spaces for youths, and promote mental wellness through fun activities and the power of narratives. |
| the moonbeam co. | the moonbeam co. is a FoodTech startup that develops sustainable products, technologies and communities through food waste upcycling. |
Our Alumni
Presented by: *SCAPE
Co-organised by: Pinnacle by Golden Equator
Contact us at fellowship@scape.sg
Check out past seasons: